With major concerns about four bills that can greatly impact their businesses, representatives from collision and mechanical repair busineses came from all over the state to attend ASCCA/CalABC/CAA's Joint Legislative Day on April 12 in Sacramento, CA. The main focus of the day's activities at the Capitol were to meet with local legislators and discuss a quartet of bills that could all be game changers for automotive repairers statewide.
The special guest at this year's Legislative Day was State Senator Ben Allen, who is authoring SB 778 (Oil Change Bill). He explained that the intent of his bill is to stop the unnecessary selling of 3,000 mile oil changes and expressed his desire to work with the automotive industry on language that will satisfy stakeholders. This bill affects body shops that do mechanical work and every mechanical shop in California, so this is a big deal, according to CAA Lobbyist Jack Molodanof.
"Senator Allen was asked some very good questions from our members and it was an opportunity for the industry to explain our concerns with SB 778," Molodanof said. "It was also good for the Senator to see for himself how professional and thoughtful the industry is and open to working with him on the bill. Currently, all three organizations oppose the bill, unless amended."
Other Legislative Day speakers included Doug Balatti, assistant chief of the Bureau of Automotive Repair (BAR), Mark Fernandez, BAR program manager for its enforcement operations branch and Tim Bowden, who performs BAR enforcement for three cities (South San Francisco, San Jose and Hercules, CA). All three discussed their regulations and how shops can deal with violations for when they are cited or eventually fined.
Following a welcome from ASCCA State President, Dennis Montalbano, everyone was briefed by Jack Molodanof, the lobbyist for ASCCA and CAA. He taught members the correct protocol for meeting with their legislators or their representatives. Molodanof always opens with a joke or amusing story, but then he's all business. Coaching the members of ASCCA/CalABC/CAA about how to approach their local representatives is always crucial, and that's why Molodanof always sets down the rules first.
Molodanof was delighted to see the political process in action during Legislative Day.
"From the feedback I received from our members, it was a great success," he said. "We reviewed all of the key bills before hitting the hallways of the Capitol to meet with our legislators and I know we made a very positive impression as a group. Overall, it was a very productive day. We are only as strong as our membership and I always tell people that we need to be our own advocates, because if we don't, who will?"
With more than 60 scheduled appointments throughout the Capitol's offices all day long, ASCCA/CalABC/CAA members broke into smaller groups to cover as much territory as possible. As members searched the hallways looking for politicians' offices, body shop and mechanical shop owners were intently focused on meeting with their representatives to discuss the two main bills on their radar.
CAA Executive David McClune believes in the political process, and that's why he knows that legislative days just like this one are valuable to his members and the industry as a whole.
"With Jack telling the membership how to navigate through this labyrinth at the Capitol, we're able to convey a clear and direct message to our representatives," he said. "If we don't block bills that are going to harm us, they will pass and vice versa."
Ben Clymer, Jr. CFO of Ben Clymer's Body Shop in Riverside, CA with five locations met with many of his local legislators' assistants to discuss bills that can impact his business.
"I've built relationships with all of my legislators in our region, which really makes things a lot easier, because they already know me," Clymer said. "When it comes to pushing legislation that helps our industry as a whole, it has nothing to do with being a Democrat or a Republican. It's all about being pro-business and passing bills that will help us rather than harm us."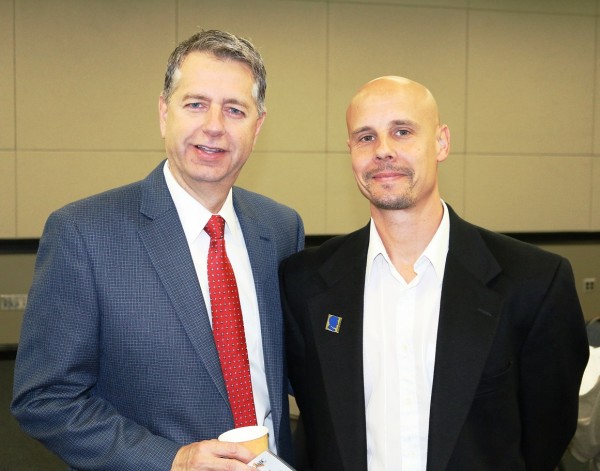 CAA/ASCCA State Lobbyist Jack Molodanof (left) and Ben Clymer, Jr. CFO of Ben Clymer's Body Shop in Riverside, CA went over the four bills that were the main focus of this year's Legislative Day.
AB 1174 (Bonilla): Automotive Repair Act: Oppose
This bill would require BAR to publicly post on its website any complaint without giving the automotive repair facility the opportunity to challenge the complaint findings or right to due process. Posting complaints on the BAR without due process is unfair and harms small business owners. The bill would also establish authority for issuance of citation and fines when paperwork violations occur. However, this is unnecessary. Paperwork mistakes are currently addressed through education and training rather than citation and fines. These educational/training efforts have been proven successful.
AB 2167 (Achadjian): Towed Vehicles Acceptance: Support
This bill is intended to clarify and clean up last year's AB 1222 (Bloom) relating to towed vehicles. Due to privacy and identify theft issues, tow truck are refusing to provide their drivers license number to businesses that accept towed vehicles. The intent of AB 2167 is to clarify that tow truck drivers can provide alternative forms of identification other than a driver's licenses but limits those forms to government sanctioned or authorized. The intent is to also clarify and provide businesses that attempt in good faith to obtain tow truck driver information but cannot because of "after hours" drop off situations, thus alleviating any potential criminal exposure for small businesses.
SB 778 (Allen): Repair--Oil Changes: Oppose, unless amended
This bill requires automotive repair dealers, prior to performing any work, to notify customers purchasing oil changes of recommended oil drain intervals, oil grade and viscosity specified in the maintenance schedule of the vehicle's owner's manual. According to the author, the goal of the bill is to address the myth that all vehicles must have their oil changed every 3,000 miles. As
written, the bill will not accomplish the stated goals. Under current law, the BAR does not regulate oil changers that sell oil change services because oil changing is considered a "minor" service. Amending SB 778 to provide BAR oversight will protect consumers by addressing unnecessary oil changes and level the playing field for all automotive repair dealers in the state. Automotive repair dealers are trained and required to inspect/diagnose the vehicle before making recommendations and performing work. As written, the bill discourages automotive repair facilities from performing such procedures. Newer model vehicles are now equipped with oil life monitors (predicts when oil will begin to degrade based on factors such as engine revolutions, temperature, driving time, etc.) that alert the vehicle owner when it is time to change the oil, making any recommendations through window stickers or other means unnecessary in the future.
AB 873 (Jones): Automotive Repair: Support
This bill provides the DCA/BAR the authority to create regulations and determine what constitute minor services. Current law (more than 40 years old) declares certain minor services such as: repairing and changing tires, lubricating vehicles, installing light bulbs, batteries, windshield wiper blades, replacing spark plugs, replacing fan belts, oil and air filters are exempt from BAR regulation/oversight. Because of advances in automotive technologies many of those minor services now require more specialized training and skills and necessitate the removal of automotive systems, engine components and other electrical and computer equipment. This bill will help protect consumers from unqualified service providers and also allow the DCA/BAR to take a comprehensive technical approach to determine which current minor services should be regulated and overseen by BAR.