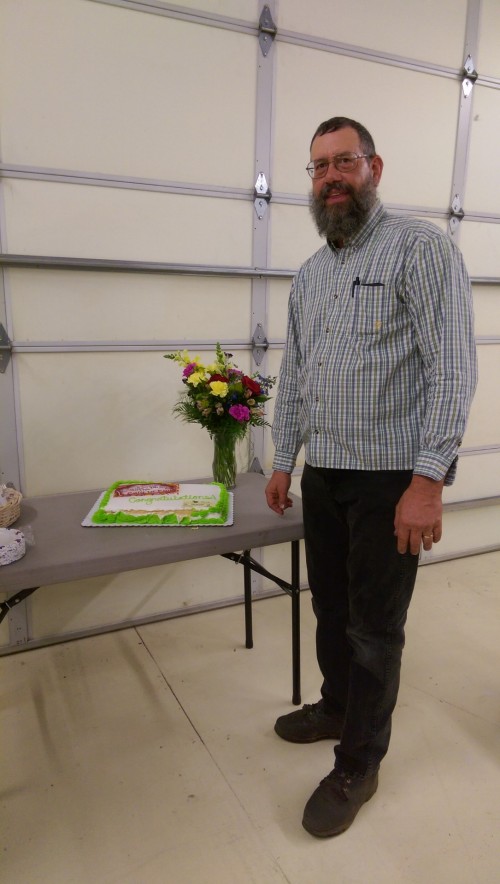 Dave Wittmayer, owner of Hansen Enterprises Fleet Repair shown with the cake
As the month began on September 1, the Tucson Chapter held a Roundtable discussion with members meeting at El Corral, a favorite local restaurant, to examine the industry's current challenges and what shops are doing to reach new customers.
On September 3, the West Valley Phoenix Chapter met at La Parilla Suiza to discuss loaner v. rental cars. Ten shop owners attended, sharing information on how being able to provide their own loaner cars has benefitted their businesses, compared to paying rental company fees. They also discussed the best options available for providing superior customer service.
On September 9, the Tucson Chapter's monthly dinner meeting attracted 25 attendees who came to hear Paul Bellows present the "Top 10 Tips for Creating Amazing Customer Loyalty." As the founder and CEO of Be Good at Doing Good, Bellows collaborates with CEOs, entrepreneurs, business owners and non-profit executive directors to aid them in achieving their missions and to help them "be good at doing good" in their communities.
ASA-AZ's Board of Directors held their monthly State Board meeting via conference call on September 10 with representatives from their Yuma, Phoenix, Tucson, Prescott, Verde Valley and Mohave chapters in attendance. During the meeting, the Board of Directors planned their annual face-to-face meeting for October in Laughlin. They also approved the location for their 2016 Auto Training and Expo which will be held June 10-12, 2016 at the WeKoPa Resort and Conference Center.
At the Verde Valley Chapter Dinner Meeting on September 15, Blake Hollman from Federated Insurance provided important HR information, including helpful forms and policies for current and prospective employees. Association members also celebrated the final meeting payoff for the HERF property by Dave Wittmayer and Lora Hansen.
At 7Am on September 16, six Central Phoenix Chapter members gathered for a Roundtable Discussion on business issues and training needed in the industry.
The East Valley Phoenix Chapter held their Roundtable on September 23 at Dave and Busters in Tempe where 15 members gathered to discuss this year's "Game Changers." Each attendee shared one thing they've changed, added, bought, sold or hired in 2015 to increase profitability and efficiency. Rubio states, "Great information was exchanged, including the addition of service writers, getting rid of wholesale accounts, attitude changes, adding mobile shop management, new websites and signing up with professional online marketing companies. There was lots of great discussion with each shared idea."