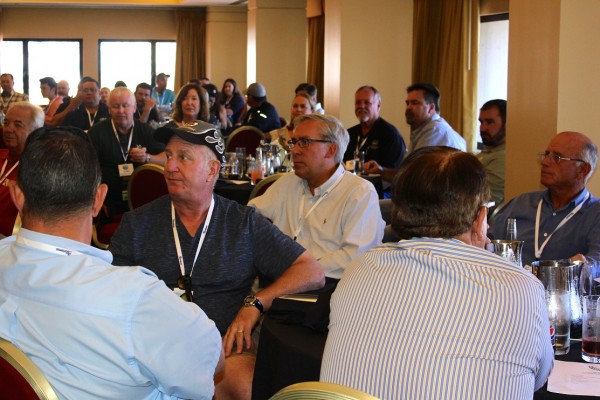 Attendees enjoy a variety of seminars at the SCADA three-day convention in San Francisco
According to Gary Umphenour, SCADA Convention Chair and co-owner of United Truck Dismantlers in Marysville, "Auto recyclers in attendance at this year's annual convention shared rave reviews about the event, citing an outstanding location and terrific speakers."
The three-day event commenced with a Welcome Reception, providing attendees an opportunity to socialize with their peers. Featured speakers at the event included Amber Elenbaas and John Wilson. Elenbaas, a third-generation automotive recycler who began working in her family business and helping many other automotive recycling companies grow, is a well-known speaker and author in the industry. She presented, "Generations X and Y: Impacting Your Business as Customers and Employees" and "How to Ignite Change and Create a Growth-Driven Culture in Your Recycling Operation."
Because the auto dismantling and recycling industry can be stressful and even threatening at times, Wilson presented a two-part session on "Workplace Violence Prevention and Response," with topics ranging including arguments with co-workers, verbal abuse, confrontations with unhappy customers, and critical incidents that can occur, including theft, robbery and violent attacks.
Umphenour explained, "This exciting and entertaining two-part training seminar taught attendees how to recognize, understand and respond to critical events and emergencies."
During the convention, attendees were treated to a special tour of the Sims Metal Recycling facility in Redwood City where they received a firsthand demonstration of vehicle shredding, where hazardous materials are processed and components are prepped before reaching the scrap metal recyclers, who transform these parts into new metal products.
David Street, President of SCADA and co-owner of West Auto Wreckers in Chula Vista, observed, "Both speakers this year were great, and the tour of the Sims plant was one for the books. We were even allowed inside the buildings to see the process for separating metals."
The Roundtable Discussion at every SCADA convention is one of the event's most popular sessions yearly because it allows attendees to gather for an informal exchange of ideas about current topics. This year's discussion on "Ways to Make More Money" was no exception. Attendees received ideas that they can incorporate into their businesses, including warranties, delivery fees, environmental fees, remanufactured parts and core changes.
The trade show featured new products and services that are of special interest to California auto recyclers, offered by vendors nationwide. The tradeshow concluded with an evening of late night snacks and dancing with a deejay presiding for everyone's entertainment.