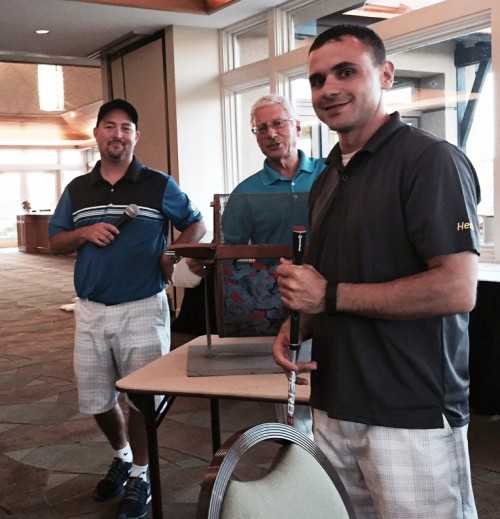 From left, Tabias Padilla from Hertz, Randy Greenblat from Auto Collision Center and Casey Perkins from Hertz volunteered their time to make this year's tournament a complete success.
Imbibing and golf have always been par for the course. Internationally known poet and author Bruce Lansky once said, "I'll always remember the day I broke 90. I had a few beers in the clubhouse and was so excited I forgot to play the back nine."
The hole-in-one contest was sponsored by Toyota of Palo Alto and reportedly one golfer hit a shot less than a foot from the hole, meaning that the giveaway vehicle is safe for yet another year. The two longest drive holes were sponsored by Annex Automotive & Industrial Finishes and Unique Towing, while the closest to the pin shoot-off was sponsored by Martin Auto Color. Over $3,000 in raffle prizes were provided by the members of SC-CAA.
Platinum sponsors for this year's tournament were BASF, Enterprise Rent-A-Car, Hertz and PPG. The Gold sponsor was Fiberglass Evercoat and this year's Silver sponsors were 3M, Caliber Collision, Last Call Marketing, Total Sales and Carstar.
Sixty-eight golfers enjoyed playing 18 PGA-level holes on a beautiful day in the South Bay, forgetting for a moment about their car counts, DRPs and other business-related drama to spend time with their friends and associates. There were golfers at every skill level—from one who actually had an LPGA card all the way to some people who were playing golf for the very first time. First place went to a foursome consisting of Vince Rojas, Armon Gordabani, Brian Thibault and Dave Rissa. Second place went to a threesome consisting of Young Ko, Michael Rojas and Dong Kim. Both winning groups consisted of golfers from Annex Automotive & Industrial Finishes.
Tabias Padilla from Hertz has now organized this tournament for the past five years and was obviously pleased with the turnout. "There is always a ton of planning that goes into the golf tournament—getting sponsors lined up and then getting the golfers to attend," Padilla explained. "But, we have a great chapter here and that's why the event is a success year after year. Everyone had a great time at the tournament this year and we're already getting ready for number 33."
SC-CAA Treasurer David Mello does not play golf, but he still appreciates the camaraderie created by the tournament. "By getting out in the fresh air and hanging out with your colleagues and associates, this tournament is our signature annual event. We see each other at meetings and in our respective shops, so this is an ideal way to do it in a casual, fun setting!"