Click HERE to download a PDF of this article.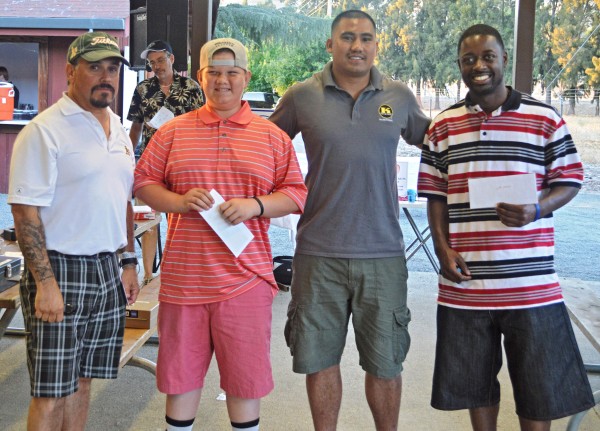 From left, J.R. Romero from Tri-City Auto Body, Chavin Prum (LKQ), Marcus Watkins (TGIF Auto Body) and Pat were the tournament's second place mix scramble winners.
Rachel Govette
Sixty-seven golfers played 18 holes on a sunny day in the East Bay, while raising money for local automotive tech schools and networking with body shop personnel, vendors, friends and associates. Using a scramble format, the day featured an intriguing mix of beginners, amateurs and weekend warriors as they enjoyed great weather, food and libations. '
CAA-EBC President Tiffany Silva was pleased with the results of the day and thankful for the entire tournament's sponsoring organizations. "The weather was beautiful and not too hot, which made it a magnificent day to raise money for local automotive tech schools--Contra Costa College, College of Alameda, Eden Area ROP, Tri Valley ROP, Mission Valley ROP," she said. "Our sponsor support was awesome as always and the tournament would not be possible with them! We had support from so many vendors including our major sponsors who were Dublin Chevrolet Cadillac Buick GMC Kia, LKQ/Keystone, and PPG.
"The mixed scramble format for the tournament has always been a rule and makes the event so not the same foursome will win each year," Silva said. "We had hole-in-one contests at several holes, celebrity Rich Evans and giveaways from the vendors. The golfers and volunteers enjoyed a steak BBQ after the tournament and the night was ended with raffle prizes galore even including a GoPro Camera and a $1,000 gift card donated by Hertz and PPG! Winner of the longest drive was Tiffany Cha and Tim Brusher won the putting contest."
Silva is already looking forward to next year's tournament, which has become the organization's signature event, along with their annual Toy Truck Customization Competition, to be held around the holidays. "I am so proud of our association putting on this tournament each year," she said. "We put in so much time and effort into this tournament, which is well worth it when you see shops and vendors coming together for a fun day of golf and a great cause!"
On September 22, the CAA-EBC will be hosting a meeting featuring Jill Meeuwsen, the president and CEO of a boutique consulting firm specializing in employee and customer engagement for large independent and small- to mid-size MSO collision repairers at Back Forty Texas BBQ in Pleasant Hill, CA. At this meeting, the group will also pass out their toy trucks for their upcoming Toy Truck Customization Competition.