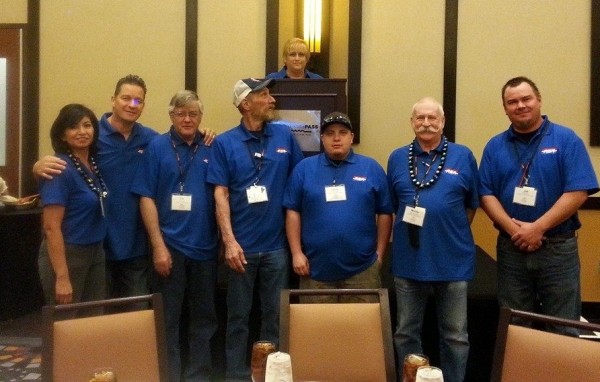 (L to R) Luz Rubio, Frank Leutz, Joe Cross, Curtis Rask, Louie Collins, Monte Crooks, Jeff McCloud, and Julee Baxley (at podium)
Compared to past years when the association could only offer 18 hours of training by two speakers, this year's event featured a variety of speakers and topics. ASA-AZ's 2015 Automotive Training Expo featured the following industry speakers: Bryan Dodge, Maylan Newton, Mark Warren, Jeremy O'Neal, Peter Meier, Braden Poole, Jerry Baarson, Calvin Higgins, Jack Ramsey and Michael Gray. These experts presented seminars and led discussions on a variety of topics; some of the sessions focused on Selling Diagnostic Services for Maximum Profits, Mastering Sales Objections, Service Writer Roundtable on Real World Situations, How to Build a Team that Works Without You, Gasoline Direct Injection Diagnosis, Online Marketing Tactics that Work, Planning Your Business Future, Oscilloscopes 101, Mastering Electrical Troubleshooting, Fuel Trim Diagnostics, Diagnosing the Top Variable Valve System Timing Problems, Essentials to Running a Top Revenue and Profitable Shop in Today's Environment and more.
ASA-AZ's 2015 ATE included I-CAR collision training and certification for the first time, and Rubio notes, "It was a huge success, and we will be adding more classes next year. We'd like to extend a big thank you to the new collision vendors this year; without their support, we could not have offered these classes at such a great price."
Bryan Dodge's Keynote Presentation, "How to Have the Best Year Ever," was given during lunch on Saturday. Rubio stated, "It was different than what we have had in the past, but he was a great hit with all, including the vendors who attended his afternoon class, 'Building a Team that Works Without You'."
During Saturday's lunch, ASA-AZ also conducted their annual induction of the State Board of Directors which is represented by the six chapter presidents from around the state. Chairman Julee Baxley recognize Board of Directors members, expressing gratitude for their continued service on the board.
Sunday morning featured Roundtable sessions; Maylan Newton facilitated the Owners and Managers Roundtable, while the Service Advisors Roundtable was facilitated by Jeremy O'Neal. Rubio says, "Our Roundtables continue to be a forum to exchange ideas and best practices between ASA members for the purpose of raising the level of integrity, public trust, professionalism and success in the automotive industry."
Attendees responded favorably to the event, and most of the evaluations showed "excellent" marks. Rubio explained, "There was lots of positive energy throughout the event and interaction with other attendees and the vendors. The showcase set-up was a little tight, but it offered the opportunity to visit all of the vendors. Several sponsors showcases their products and services to attendees. The training and vendors provided resources that shops need to help them maximize the profitability of their businesses. Attending local training saves them time and money, and this event truly offered something for everyone."
Networking is also an important aspect of ASA-AZ's annual ATE, and attendees had the opportunity to network with their peers at Friday's reception, Saturday's luncheon and Sunday's reception. According to Rubio, "This statewide training gives attendees the opportunity to network with other shops around the state, exchange ideas and identify solutions with the guidance of industry trainers. These types of events give us an opportunity to join other shop owners from different backgrounds, different stages of business, and different resources to discuss the challenges we all face and exchange ideas on how to overcome these challenges."
The dates and location for ASA-AZ's 2016 ATE are still being confirmed and should be announced in the next few weeks.
ASA-AZ
602-544-2600
602-544-2600