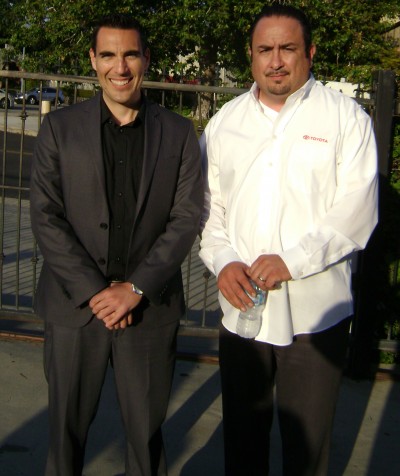 Rick Leos, from Toyota, and Nathan Sellers from Mitchell covered Toyota's new Predictive Estimating software at the May 28 CAA Glendale/Foothill Chapter meeting.
Leos opened with a video on hydrogen-powered vehicles. He made the startling prediction that by 2025, all vehicles will be hydrogen-powered! The next video showed a massive manure pile and the steps needed to turn it into hydrogen. A combination of steam and heat turns this inexpensive crap into highly profitable energy -- a process cheaper than oil, corn, solar, and electricity combined. Leos also said that these vehicles would be nearly unrepairable! Vehicle manufacturers will develop such complete collision avoidance technology, that the few accidents that do occur will require vehicles to be completely replaced, (effectively eliminating the collision repair industry)!
Although 2025 is a long way off, in November this year, 60,000 hydrogen-powered vehicles will be put on the road. Shops hoping to repair any of these vehicles will have to have x-ray equipment capable of finding cracks in the many carbon fiber panels and parts that will make up much of these vehicles. Leos also predicted the OEMs will seek to put the liability for faulty repairs and subsequent problems squarely onto the repairer, to protect the manufacturer's brand name as the top priority.
With this startling part of the presentation finished, Leos and Sellers turned to Toyota's new Predictive Estimating software, already available on Mitchell's Ultramate and being shipped on all user's next update. The essence of the system is the reversal of current estimating systems where parts to be repaired or replaced must be added line-by-line. With this system all parts are displayed on the estimate and those not affected must be deleted. In the demos presented by Leos and Sellers, most repairs that would run to 10 or 12 lines on a usual estimate would suddenly jump to 16 or 20 lines. Small parts often missed, like clips, are added automatically. Even usual add-ons like color sand and buff or seam sealer are displayed in detail. The estimator can still delete parts on the estimate with no visible asterisk or other mark, but the deletion, change or omission is time stamped in the computer. If an adjuster chooses to delete a line, the time stamp can indicate the deletion if a problem occurs later as a result of that deletion.
Ultramate was chosen for the first test run because of insurer DRP relationships. Also the Ultramate could be converted to a CCC or ADP estimate by using Estify. Leos said he was surprised at a meeting with insurers where the new software was well received even though it could be more costly for insurers. The reason most said was the desirability of having a standard base rather than the arbitrary negotiated estimates common today. Perhaps the most stabilizing feature is the instant availability of parts documents and technical and CRIB bulletins. A simple click of a black dot and all of the supporting information jumps up. Documentation to resolve a dispute with an adjuster is readily at hand. Also technicians can be saved from costly errors like one-time-use parts. A few of Leos' examples showed how a tech might miss a one-time-use part if the documentation hadn't been consulted. Leos showed how the system can quickly pay for itself and increase shop profitability.
Most remarkable is the willingness of Toyota to make the templates for the system available to other vehicle manufacturers. All they have to do is plug in their own parts and related documents and the system is ready to go. Certification training is also now much simpler. It is no longer necessary to have a dealer recommendation. Leos also talked about the way scanners are getting better all the time at creating instant estimates. iPad and smartphone scans will soon create an accurate estimate. Like most other aspects of life now, technology is driving the future of collision repair.