Click HERE to download a PDF of this article.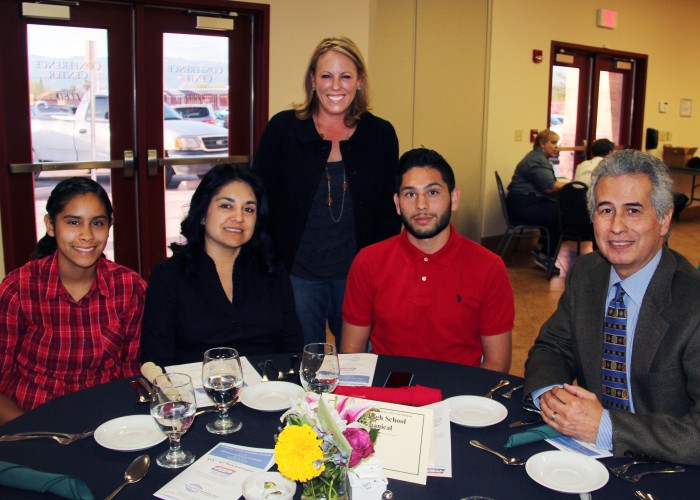 Kim Sooter was the business sponsor for Adrian Carrillo of Tucson High School.
High school instructors select students who excel in the classroom and who are motivated to pursue an automotive career. In 2015, the 16 students recognized for outstanding achievements were awarded with a certificate and a starter set of tools valued at $500. Many of these students plan to continue their education through Pima Community College's automotive program.
In addition to being recognized at the Awards Ceremony, these 16 students were encouraged to apply for one of the five $1000 scholarships given this year. The 2015 scholarship recipients were Anthony Salvias from JTED at Baboquivari, Frank Moreno from Flowing Wells High School, David Bailey from Marana High School, Sebastian Woelfle from Sahuaro High School, and Esteban Medina from Sunnyside High School.
Association members contribute to sponsor the Annual Student Awards Ceremony with funds paying for tools as well as dinner for the students, their parents and their instructor.
Rubio states, "This event can only be possible due to support received from our members and vendors who sponsor the event, and this year, we had 30 sponsors contribute. In addition to their student sponsorship, several of our members also stepped up to contribute to the $5000 awarded in scholarships, and those included NAPA Auto Parts, Western Tire and Repair, Merle's Auto Supply, Exhaust Works, Cutting Edge Collision, and Borst Automotive, as well as our Tucson Chapter and the ASA-AZ State Office."
The benefits of reaching out to the next generation of industry professionals are innumerable. Rubio believes, "This is a great event for everyone that attends. The students get to interact with independent business owners and learn more about the business, while the parents are proud to have their child recognized in the industry, and they get to see that this can be a lifelong career."