Sabetti Body Shop
Location: Kent, OH
www.sabettibodyshop.com
Type: Collision Repair
Facility Employees: 14
In Business Since: 1967
Number of Locations: One
DRP Programs: Four
Combined Production Space: 12,000 square feet
It all began in 1967 when Mike Sabetti started the business with just two repair bays and a car wash that is now occupied by a Toyota dealership. Four years later, Sabetti built his current facility with 24 bays and two paint booths and ever since, the business has grown at a steady rate. Today, the shop includes three frame racks and a Hunter Alignment System.

Dave Burt began working at the shop right out of high school 39 years ago after completing the Maplewood JVS Autobody Collision Technology Program in Ravenna, OH. In 2000, Burt purchased 50 percent of the business along with a partner, and in 2011, he purchased the other half and now works hard to continue the great track record that Mike Sabetti established over three decades ago. A big part his success is embracing new tools, equipment and products to do a superior job on every repair. Another component of Burt's ongoing pursuit to become better involved the recent integration of a new paint system into his production.

After using the same paint system for nearly 20 years, Burt decided to start looking around. "We met with five different companies over a six-month period and eventually decided to go with DeBeer Refinish," he said. "We were having color match issues with our former paint system and the support had fallen off over the years."

Burt's color matching issues disappeared when he saw the DeBeer Refinish BeroBase 500 Series in action. "After painting 10-15 cars with DeBeer to test it, the folks at Valspar Automotive brought in their Spectrophotometer and photographed eight cars and every single one was dead-on. I was sold!"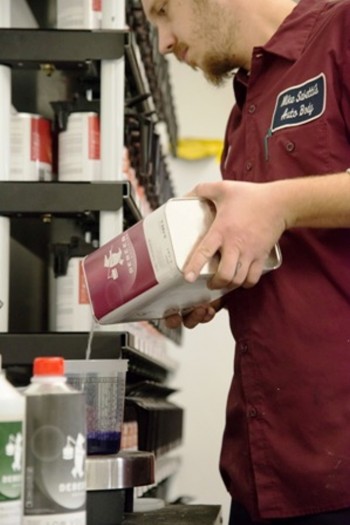 Painter Craig Snyder at Sabetti Body Shop appreciates the dead-on color matches he achieves with DeBeer.

Burt's painter, Joe Tilley, also liked the way the DeBeer Refinish brand sprayed and how it laid down, which ended up being one of the major deciding factors. "Joe has been here for 26 years, so we value his opinion," Burt said. "Once he told us that he was comfortable with the DeBeer product, we decided to go with it. He's is going to be working with it every day, so his feedback was obviously crucial."

Once the decision to switch to DeBeer Refinish's solvent basecoat system was finalized, the actual conversion began and it was seamless and drama-free, Burt explained. "It was an easy process to get the DeBeer Refinish system installed here. This system is actually easier, because with it we have fewer toners than we had with the previous system. The product delivers what it promises, so there wasn't much of a learning curve. Our guys had to re-learn some paint codes, but other than that, it was not a huge deal. We installed the system on a Friday and we were up and running with it when we opened our doors on Monday."

Burt plans to send his painters to Valspar Automotive's training center in Dearborn, MI, later this year to learn more of the ins and outs of spraying the DeBeer Refinish product line. "We want them to know everything they can about using this product and we're confident that they will learn a ton when they go through Valspar Automotive's program," Burt said.
Painter's Apprentice Kyle Knapp uses DeBeer's color match camera to dial in color matches.

Sabetti Body Shop doesn't rely completely on its DRPs for its business and that's the way Burt likes it, he said. "We are located in close proximity to three car dealerships that don't have their own collision centers and they send us quite a few cars. In addition, we do a lot of fleet work out of Kent State University, which is right here."

As a happy graduate of the Maplewood JVS Autobody Collision Technology Program, Burt believes in the program and has hired several of its graduates over the years. "I have seven graduates working here currently--two of them who are painters and my son Kyle who handles the frame rack and alignments; all of them excellent employees. When they come here, they know the basics and it takes a few years for us to train them completely. I credit this program for helping me get into this career, and that's why we want to give back to them and support them whenever we can."

Now that Sabetti Body Shop is using the DeBeer Refinish BeroBase 500 Series Basecoat System every day, would he reconsider his decision to switch? "No, we feel really good about this product," Burt said. "Sometimes people get comfortable with the old way, but once they see the alternative, they get excited. We have been able to save money on the DeBeer Refinish System without sacrificing any quality at all, so yes--we're delighted!"
---
DeBeer Refinish, A Valspar® Automotive Brand
600 Nova Drive, SE
Massillon, OH 44646
Phone: 800.321.0672
www.de-beer.com
Facebook.com/OfficialDeBeerRefinish
Instagram.com/OfficialDeBeerRefinish
Twitter.com/DeBeerRefinish
YouTube.com/OfficialDeBeerRefinish
---
To read more auto body shop profiles from the June 2017 Shop & Product Showcase, click here.