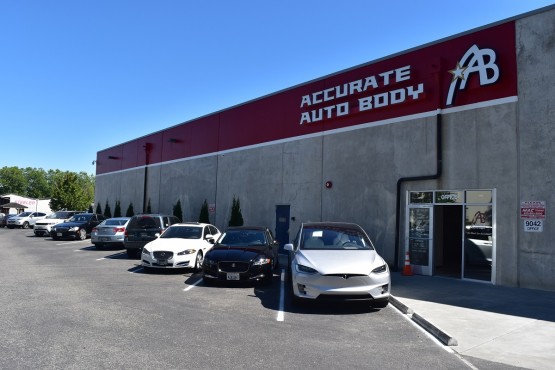 Accurate Auto Body's 20,000-square-foot body shop specializes in aluminum repair.
Earlier this year, Tim Lewis sold the commercial property where his Washington-based body shop had been operating since 1994.
Accurate Auto Body
Redmond, WA
(425) 883-2450
Type: Collision Repair
Number of Employees: 16
In Business Since: 1994
Number of Locations: One
Number of DRPs: Three
Combined Production Space: 20,000 square feet
He contemplated retiring, but instead decided to open his dream shop a few miles down the road in Redmond.
Accurate Auto Body's 20,000-square-foot body shop specializes in aluminum repair and primarily focuses on Tesla, Jaguar, Land Rover, Toyota, and Corvette models. The new shop has five dedicated bays for the repair of these vehicles.
After operating in the same location for more than 20 years, it was time to reevaluate what he would need to run a state-of-the-art facility. A painter by trade, Lewis knew the importance of having high-quality, dependable equipment. Although it is a large financial investment, he made it a priority to set up his shop to ensure he could handle the work and grow his business.
After researching the various products available, he decided to purchase Spanesi products for the family-run business. "I did a lot of research on their equipment and feel they were by far the best in the market," said Lewis, who owns the shop with his wife Linda and son Justin.
Accurate Auto Body now has one Spanesi downdraft paint booth, two heated prep decks and a Touch measuring system.

The dedicated paint booth has double panels with insulation, which Lewis said allows for maximum efficiency. The booth has thermoventilation units with different power and air flow capacities, and motors with inverter technology. The motors run in full capacity only when painting, which Lewis said saves on gas and electricity and provides the necessary air capacity and automatic pressure control. The heating can be done with a diesel or gas (natural or LPG) burner with heat exchanger of direct flame burner.
The shop's double prep deck has a curtain down the middle, which can be used as two separate booths or one larger one.
Compared to the old booths he had in his shop, Lewis said the Spanesi paint booths are 13 ½ feet tall. Since the body shop does a lot of work for the City of Bellevue, Lewis said they can now fit large trucks and ambulances inside their booths, which is a huge advantage and brings in more business.
When the new paint booths were first installed, Spanesi sent a head technician from Italy to put the booth together alongside Tim and his crew. "Now everything works great," said Lewis. "The support so far has been good."
The shop also uses Spanesi's Touch measuring system, which Lewis purchased a year ago. "I think that piece of equipment is awesome. I like the 3D because you can actually do a 3D comparison and be proactive when a car comes in with suspension damage," said Lewis.
The electronic measuring system allows the shop to quickly carry out a diagnosis on damaged vehicles and measure all of the mechanical parts. By utilizing this piece of equipment, Lewis has found that his technicians are able to better visualize the repair.
For example, when a Mercedes 550 was towed into their shop, Lewis said there was an alignment problem. The vehicle was strapped down so hard from being transported across the country that the lower control arm in the rear was bent and the car wouldn't align. Their Spanesi support representative, JR Robinson, came out to the shop to assist with the diagnosis. After using the Touch measuring system to help figure out what was wrong, they were able to align the vehicle.
"The techs didn't believe it at first," said Lewis. The rear control arm was bent and the cradle was 7mm too far forward. "Once we put everything back where it was supposed to be, and put the new control arm in place, everything aligned. We put their minds at ease."
Since Accurate Auto Body doesn't have a mechanical shop, Lewis said in the past they would have had to send the work out. "Now we can be proactive and actually put it on a rack and measure and see what is actually bent so we can order replacement parts at the beginning of the job, rather than sending it out and waiting for assessment." said Lewis. "It saves us time. The faster we can get cars done, the more we can get in. It's all cycle time."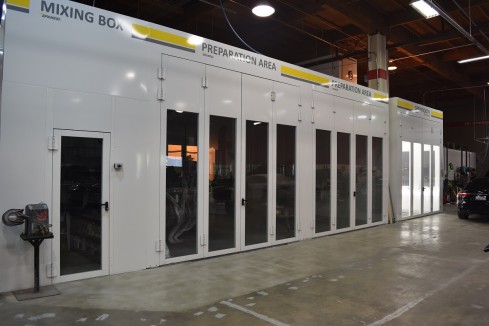 Accurate Auto Body uses a Spanesi downdraft paint booth, two of their heated prep decks, and the company's Touch measuring system.
Voted one of the top five body shops in Western Washington, Accurate Auto Body currently brings in over $3 million a year. His goal when he retires is to eventually turn over the shop to his son, Justin.
In the meantime, Lewis said the shop's main focus is on customer satisfaction. His advice to other shops is to invest in quality equipment, like the Spanesi products in his shop, and continue to stay up-to-date with changes in the industry in order to perform a proper repair.
"I think education is huge. Knowledge is key," said Lewis. "With good quality equipment that is reliable and user friendly, the flow in the shop is efficient and stable, the employees are happy and the customers are well taken care of in a timely manner."