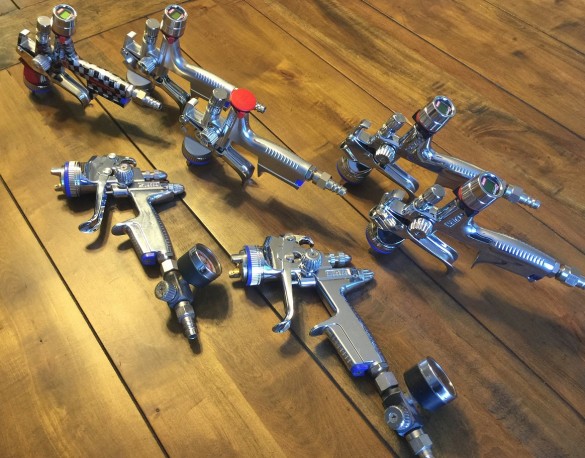 Painter Dino Rocciolo at Precision Frame & Body Shop in Santa Rosa, CA said that his SATA guns play a pivotal role at his job every day.
If you find a product or a piece of equipment that has proven to be reliable, why change?
Precision Frame & Body Shop
Santa Rosa, CA
(707) 546-6487
Type: Collision Repair
Facility Employees: Four
In Business Since: 1971
Number of Locations: One
Combined Production Space: 4,000 square feet
If you have a good thing going, why not stick with it? That's exactly how Dino Rocciola, head painter at Precision Frame & Body Shop in Santa Rosa, California feels about his beloved collection of SATA spray guns.
Rocciola, 45, has been using SATA spray guns for nearly three decades and consistently getting amazing results, so changing is not in his plans--ever, according to Rocciola. "My first gun was a SATAjet 90," he said. "I was working as a painter's assistant for a veteran painter and he told me to go out and get a SATA. He was obviously a wise man, because I now have more than 15 SATA guns and I use them all."
After learning the ins and outs of painting, Rocciola decided to spread his wings and started pursuing side work, he said. "Within just two weeks I felt comfortable spraying and I was sold. I would work all week at the shop and then I could not wait to come in over the weekends to paint. I still remember my first side job was a camper shell, and I worked so hard on that one. I wanted to make it perfect. My first car was a Pontiac Grand Prix and I painted it black. I made it look like glass!"

Several years ago, Rocciola entered a SATA design contest and placed 12th out of more than 275 entrants. "That was a big thrill for me, because I know that the top painters in the country enter that contest. Being recognized by SATA meant a lot to me and still does."
As the head painter at Precision Frame & Body Shop, Rocciola does a fair share of restoration work on top of his normal schedule. "We're not a high production shop here, but we are known for our quality, and that's why we get incredible reviews," he said. "Our owner, Nick, is a great person to work for. His dad started this shop 45 years ago and he still works here at age 73. They are both very proud of this shop and they definitely make quality a priority."
As a painter who is always trying to refine his skills and learn as much as he can about every aspect of the industry, Rocciola is always waiting for the next SATA gun to come out. "When they come out, I have to get them," he said. "Last year at SEMA I got their new SATA Jet 5000 B 'We Paint Winners' Axalta Commemorative gun and it made my year. It's an awesome gun and a major part of my collection."
Currently, Rocciola's assemblage of SATA guns consists of 15, with each one playing a role, he said. "Everything I spray acts differently, so I have one for every purpose. I have one for sealers; one or two I use for solid basecoats; one for clearcoats and another one I use for single stage paints. Each one is designed for a specific application and that's why I use so many of them all the time."
Rocciolo has 15 different SATA guns and uses them all for different types of work.
Rocciola's SATA guns accommodate his style, and by using them on literally hundreds of cars over the years, he has them dialed in to perform at a high level. "I spray fast and close to whatever I am painting and my SATA guns are ideal for the way I work," he said. "For many years, I was using mostly their HVLPs, and then a few years ago I started moving over to their RPs. I love the way they put the paint on and I know that each and every time the vehicle will look amazing."
If Rocciola ever has any questions about his SATA guns, he can either call their technical hotline, or, in some cases, he will call upon his fellow SATA believers. "The people at SATA treat me well and if I ever need a special item such as a new hose or a part, they get them to me the next day," he explained. "They really take care of their customers. In addition, I will sometimes go on social media and talk with other painters from all over the country. We help each other out and share information about our SATA guns and how we're using them."
After 26 years of using SATA guns exclusively, Rocciola has made them an integral part of his painting process, and he wouldn't imagine doing it any other way. "I always put together a game plan before I paint any car," he said. "I always work clean and I make sure that I do every job the same way. I don't change my approach and it works for me. My SATA guns are an extension of everything I do here at Precision Frame & Body and I rely on them every day."