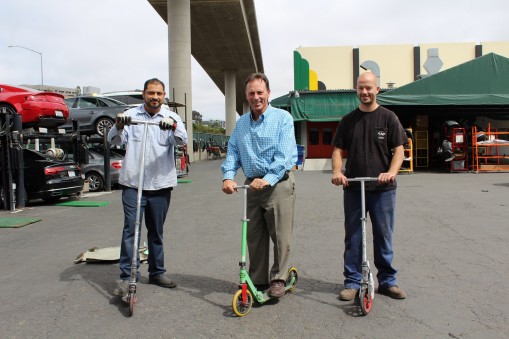 Amato's provides razor scooters for technicians to quickly get around the production facility. L to R: Victor Dobles, shop foreman; Paul Amato, owner; and Colin Storer, body man.
When you walk into Amato's Auto Body, you feel like you've stepped back into the 1930s.
Amato's Auto Body
San Diego, CA
www.amatosautobody.com
(858) 455-6715
Type: Collision Repair
Number of employees: 45
In Business Since: 1980
Number of Locations: 1
Number of DRPs: None
Production Space: 15,000 square feet
The Art Deco-styled lobby has movie posters on the wall, a vintage popcorn machine, and other collectibles from that era.
Established in 1980, Amato's specializes in repairing European vehicles and Teslas. Paul Amato, owner of the San Diego, California-based collision repair center, said the shop prides itself on staying up-to-date with the latest in technology and repair procedures.
The 15,000-square-foot facility is filled with luxury cars such as Porsche, Audi, BMW and Tesla. When repairing the more advanced structural elements on these vehicles, Amato said it is critical to have products and tools that he and the technicians can depend on. That's why he purchases equipment from Reliable Automotive Equipment (RAE).
"I trust them. They know what they are talking about," said Amato. "They stand behind everything they are doing."
In a shop that brings in nearly $1 million a month, Amato stresses the importance of utilizing top-of-the-line equipment. "You can't fix these cars without the tools that Reliable sells us," he said.
RAE has provided Amato's with automotive aftermarket products such as welders, saws and rivet guns for the past 15 years. One of the tools used regularly in the shop is Reliable's Xpress 800 pneumatic-hydraulic universal rivet gun.
Mark Twedell, the shop foreman, said that the tool seems to do it all. "This tool will do the job of three," said Twedell. "It's capable of so many things and very versatile."
He added that it has been their "go-to" tool for the last two years. "The adjustable head allows me to get in at different angles," explained Twedell. "If I need to get into a tight spot, I'll use this gun."
Another big advantage is that the gun is air hydraulic, so there is a steady stream of power and the operator doesn't have to worry about a dead battery during a job.
The rivet gun has additional parts and can be upgraded with options to handle most fasteners. Amato, who oversees production and has a pulse on everything in the shop, believes it is the ultimate riveting tool.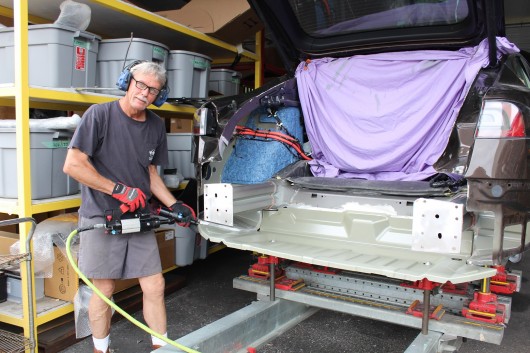 Mark Twedell, shop foreman, uses RAE's Xpress 800 rivet gun during the repair of a Tesla S.
Amato said that Reliable stands behind the quality of their products and he can rest assured that, "If something breaks, I know I have one call into Reliable, put it back in the package and ship it. It gets fixed and returned."
That's important when it comes to ensuring the shop has reliable equipment necessary to repair the 160-180 cars they handle on a monthly basis.
Mike Grauer, Amato's body shop manager, said repairs are a lot more involved than they used to be. Currently, the shop is certified by more than 17 manufacturers, from Audi to Tesla.
As new vehicle models are introduced to the market, such as the Bentley Bentayga SUV, different tooling is often required. "The manufacturer is very specific as far as what tools can be used and how the processes are done," said Grauer. Over the years, they have found they can always count on Reliable for its quality tools and support.
The I-CAR Gold shop is dedicated to continually training employees. In addition to in-house I-CAR training conducted by Grauer, Amato's regularly sends technicians to the various manufacturers to learn the most up-to-date repair procedures.
"There is a lot of technology in these vehicles and you have to stay on top of it," said Grauer. "The training never stops." With the types of vehicles Amato's repairs, they often find they are on the cutting edge of being exposed to the latest information available.
Amato's has received numerous awards over the years, including best body shop in San Diego for the last three years by San Diego A-List. The business was also voted #5 on a Union-Tribune reader's poll for being San Diego's Best in 2015 in the category of Auto Service/Repair and #3 the year prior.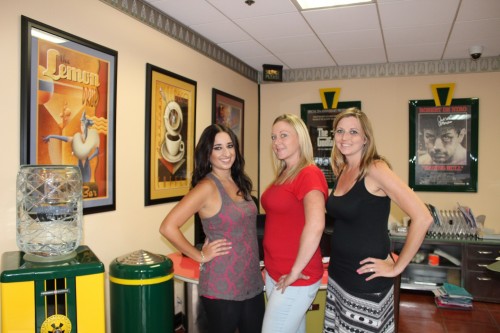 L to R: Customer service representatives Renee Gagnon, Tara Jones and Briana Gray assist customers in the Art Deco style lobby at Amato's.
The family-owned body shop operates two shifts Monday through Friday and is open seven days a week. Amato, who spends most of his time overseeing production, said this helps with turnaround times for customers.
The technicians are paid an hourly wage rather than on commission. "The one thing that I'm proudest of is that in 2014, for the profit sharing in our 401K, we put in $250,000 for the employees," said Amato. "In 2015, that figure reached $300,000 for 401K and profit sharing."
Many of the 45 people who work at Amato's are long-time employees. From the receptionist to the repair technician, Amato said the goal is to provide ultimate customer satisfaction on all auto body repairs. He attributes the shop's success to excellent customer service and repairing vehicles with the proper OEM replacement parts such as the products from RAE.
"It's a fun challenge every day," said Grauer. "In the end, you are putting the consumer back in a safe vehicle that was repaired properly."
Amato agreed. Above all, consumer satisfaction and safety matter most to the shop owner. "A lot of energy goes into repairing these cars," said Amato. "I fix every car like it was for my mom."