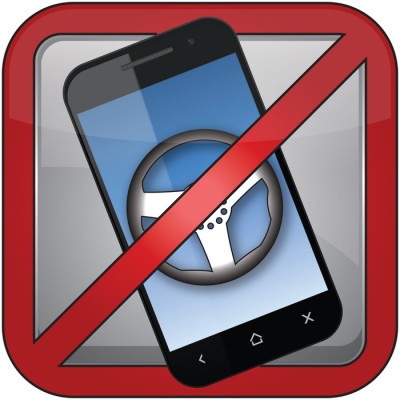 The anti-driving-and-texting app, Text Guardian, became available for Andriod users to download in February 2015, with an iOS version soon to follow.
Text Guardian was designed for parents to download on their kids' phone. "The app literally locks your whole phone except for the ability to call 911 or three contacts that mom and dad agree to in case of an emergency," said Watson.
"What inspired me were too many news reports, and customers coming in and telling me that 'I was texting and driving,' " said Watson, who began working at his father's body shop on weekends and summer vacations at age 12, switching to fulltime at 17.
Watson's father opened Jim's Body Shop in 1985. When he retired in 2006, Watson began running the business. He found that a lot of teens were coming into his shop with broken wrists, damage to their legs or back or even facial bruises.
"For some reason, teens feel necessary to confess what happened to us. They'll tell us what they did," said Watson.
With two children and three grandchildren of his own, Watson said the accidents he heard about as a result of texting and driving bothered him a lot. He began doing research on the texting apps that were available and found that they didn't have some of the features he felt were important, such as accountability or reporting to parents.
After talking to some of his tech friends about the possibly of creating an app, he contacted the company Zapporoo for assistance in July 2014.
The app has been tested over the last several months and the Android version will be launched the end of February. An iOS version will be released depending on the demand. "What's in your heart can be brought forth with a lot of effort," he said.
Watson said the name Text Guardian came about after his secretary Linda Teate mentioned that the app was like a Guardian Angel.
Once parents download the app and set up an administrative page, they can choose certain parameters such as the speed they would like the app to be activated. Once set, the teen is not able to make any adjustments.
Another key feature sends an immediate text that reads "Text Guardian is in use at this time. Will text you back when it is safe to do so." to anyone who tries to call or text the child while he/she is driving.
"We see a lot of low-speed crashes," said Watson. "They'll be driving through a neighborhood at 20 miles an hour and that's when they think it's the safest to text. Watson said it's actually one of the most dangerous times.
Parents who download the app to their own phones have the same options except the app does not need to be password protected. If their teen figures out a way to override it, the parent receives an immediate text that the app has been deactivated or attempted to be deactivated.
Watson encourages parents to also download Ignore No More, created by app developer, Sharon Standifird. If a teen is ignoring a parent's calls or texts, the app causes the phone to lock automatically.
"If they do manage to disable that app [Text Guardian] and they are still on the road, and mom and dad are aggravated, they can go to the Ignore No More app and lock their son or daughter's phone."
All of the other apps on the phone will be blocked, except for Google Maps. "We feel navigation is very necessary," said Watson.
He said he was offered a large sum of money to sell the app but decided against it once he found out that the intent was to destroy it.
"I was ready to take the money until they divulged what they wanted to do with it," said Watson. "I told them how would I be able to sit at night with the news coming on and another report of a teen being killed in a texting and driving accident. I might have a pocket full of money but I would have a destroyed heart."
He is currently working on a paid version of the app, which will offer an option to turn off blocked calls or texts.
Future plans include partnering with trucking companies that want to ensure their drivers do not text and drive. Another goal is to form a relationship with insurance companies. The idea is to create a history calendar that tracks if the teen attempts to disable the app. The information will then be sent automatically to the insurance carrier. Watson said the goal is for the insurance company to offer discounts to those who use the app.
"How could any insurance company refuse to offer this app?" said Watson. "When Text Guardian is in use, phone distraction is not an issue. Text Guardian could save insurance companies hundreds of thousands in claims each year, not to mention the lives that will be saved."
According to the Insurance Institute for Highway Safety, 2,524 teens died in motor vehicle crashes in 2013.
Watson and his wife Ann have realized the Text Guardian app could be a big part of saving lives.
"It will absolutely save lives and that's my dream," said Watson. "The goal is to watch the stats go down."
"The greatest reward of all is going to be when I start seeing stats run down and then kids get so used to this app it becomes simply like a seatbelt," he said. "We know that it could actually hurt business but that's not the issue. Lives are the issue."