The New Orleans Police Department (NOPD) has obtained a computer composite sketch of the suspect who struck and killed 2-year-old Christian Glover in the 3100 block of North Claiborne Avenue.
At 5:15 p.m. on December 4, the toddler ran into the roadway where he was then struck by a pick-up truck. The driver of the vehicle stopped, exited the vehicle, observed the child, got back into the vehicle, and fled the scene.
The toddler was transported to the hospital where he later died.
The driver is described as a black male, dark complexion, 40 to 50 years of age, approximately 5'11" to 6' tall, approximately 160 to 180 pounds, thin build, and having salt and pepper hair with a goatee. He was wearing a navy blue t-shirt and dark colored pants.
The vehicle is described as an older model white two-door Chevrolet truck. The truck was captured on surveillance video and can be seen below: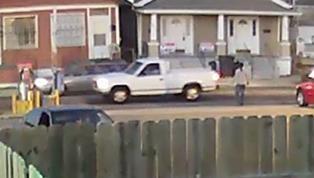 A computer composite sketch of the suspect can be seen here:
According to witnesses, several vehicles were in the area at the time of the incident.
Detectives are urging anyone who may have information to please call Fatality Investigator Edgar Edwards at 658-6208 or Crimestoppers.
Citizens with information that can help solve this crime are asked to call Crimestoppers at 822-1111 or toll-free 1-877-903-STOP. You could receive a cash reward of up to $2,500 for the information leading to the arrest and indictment of the responsible person(s). You do not have to give your name nor testify to receive the reward. Citizens can also submit an anonymous tip online to Crimestoppers at www.crimestoppersgno.org external link.