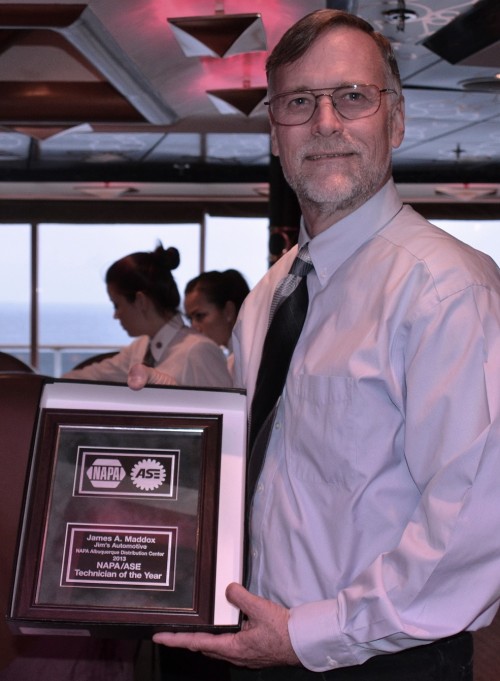 Jim Maddox posing with his 2013 NAPA/ASE Technician of the Year Award.
Chasidy Rae Sisk
For the third time in four years, Jim Maddox, owner of Jim's Automotive in Albuquerque, NM and Executive Director of ASA-CNM, has been nationally recognized by NAPA as one of their Top Five Nominees in this year's annual NAPA ASE Technician of the Year Award competition. Maddox states, "it gives me very 'humble feelings' to be considered amongst one of the best repair shops and technicians in the country! I feel that the people I surround myself with are an important part of what I am. Thank you for your support!"
Every year, each NAPA Distribution Center elects one candidate to submit to NAPA Headquarters to be considered for their annual ASE Technician of the Year Award. NAPA's stringent requirements include a specified amount of ASE certifications for the shop owner and his/her employees, participation in NAPA AutoCare and other NAPA programs, and community service obligations.
Ronnie DuBose, District Manager of NAPA Albuquerque, states, "I am happy to say that Jim Maddox of Jim's Automotive was the NAPA Albuquerque selection that was submitted to NAPA Headquarters. Jim has an impressive resume that qualified him well enough for the selection that he also qualified in the Top Five nominations in the entire country! While Jim was not the final selection by the committee this year, we are very proud of the fact that he was in consideration up to the final selection for this prestigious award."