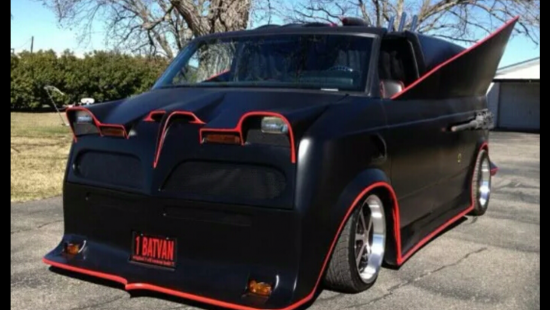 The technicans split their time between collision repair and restoration work. Klump said the two sides of his business complement each other and often customers will come in requesting one type of service and then learn that he offers more. Over the years he has found collision repair work brings in a steady stream of income and restoration is something he has always enjoyed.
It took John Klump at Radical Restorations about three years to restore the "Batvan" for Rick Crocker of Rick's Rodz.
"It's fun to take something beat up and turn it into something nice," said Klump. "I'm always up for a challenge. For me, there's never a plan; it just comes to me."
One of his favorite restoration projects was the "Batvan" he built for Rick Crocker, the owner of a classic car dealership in Mesquite, TX called Rick's Rodz. Crocker bought a van that had been sitting in a field and filled with chickens and brought it to Klump to restore. The Batvan was designed by George Barris, who is known for his famous creations including the 1966 Batmobile, the Munster Koach and KITT from Knightrider. It took Klump about three years to finish the Batvan, which is all steel hand-built. Some of the highlights include a fake missile that comes out of the roof, a fake .50-caliber machine gun with electric motors that rolls out of the driver's side and a flame thrower that throws a 10-to 15-foot flame out of the back of the van.
"Rick called me one day and asked if I was up for a challenge," said Klump. "Before he could finish telling me about the van, I said, 'Let's do it.'"
When he was 13, Klump saved enough money to purchase his first car, a 1976 Montecarlo, and remembers spending time working on it in his parent's driveway. Before Klump started his own business he used to work for Randy Burrows of Burrows Auto Restoration in Nevada, TX. Burrows encouraged Klump to pursue body work and was a big influence in his life and his business.
Klump is passing on what he knows about cars to his two boys, 12-year-old John and nine-year old Jaxon, and they often help in the shop. When the business relocated to Fate, Klump left a paint booth behind his house and he and his boys often work there on their own "toys." Klump said he takes pride in his jobs and doesn't cut corners, often doing things the old-fashioned way, such as airbrushing by hand. Supporting local businesses is also important to him so he purchases the Matrix paint he uses in his shop at the nearby T&T Color Supply. Giving customers what they ask for is his first priority at Radical Restorations.
"My business is taking care of customers, having a good relationship with the customers and making them happy," he said. "That's how I got busy. I'm here for them, not just the money."