Torrez was working in a friend's body shop in 2006 when he first expressed the desire to open his own customs shop that would cater to celebrity clients. The staff promptly informed him that he was nuts.
"Even though I came from nothing, I always thought that I was going to do something or be something," said Torrez, who was raised on welfare by his grandparents. "So I didn't care if anyone thought it was a crazy idea. I wanted a name for my shop that reflected that. 'What's another word for crazy?' I asked. Someone suggested demented. Immediately, I thought, 'That's my name.'"
In addition to owning Demented Customs in Hobbs, New Mexico, Torrez recently co-hosted reality series "Tackle My Ride" on the NFL Network alongside former NFL linebacker LaMarr Woodley. In the unscripted show, Torrez and Woodley surprise diehard football fans with vehicle makeovers that ultimately bring them face to face with their NFL heroes. Although he has been working on cars for decades, it wasn't a straight shot to his own shop nor to television for Torrez, who made a few unusual detours along the way.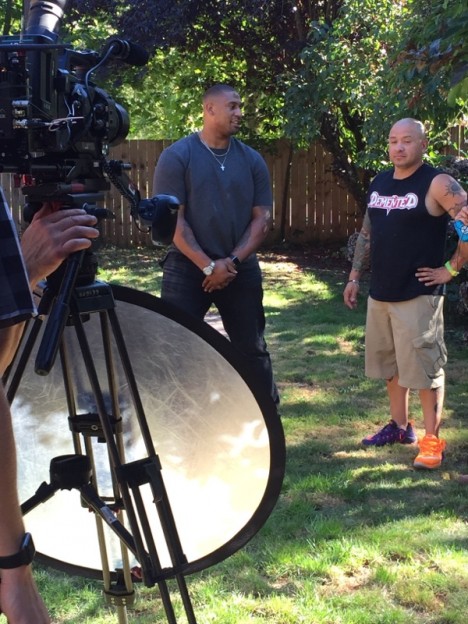 Former NFL linebacker LaMarr Woodley and custom builder James Torrez on the set of Tackle My Ride.
Torrez learned how to paint cars at age 19 when he approached the owner of a local body shop and asked for an unpaid apprenticeship. "I was painting a bunch of people's stuff for free and just practicing," Torrez said. "I was also doing car stereos and suspensions. I wanted to do flames, but nobody there could do flames, so that's why I learned how to do them. From then on, I pretty much painted them all the time."
Although he has painted cars for decades, Torrez has worked in a unique variety of industries. He labored in the New Mexico oil fields for five years while also painting cars in the evening. From there, he began a career in the police department, working as an officer for three years before joining the narcotics unit.
"But I was always painting," Torrez recalled. "Each night, until around midnight, I was at a friend's body shop. On weekends and days off, I was always there, working on my cars or his cars."
While part of the narcotics unit, Torrez raised his three sons as a single parent. He eventually realized that the stress of his job was infringing on his ability to be there for his kids, so Torrez elected to change course once more. He worked at a friend's body shop doing collision repair work for a while before deciding to open Demented Customs. His three sons--Jaime, Christian, and Paul--all work in the shop with him, and each of them is featured on Tackle My Ride.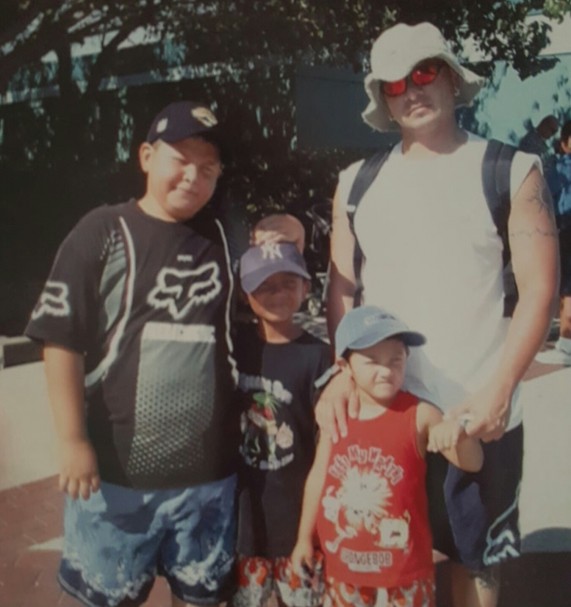 Torrez raised his three sons as a single parent, and they all work on cars together at Demented Customs.
"My kids have always been with me in the shop," Torrez explained. "When J.R. (Jaime), my oldest, was ten, he and I did a crotch rocket together. I had him sanding and polishing the frame, and that bike was actually featured in Super Street. It was the first Demented Customs project that we worked on together. Ever since, he and I have worked on a lot of projects together. We were on the last season of Overhaulin,' where we worked side by side with Chip Foose, which was just unreal. We learned a lot!"
In addition to customizing cars within his community, Torrez performs work regularly for celebrities. But initially, high-end cars and the clients who drove them didn't exactly come careening into the shop.
Torrez' work in celebrity customs essentially began at SEMA. He had heard about the Show and was curious as to how it might help him get his foot in the door. Upon doing some research, he was told by a fellow customizer that SEMA was a waste of time and that he shouldn't bother with it. Fortunately, he ignored this advice and built a truck to showcase. There, a friend from House of Kolor introduced him to the staff of West Coast Customs. Torrez pointed out a few flaws in their work and was assured that celebrities didn't notice flaws; they simply wanted nice cars and were willing to shell out a lot of dough for them.
"I figured that was what I needed: customers that had money to work with," Torrez said. "But I was going to take care of them. I wasn't going to cheat them. Just because they were big name celebrities, I wasn't going to charge them $200,000 for an $80,000 job. I wanted to be fair with them."
Still, he was living and working in Hobbs, a lengthy ten-hour drive from Los Angeles. Accessing celebrities might be difficult due to the distance and his lack of connections. He used Myspace to contact Keith Jardin, a UFC Fighter. A wealth of celebrities were UFC fans, and it seemed like a great network to tap into. While working on Jardin's 1996 Ford Bronco, Heavyweight Champion Rashad Evans sent him a Lexus to install DVD monitors into, but Torrez ended up completing a full build.
Torrez showcased the Bronco and Lexus in 2008 at the UFC 100, seeing it as an ideal venue to meet additional UFC fighters. There, he made connections with people in the industry who would later introduce him to other celebrity clients. Skrape (real name Tim Katz), founder of sports clothing company TapouT, approached him to work on a '70 Suburban that he wanted to vinyl wrap and put a 350 motor in, but Torrez had bigger plans. He convinced Skrape to let him customize it on a much grander scale so that he could unveil it at SEMA 2009. He had a mere two months to complete the considerable amount of work required in time for the Show.


Keith Jardin's 1996 Ford Bronco, which was Torrez' first celebrity build.
While exhibiting at SEMA, a conversation at the GM booth with Dr. Jamie Meyer--Performance Parts Program Manager at General Motors--and a lengthy negotiation for a LSX 454 motor that spanned several months led to a private party at the WIN Casino the Monday night before SEMA 2010. Dr. Meyer assured Torrez that the two cars that he was customizing--'55 and '70 Chevelles--would be on display to unveil the LSX engines to GM executives at the exclusive event. The cars were a hit, and SEMA proved once again to be a brilliant venue for making connections.
"I used SEMA to elevate me to different levels," Torrez affirmed. "It's really a good tool if people know how to use it correctly."
A 2011 Twitter conversation with his friends from SEMA somehow came to involve luminous media personality and former NFL player Michael Strahan, who allowed Torrez to "audition" for him as a customizer with a GTO. In 2012, Torrez unveiled Strahan's customized GTO at a TurboNetix booth. Years later, his friendship with Strahan would aid him in being approached to audition for Tackle My Ride. Even with Strahan's reference, Torrez and his crew at Demented Customs had to work to beat out ten other shops to be the one featured on Tackle My Ride, which they ultimately did, and handily.
Tackle My Ride, which finished airing in mid-December, was warmly received by critics and audiences, and the exposure has brought business and esteem to Demented Customs. Moreover, Torrez and his family had a blast being part of it together.
"I can't express how much I appreciate my sons and all of the help they give me at the shop," Torrez gushed. "I couldn't have completed any of my builds without them. In addition to being my sons, they are my teammates and best friends."
Along with his family's unyielding support, Torrez attributes his success to his mindset. "What I've come to learn is, to achieve greatness, you've got to be demented," Torrez mused. "Your ideas have to be so off the hook that to the average person, you appear crazy. But in your head, you're completely focused on the end game. You know exactly where you're going; you just have to keep working in order to get there."