The Atlanta, GA native transferred to Universal Technical Institute (UTI) Houston in September 2015, despite pushback from her parents.
"Attending a trade school was always my first choice, so transferring to UTI Houston wasn't a spur of the moment decision. It was one I had contemplated for years prior to actually moving," explained Storey. "I've loved the body lines and sleek finishes of cars since I can remember."
Being the only woman in her classes, Storey said she had to prove herself.
"Before classmates called me by my name, [I was referred to as] 'girl,' 'chick', or my personal favorite 'that female,'" Storey said. "I was constantly questioned and treated like a damsel in distress. I couldn't just show up and be respected like everyone else."
She added that she would refuse help just to make a point.
"If I couldn't figure it out alone, my preference was to fail until I did to prevent having to be saved," Storey explained.
She said she doesn't know where she'd be without support from her friends.
"My closest friends knew I wanted to be happy and could be successful at whatever I put 100 percent into," she added.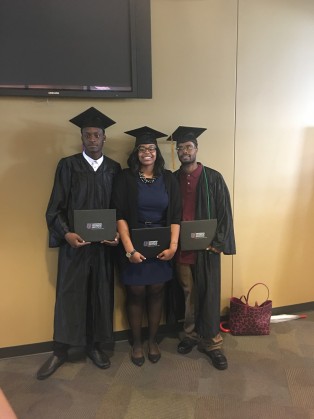 Jasmine and her classmates on graduation day.


A year later in September 2016, Storey graduated amongst the top students in her class with a 3.94 GPA, three perfect attendance awards, several scholarships, and two job offers. She specializes in refinishing and mechanical repairs related to collision.
Storey said the most rewarding aspect of attending UTI Houston was "being in a supportive environment where I didn't have to validate why I love collision repair and refinishing. Everyone understood."
Storey said that, in her experience, the benefits of attending a trade school outweighed those of attending a four year program.
"'If you give a man a fish, he dines for a day. If you teach a man to fish, he dines for a lifetime,'" she quoted. "Hard skills equip a person with resources to live and work well for a long period of time. You also save money and are then able to make a living much sooner.
"A trade school education is an investment that will always yield a return," she added.
In five to seven years, Storey said she hopes to acquire her Master Technician status and prepare to enter management. In 10 to 20 years, she said she plans to own and operate a collision repair and refinish shop.
When asked what advice she'd give other women looking to pursue the same career path, she said, "Ignore the noise and have tunnel vision-like focus. Set a goal of being and staying in this industry and fight to accomplish it everyday. Do not be deterred by naysayers. They aren't going anywhere; become comfortable with this reality."