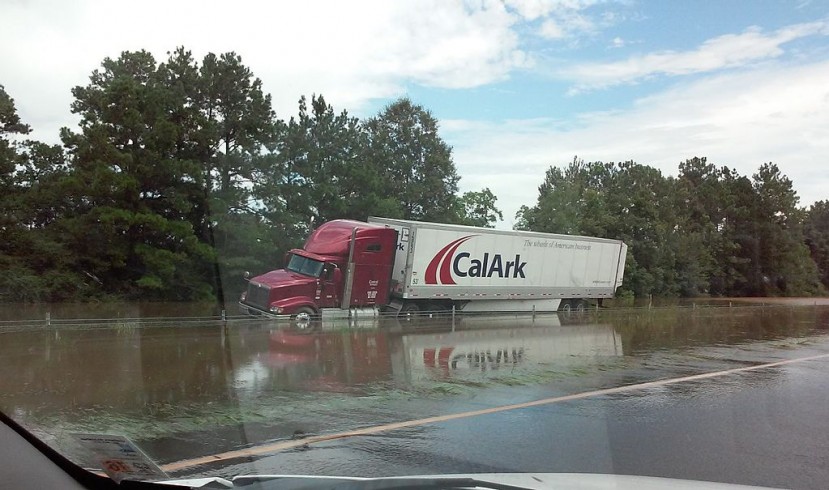 Truck abandoned on Interstate 12 during the August 2016 Louisiana floods. (Photo: Wikimedia Commons)
Eleven are dead and more than 40,000 homes have been affected by the heavy deluge of rain and floods in Baton Rouge, La., that began August 12. Some AGRR [automotive glass repair & replacement] companies are just now getting back up and running while others were luckily enough to escape the water's wrath.
"We've been closed since Friday [August 12]," says Kristen Miles, owner of a Clear View Auto Glass in Baton Rouge, La. "We're all right, but our home office got flooded. We probably won't be able to get back into the house until Monday [August 15]."
Janet Mosley of Baker, La.-based Baker Glass Works was putting in an application to FEMA [Federal Emergency Management Agency] on the morning of August 17. "We're basically hanging on by a thread," she says.
Baker Glass Works is open, but many of the company's employees are stuck at home due to the floods. Mosley also believes her area glass suppliers have been significantly affected by warehouse flooding.
"I haven't been able to get in contact with them in the last two days," she says. "We haven't been able to get glass coming in. Anything we have ordered, we have not able to get in since before the storm came across."
She adds, "If I have something in stock, we can try to do it. But I'm not able to do anything unless I have glass."
Eclipse Glass & Tint in Baton Rouge avoided most of the flooding, says John Tyler, company owner. However, his company has been closed since the afternoon of August 12.
"I'm doing fine," he says. "There is no water anywhere in the shop, but plenty of family members and friends got water in their homes. Nobody was hurt, other than their spirit. This is my first day back to work and I probably won't be here long. A lot of friends have seen total devastation. Their homes are gutted out. I've been helping them to tear all the sheet rock out and deal with that."
Bengal Glass & Mirror in Baton Rouge didn't get flooded.
"We're doing fine," says Weston Turner, an automotive glass installer. "We didn't see much water other than August 12 when our drainage had issues. All of our employees are okay, but a lot of friends have been affected."
Mobile work has been curtailed with many roads closed until yesterday, he notes.
As for distributors, Turner has only heard from one—American Glass Distributors, which has a warehouse in Baton Rouge.
Jon "Kip" Wiley of American Glass Distributors says the local warehouse didn't sustain much damage.
"We were closed because employees couldn't get to work," he says. "There was a little water in the warehouse and nothing in the office. One gentleman lost everything. When we finally heard from him, he was in a shelter."
It was a stationary system that just dumped an unbelievable amount of rain, he says.
"We got back up and running yesterday [August 16]," Wiley adds. "As the water recedes, we'll continue on and take care of our customers. We're not putting any vehicle on the road in danger to do deliveries."
NSG Pilkington's service center in Baton Rouge was closed August 15 and offered "will call" options on August 16.
"As of this morning, we are back to our normal delivery schedule," says Erica Clouse, marketing specialist. "All of our associates were safe, but most were unable to access the roads required to get to the service center on Monday, which led to the closing. Although many roads were flooded, our service center remained largely un-impacted."
We would like to thank glassBYTES.com for reprint permission.