So if, in the storm's wake, officers pull over cars with damaged windows, they'll likely just give a warning and a message to replace them as soon as possible. That is, as long as the driver can see through the window.
"With recent storms, we had officers who are going to be pretty lenient," said Lt. Dave Gilman of Colorado Springs police's Falcon substation in the northern part of the city. "Because, hey, we were involved with our cars. We understand. We literally have hundreds, if not thousands, of cars that sustained damage. They still have to get to work, get to their day-to-day business. A busted window, it's no fault of their own that they have to wait to get their windows replaced."
Some auto body shops are booking appointments months in advance.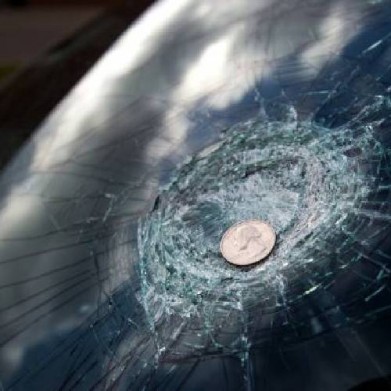 Hail the size of a baseball damaged more than two dozen police vehicles July 28, 2016, at the Stetson Hills police station in Colorado Springs. (The Gazette, Christian Murdock)
Of the 40 cars within the department's Stetson Hills Division near Cimarron Hills damaged by hail, half of them had busted windshields. The rear windshields of at least four vehicles were shattered.
Like many car owners in the Springs, police also have to wait to get their vehicles fixed.
Gilman said officers will only issue a ticket if damage to a car is obstructing the view of the driver.
"Is the driver's field of view obstructed? If it is, that's a problem," he said. "If it's a crack in the corner, we don't worry about it as long as the driver's view isn't obstructed."
We would like to thank The Gazette for reprint permission.