The move enabled the college to expand its capacity in career-training programs, including its popular automotive collision program. The facility has modern classroom space and training labs and as well as equipment such as a frame rack, paint booth, prep decks and weld booths.
The frame rack is a Chief Titan 360. It is complete with four pulling towers and a laser measuring system. This gives students the capability to measure, pull and fix any type of damage on vehicles.
The paint booth is a Garmat down draft full vehicle size booth. The ventilation and air flow assist in the painting process. It is equipped with an Accele-cure fan system to accommodate the new Waterborne paint system. EGTC also has a fully-stocked paint mix room with a full solvent paint bank and a full waterborne paint bank.
The two prep decks are also from Garmat with a down draft. They are used in every learning situation from grinding on cars to sanding to a small amount of painting. They are top-rated and offer a functional space for a variety of activities.
The program's weld booths are from Clean Air Tech and have their own ventilation system. When a student strikes an arc, the ventilation system starts to move the hazardous welding smoke away from the welder, a critical safety precaution. They each have their own welder and curtains that also offer the student a safe environment. The gasses for the welding class are piped in so a student never runs out of gas.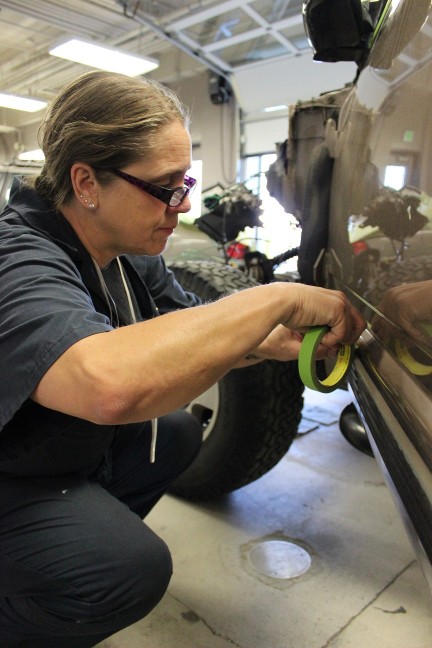 "The hands-on training facilities feature the most advanced training equipment with electrical diagnostic systems, new additions to the automotive program's fleet of cars, new air filtration systems for the state-of-the-art training labs, multi-functional classrooms, and maximized energy efficiency," according to Jeff Barratt, EGTC's executive director.
The auto collision program at Emily Griffith Technical College places an emphasis on student success. The technical college said it offers offers some of the lowest tuition in the state, in addition to a large number of scholarships and full and part-time options. Additionally, the program's completion rate is 89 percent and more than 80 percent of its graduates are working in the field within six months of completion. The faculty has enlisted industry specialists, most of whom are shop owners, to serve as advisory committee members. The group informs the faculty about industry needs and trends to ensure the programming is relevant to the current market.