A gunman barricaded himself inside an auto body repair business after firing at bail bondsmen who were trying to apprehend him, leading to a standoff with authorities, Oklahoma City police said on December 29, 2015.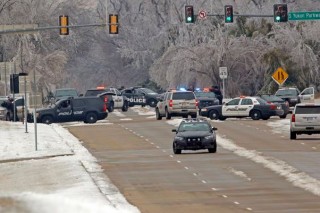 Photo Credit: Steve Gooch, The Oklahoman
The man, who police had not identified that night, is a convicted felon who was on probation when he was arrested on complaints of possession of a controlled dangerous substance and drug paraphernalia, said Oklahoma City police Capt. Paco Balderrama.

Bondsmen were attempting to serve a felony warrant on the man about noon in the 2200 block of S Yukon Parkway when shots were fired, Balderrama said. None of the bondsmen were hit by gunfire.

Balderrama said members of their tactical unit and police negotiators, along with Yukon police and Canadian County sheriff's deputies, were working on December 29 to try and peacefully resolve the standoff.

"They have literally called him over 200 times so it's obvious he's not willing to communicate with us and come to a negotiation, so we have to try and wait it out," Balderrama said.

Some students at nearby Yukon High School were temporarily held at the school for their safety, Balderrama said, but were later removed unharmed by Yukon police. No nearby residents or businesses were evacuated.

Reprinted with permission, The Oklahoman, Copyright 2015