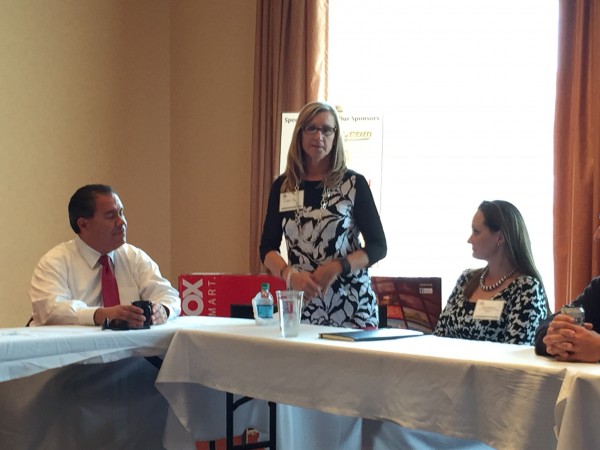 New Mexico Senator, Michael Padilla; Executive Director of NMCARA, Sandy Blalock; New Mexico Department of Motor Vehicle Dealer Licensing Bureau Chief, Noel Davis
NMCARA's 2015 Recycling Summit and Training Event offered a lot of invaluable information for attendees. The event's main presentation was given by Mike James and Travis Cowart of James Environmental and focused on Safety and Environmental Compliance. Melissa Barker from New Mexico's Occupational Safety and Health Bureau also presented on their program to discuss the importance of Safety Data Sheets; all facilities are required to maintain and train their employees on the information available on OSHA's safety sheets.
Blalock stated, "The focus of the event was the afternoon Roundtable which was attended by NM State Senate Majority Whip Michael Padilla, along with the new New Mexico Department of Motor Vehicle Dealer Licensing Bureau Chief Noel Davis and Lance Denger, Investigator with the state's Regulation and Licensing Department, Recycled Metals Compliance. Also in attendance was Detective Mike Sindelar from San Juan County, an officer that the association has worked with over the years."
These events, according to Blalock, are designed to connect automotive recycling professionals with their peers, including business owners, employees, industry vendors and suppliers. A major focus is providing educational and training opportunities in addition to offering ample time for networking.
Association-sponsored events are very important to the industry because "automotive recycling business owners and their employees need to stay informed on the latest developments and trends impacting the industry as well as the broader automotive and repair sectors," Blalock explained. "These events serve as a means of providing this type of information, and they also serve as an opportunity for the association to remind members why they joined the association in the first place and help promote the association's value by highlighting the many benefits, products and services available to the membership. Networking is also a key ingredient in the success of association events as it allows automotive recyclers to benchmark themselves and their peers."
Blalock is very grateful to all the sponsors and exhibitors "who are truly the reason we can afford to put on programs like this for our recycling industry. Automotive recyclers and our association are fortunate in New Mexico to have such great law enforcement supporting our efforts to level the playing field for our industry."