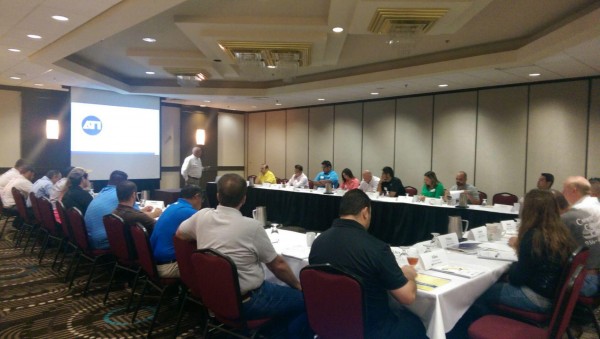 At the HABA meeting Keith Manich gave a short presentation, and conducted a question and answer session with members about ways to improve and grow their business, and about changes taking place in the collision industry.
The ATI Owner's Event was led by Frank Rose, one of ATIs Senior Consultants. In this full day session Frank covered many things including: Tracking and understanding your Key Performance Indicators, Process Flow diagrams and discussions, Floor zoning (lean process) diagrams and discussion, Ways to improve your repair estimate accuracy, How to market your shop effectively online, and A look at succession planning strategies. Jim Young; one of ATI's coaches, was also in attendance and provided valuable feedback to participants during the question and answer session.
On August 25th Matt Winslow, our Senior Instructor, conducted this same Owner's Event in the Cleveland area. Participating in this workshop was ATI's Jim Young and nine local Collision shop owners.
Current upcoming workshops are in San Antonio, Tulsa, Cincinnati, Strausburg PA, Tysons Corner VA, Dallas, Kansas City, Williamsburg VA, Boston, Princeton NJ, Orlando, Columbia SC and Columbus OH.
If you'd like to know how ATI can participate in meetings with your association please contact Keith Manich; our Director of Collision Services, at 301-575-9191 or kmanich@autotraining.net. To register for one of our workshops, please visit ATI's website at www.Autotraining.net (enter code ABA01) or contact Maria Tanglos at 301-575-9186 or mtanglos@autotraining.net.