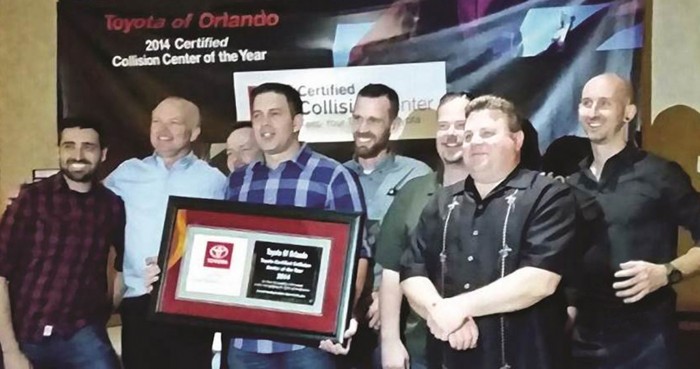 The Toyota of Orlando team accepts the Toyota Certified Center Triple Crown Award.
The Triple Crown Award is presented annually to the Toyota dealer collision center that best exemplifies the spirit of certification. According to Hilton, more than 175 Toyota Certified Collision Center (TCCC) dealers nationwide competed for the prize.
"This award is quite an achievement in the Toyota family," said Hilton. "Centers are evaluated on a point system based on customer satisfaction; manager, estimator and technician certification; facility and equipment requirements and other benchmark achievements as well as sales volume. By winning twice in three years, it's obvious Toyota of Orlando is doing something very right."
Toyota of Orlando moved to its current location three years ago. The new facility helped the dealership qualify for award competition.
"It was an honor to receive this award the first time; earning it again makes us very proud that our efforts continue to be recognized," said O'Connor. "Our success comes from the hard work and exceptional abilities of our entire team. Additionally, the support and training we receive from Toyota, Ben's Paint Supply and PPG experts keep us at the leading edge of refinish technology. In particular, PPG's MVP program has been instrumental in helping us reach our goals of maximizing productivity without compromising the quality our customers demand."
The dealership has been a PPG customer since it opened. Six years ago it converted to the ENVIROBASE® High Performance waterborne system.
"We look at Toyota of Orlando as a showcase for what can be accomplished with great products and great support," said Matt Boyd, PPG territory manager. "Scott and his staff have taken advantage of our Green Belt Training program, applied lean processes and earned the respect of Toyota's management. We are very pleased to congratulate the dealership."
For more information about PPG products and the MVP program, call (800) 647-6050 or visit www.ppgrefinish.com