Christian, a United States Navy Veteran, thought she was going to ABRA to speak about her experiences as veteran who struggled to re-acclimate after being discharged from service.
When she arrived, Christian was greeted by members of the ABRA, Esurance and Recycled Rides teams.
Roswell Mayor Jere Wood, Councilmen Donald J. Horton and Jerry Orlans were in attendance.
Christian, unbeknownst to her, was selected by the Veterans Empowerment Organization (VEO) of Georgia as the recipient of the vehicle, but had no idea until the car pulled up in front of her.
At that point, she was overwhelmed with tears of joy, shock and disbelief, having to be supported by VEO Director of Development Larion Williams.
"Someone pinch me," said Christian after receiving the surprise of the vehicle, which was packed full of everything a family could need: food, dishes, pots and pans, cleaning supplies, toys for her children, gift cards and more.
While sitting in her new vehicle, Christian remained in a state of shock.
"I've only ever seen something like this, where a person is surprised by a big group of people, on television," she said.
"I can't believe this is happening to me," she said happily.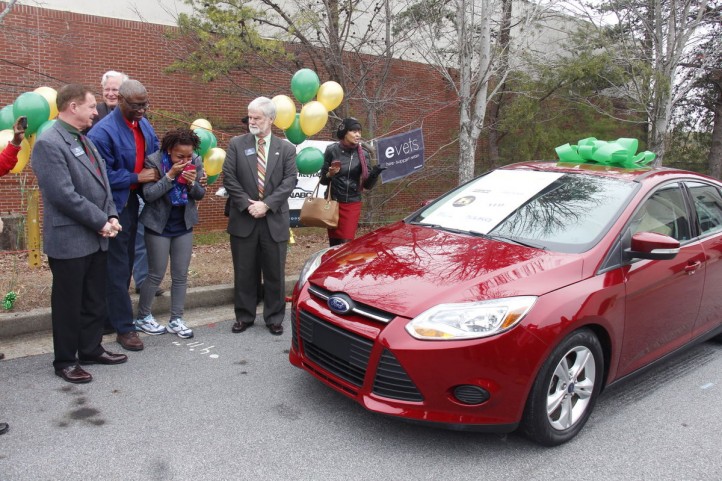 U.S. Navy Veteran Anetra Christian was in tears when she realized the Ford Fusion that drove up was hers to keep at ABRA Body & Glass in Roswell on St. Patrick's Day. From left, Roswell Councilman Donald J. Horton, Veteran Empowerment Organization (VEO) Director of Development Larion Williams, Mayor Jere Wood, Christian, Councilman Jerry Orlans and Kimberlyn Dixon, also of VEO.
At one point, Christian mentioned how she wished her mother could be there with her to witness such a joyous occasion.
Her mother passed away from diabetes only three weeks ago.
Christian, who is originally from the U.S. Virgin Islands, is from a military-oriented family, so it was "very easy for me to take that track."
"My dad, mom, cousins and grandfather were in the armed forces," she said.
Christian served in the United States Navy for eight years as an Aviation Ordinanceman and received the following accolades: Good Conduct Medal, National Defense Service Medal, Global War on Terrorism Service Medal and Overseas Service Ribbon.
While she loved to serve, she found it hard to deploy and be away from her children and family.
After leaving the military, Christian pursued college, but it became challenging for her.
"I became pregnant, which made everything more challenging. I stayed with my cousin, which took a toll on her because I couldn't help out as much as I wanted being pregnant," she said.
The stress of the situation impacted everyone and Christian ended up homeless.
"I felt alone, was stressed out, and I lost my baby," she said.
An opportunity arose to go to Fort McPherson, where she attended a class about available veteran programs, which is when she learned about Veteran Empowerment Organization (VEO) and met Sean, a VEO case worker.
Veteran Empowerment Organization aims "to enhance the quality of life for all veterans on their road to self-sufficiency," as stated on their website.
The Atlanta based organization offers housing and supportive services, assistance in self-sufficiency and employment readiness to homeless veterans.
"I met Mr. Frantz, the owner of the VEO program and they helped me find a job within a month, a home within two weeks," Christian recollected.
"I am so grateful and thankful to Mr. Frantz and this program for helping people of different caliber. As a civilian, he feels so strongly about helping veterans."
For Christian, the emphasis on VEO's efforts to help Veterans and their families is what brought her to become involved in the program.
"The VEO program helps Veterans with their families and to keep them together. I have children and my mom was there with me; I wanted to make sure wherever I went, my family went too, not us being separated or have them in a civilian area and I'm in a veteran area, they were with me all the time," she said.
Christian's younger son, Masiyah, 2, was at ABRA with her.
In between many hugs and tears of joy, Christian mentioned her original plan was to try and have her own car by the end of this year.
Her plans for how the car will be of significant assistance to her accelerated from a "maybe in the near future" to a reality as of that morning.
ABRA Auto Body & Glass partnered with Esurance Insurance Company and the National Auto Body Council's Recycled Rides program for the donation.
National Auto Body Council's Recycled Rides program is a collaborative effort by auto body shops, insurers, parts suppliers and others in the collision industry to repair and donate vehicles to deserving families and community service organizations throughout the United States.
Anetra Christian works for Sheraton Hotels, and with guidance and supportive services, she has worked diligently to overcome her barriers and transition out of homelessness.
"She has never stopped striving for a better life for herself and her family," as stated in a news release.
ABRA Auto Body & Glass is at 740 Holcomb Bridge Road in Roswell.
We would like to thank North Fulton Neighbor for reprint permission.