While the grant was awarded through the Collision Repair Education Foundation (CREF), it was also made possible through the Atlanta I-CAR Committee's local fundraising efforts.
Dr. Andrea Daniel, President of Athens Technical College, stated, "The CREF/I-CAR grant has been great for Athens Technical College, but most importantly, impactful for our students. In the ever-changing market of collision repair, providing our automotive collision and repair students with an outstanding education in the classroom, coupled with hands-on instruction through the newly purchased industry standard equipment, sets our graduates apart in the marketplace. In speaking with current students that have been in the program pre- and post-grant makeover, they have commented to me that the change has really improved their overall educational experience and that they really enjoy working on the new equipment as they are adding to their industry skillset."
The ceremony occurred from 2-4PM and showcased how the school's collision repair program was transformed with new tools, equipment and supplies as a result of the makeover grant.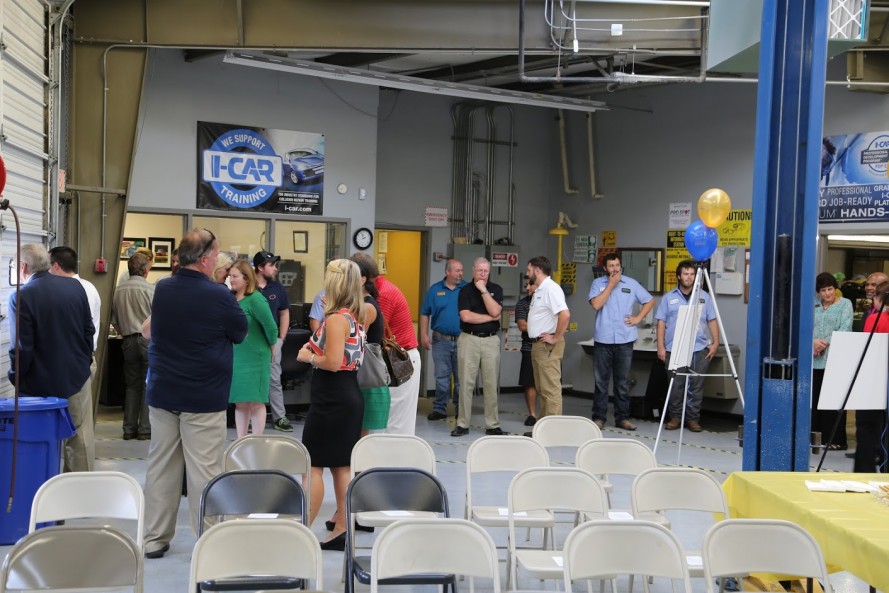 "The CREF Makeover grant has made a huge difference in the automotive collision and repair program at Athens Technical College. Providing the students the best possible education for workplace success is one of our primary goals," according to Greg Thomas, Chair of Athens Technical College's Automotive Collision and Repair program. "The Makeover Grant provided by CREF, and Atlanta I-CAR Committee and industry partners is helping us to do that with state-of-the-art tools, equipment and improvements to the facilities. The students will benefit significantly in the automotive collision repair program because of this amazing opportunity!"
CREF's Ultimate Collision Education Makeover grants are designed to honor schools doing an outstanding job of educating students in collision repair by providing some financial assistance to improve the school's teaching materials and equipment. Brandon Eckenrode, Director of Development for CREF, said "With strained school budgets, we are honored to have the opportunity to bridge the program's financial gap and to make a difference in the lives of the students studying collision repair."
Makeover grant winners are selected by a committee comprised of members of CREF's Board of Trustees, and this year's winners were announced at SEMA 2016.
Athens Technical College's $50,000 Makeover grant ceremony was provided by the Atlanta I-CAR Committee in conjunction with the following industry partners: ABRA Auto Body & Glass, Allstate, American Family Insurance, Axalta, Caliber Collision, CCC Information Services, Classic Collision, Enterprise, Farmers Insurance, FinishMaster, Georgia Farm Bureau, Hendrick Automotive, IAAI, I-CAR, Liberty Mutual Insurance, LKQ/Keystone, Nalley Group, Rimkus, Progressive Insurance, Safeco, Service King, Sherwin-Williams, and Sports & Imports.