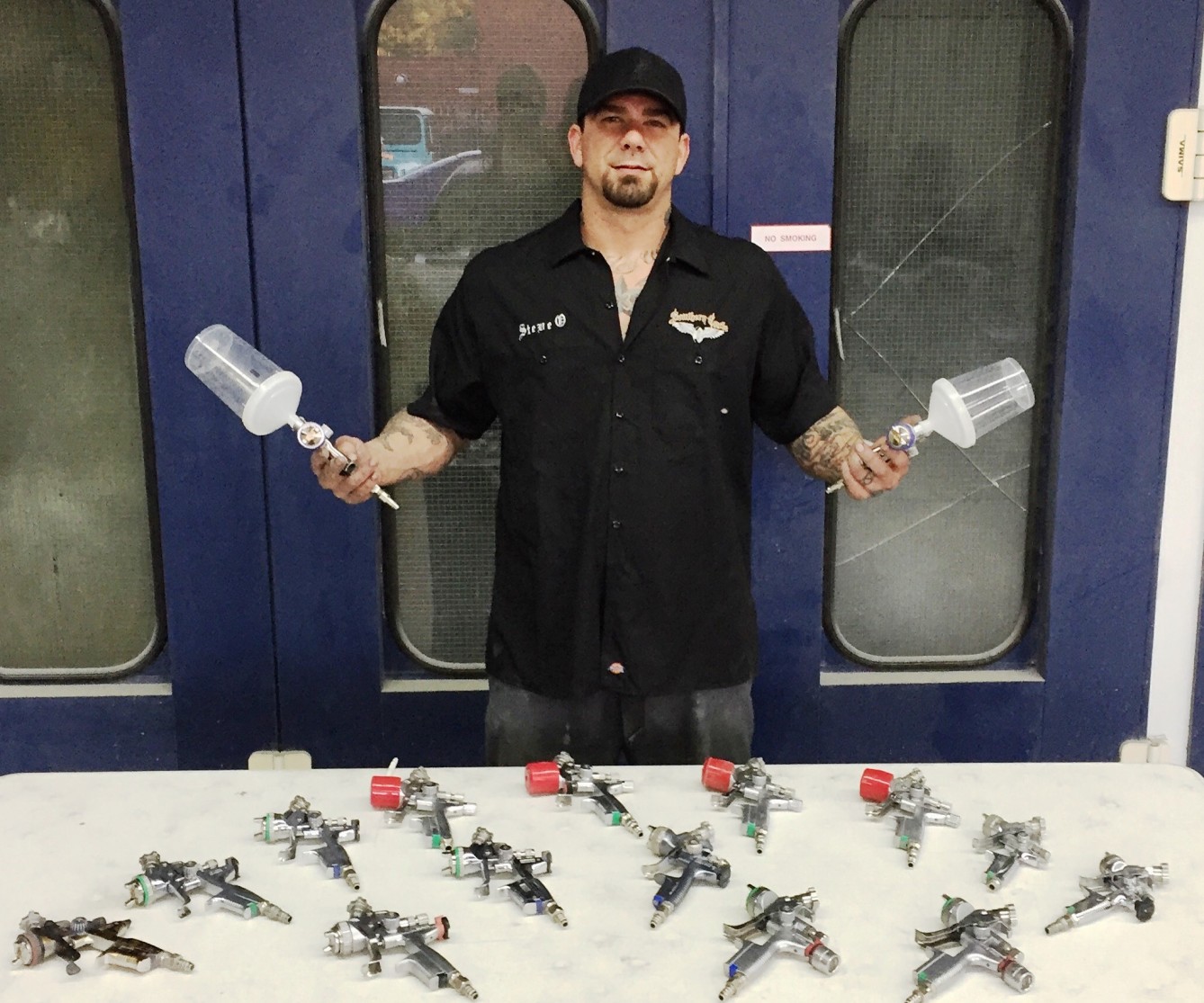 Steve Jones at Premier Collision in Duluth, GA is a perfectionist and that's why he is also looking for better ways to use his arsenal of SATA spray guns.
Painter Steve Jones, 40, has been making cars look beautiful again for the past 23 years, and it all began with a 1991 Camaro Z-28. A 17-year-old with literally zero painting experience, but with a background in automotive repair, Jones was poised and prepared to make his muscle car look spectacular. When the finished product impressed everyone, including himself, he was hooked.
Premier Collision
Duluth, GA
(770) 622-0064
Type: Collision Repair
Facility Employees: 10
In Business Since: 1991
Number of Locations: One
Combined Production Space: 10,000 square feet

How did that Camaro eventually come out? "It was my car and I loved it and I wanted to change the color from a factory maroon to black," Jones said. "When I looked at the finished product, I knew that this is what I wanted to do for the rest of my life."

Jones's passion for cars in general started 10 years prior. "My grandfather was a mechanic who worked a lot on small engines in his garage in Louisville, KY and I was pretty much raised there," he said. "Back then, we also restored a ton of old VW Bugs—that was a big business in Kentucky during that time. I was out there at age 10, every single night and every weekend. Other kids were out playing sports and running around, but I was in the garage with my grandfather working on cars."

Jones keeps things fresh by fueling his artistic side, he explained, while painting cars at Premier Collision in Duluth, GA. "I like to do custom work alongside my production work, so that I can be creative and tap into that. I took 12 years of art classes in from elementary school through high school and my mother was an artist—a painter and a sculptor—so I think it's in my DNA."

Whenever he paints any vehicle, whether it's a restoration or a repair, Jones uses SATA spray guns. He has been using SATA exclusively for the past decade, but for many years, he was experimenting with different spray guns, and paint brands as well.
Premier Collision is where Jones performs his magic and his SATA guns play a pivotal role.

"I've literally used every spray gun in existence and sprayed every type of paint you can imagine," Jones said. "I want to try everything and demo it if I can, so that I can be the best painter I can be. When every gun used to come out, I would try it. But, about 10 years ago I decided to quit wasting time and just rely on my SATA guns. The other ones were just not built for me."

Jones sticks to his SATA guns for all the right reasons, he said. "They're fast and efficient and the material transfer—you can't beat it," he said. "A former employer told me a few years ago that I was one-coating cars, because my clear coat usage was so low. But, I told him that's the SATA guns that do that. I put it on SATA because I know that's the reason why."

While other painters were using 30% to 70% more product, Jones was saving the shop tons of money by using his SATA guns. "I want a spray gun that I can tweak, because I am always looking for the best technique and I don't want it to limit me. I am always refining and changing the way I paint cars and these SATA guns give me that flexibility. I'm actually a different painter than the one I was a year ago, because I want to constantly evolve."

Jones uses social media to show his work to the world and to the industry via Instagram at #paintbysteveo and also at #shoplife. "I put 100% of all my work on Instagram because I can get immediate feedback from other painters and car people," Jones said. "It's instant and satisfying when other people see your work and comment, share it, etc."
Jones appreciates his SATA guns every day, because they're fast and efficient and the material transfer is superior.

With 20 SATA guns and a hunger for information about how to use them better, he appreciates the technical support and customer service provided by SATA. "I can actually ask Tony Larimer at Dan-Am Company, and he gets back to me promptly. If I need a part, I have a local distributor here and I can get them the next day. The people at SATA care about their products and that's why they will work with you and give you the information you need, which is exceptional."

What will Jones be doing in 20 years when the SATA guns will be even more cutting-edge and shops will likely be fixing a lot of autonomous cars? "I'll still be doing this, because painting cars is a passion for me, not a job," Jones said. "If it's a wrecked car or a motorcycle or if I'm laying down candies, doing graphics or just a regular paint job—it does not matter. It's what I am and I still enjoy it after 23 years."