LKQ Corporation hosted a Charity Team Bike Build Challenge on Thursday, March 10 as part of its annual leadership conference at the Hyatt Regency in Atlanta, GA.
At the conclusion of the Bike Build, LKQ presented new boys' and girls' Huffy bicycles to the Metro Atlanta Chapter of the Boys & Girls Club of America. The Boys & Girls Club will donate the bikes to children in need in the metro Atlanta community.
The Bike Build was only one part of LKQ's three-day annual leadership conference, titled "Agents of Change." The summit brought together company executives from all over North America to further the LKQ mission to enhance teamwork, collaboration and commitment within the organization.
Brand new children's bikes taunted from within their boxes along the walls of the conference room. By mid-afternoon on March 10, event organizers paired company leaders with conference members into teams. They were directed to break open the boxes, assemble the parts, and transform them into girl's and boy's bicycles.
Teams competed to be the first one to finish assembling two bikes, in perfect order. Full inspections were conducted on all of the bikes.
"I thoroughly enjoyed the Bike Build," said Patrick 'Skip' Stevenson, of Keystone Automotive Operations, one of LKQ's seven subsidiaries. "I think it speaks to LKQ's extraordinary commitment to team culture and environment." Keystone Automotive Operations specializes in aftermarket automotive equipment, accessories and vehicle enhancements, and was acquired by LKQ in 2014.
Sponsors for the Agents of Change Charity Bike Build included Caliber Collision, Gerber Collision and Service King. Caliber Collision is headquartered in Lewisville, Texas and has more than 376 repair centers. Gerber Collision and Glass is headquartered in Skokie, Illinois with 316 repair centers and has been in the industry for over 75 years. Service King is headquartered in Richardson, Texas with 292 locations throughout 23 states.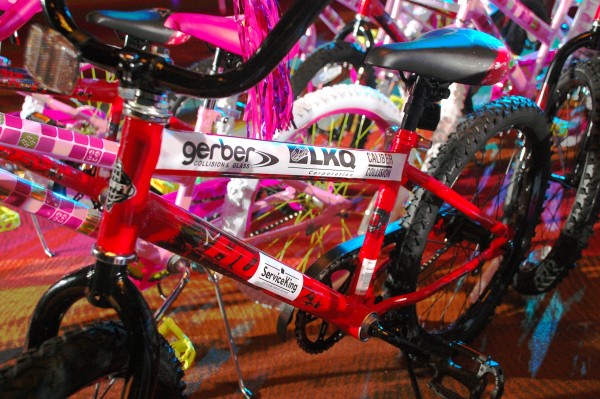 LKQ presented new boys' and girls' Huffy bicycles to the Metro Atlanta Chapter of the Boys & Girls Club of America
Relationship Building in Action
"We came together this week to see the numbers as well as review and enhance the vision for LKQ. But we're also here to develop relationships with our colleagues around the country. We might speak to many of them frequently but we never get to meet them otherwise," said Stevenson.
Samantha Brill, marketing associate with LKQ, said the three-day conference was an opportunity for relationship building in action.
"The goal of the Bike Build Challenge is to unite executives and community through teambuilding," said Brill. "Each team had to work together and figure out how to put the bikes together as partners. Everyone had fun and everyone benefited!"
This year's conference was arranged to gather company leaders under one roof to discuss past, present and future. Participants were asked to step outside of their comfort zones to seek new ways to demonstrate industry leadership in operations, community involvement and environmental responsibility.
Brill said LKQ's vision is to leave a positive imprint on the industry. "LKQ is focused on influencing change. We are transforming how we do things and how things are done," said LKQ Multimedia Specialist, Javier Rivas.
With nearly 570 facilities worldwide, LKQ Corporation is a global provider of recycled and remanufactured mechanical parts. The company said it is dedicated to growth with over 200 company acquisitions and roughly 6.7 billion in revenue as of 2014.
Brill said LKQ's civic dedication is also fundamental to its mission, with an emphasis on relationship building and environmental integrity. The company's Green Initiative focuses on recycling, waste elimination and reduction of greenhouse emissions.
LKQ offers a broad range of replacement systems, components, equipment, and parts to repair and accessorize automobiles, trucks, recreational and performance vehicles. In addition to its presence in North America, LKQ has operations in Taiwan, Belgium and France. In 2013, LKQ surpassed $5 billion in revenue.