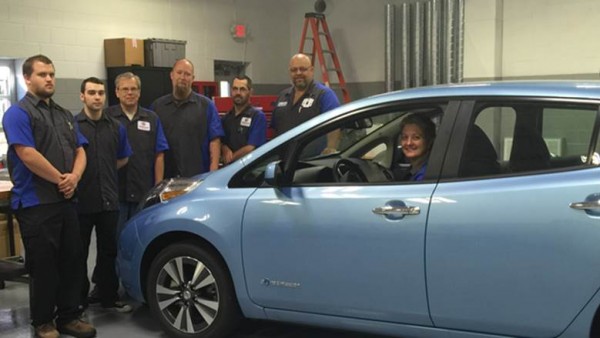 (L to R) Vestle Phipps, Christopher Crespo, David Dabay, James Sparling, Anthony Johnson, Electric Car & Hybrid Instructor-Stacy Johnson, Lisa Hartigan (seated inside car)
The Hybrid/Electric class at Tennessee College of Applied Technology - Crossville returned from summer break with a little something waiting for them, a 2015 Nissan Leaf.
Instructor Stacy Johnson said she is happy about the fact that her students will be eligible for ETA Certification in electric vehicle now that they have received their first 100% electric model to use in their learning program.
Knowing that electric vehicles will be overtaking the streets of the United States in the future, it is necessary to be trained on these types of cars. The Nissan Leaf is 100% electric with a 24 kWh lithium-ion battery that provides power to the motor. According to a press release, everyone at TCAT-Crossville is very excited about this new edition on campus, as well as the direction their students are headed with such astounding programs such as this.