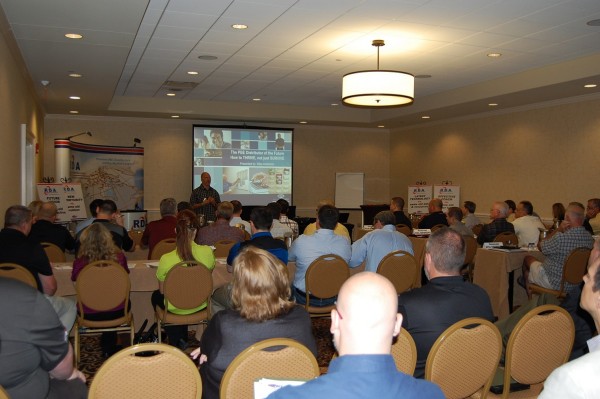 RDA held their fall membership meeting in October at the Gaylord Opryland Resort & Convention Center in Nashville, TN
Mike Anderson opened the meeting with a presentation and workshop that addressed the critical value added tools that our distributors must provide their collision shops to not only thrive, but survive. Mike talked about utilizing different industry resources that provide data for bench marking from companies like CCC One and Enterprise to using reputational intelligence and running local performance groups.
Kevin Bohte from Mike & Jerry's said, "Overall, the best member meeting I have attended. We are already working on our "toolbox" to differentiate ourselves from the competition. Thanks RDA!"
Tom Smetanka from Central Paint said, "This was an excellent meeting with excellent content, which I will begin to use immediately. Mike Anderson gave us so many value added tools. I am going to work with BASF to put together a performance group with my customers and also utilize CCC and their information with my customers."
Chris Gardner from Autobody Supply said, "By far the best meeting we have had. Every speaker had relevant and enlightening content. There were so many take aways from value added programs like CCC One for the shops, to understanding health care and preparing on how to service the MSO's.
Executive Director Robert McKenzie Jr. said, "The objective of our meeting was to provide relevant information and take aways that the members can implement and will make a difference in their business."
We would like to thank all of our manufacturers who sponsored this event making it such a success.
RDA/IMPACT is the largest national group of refinish jobbers dedicated to providing quality services and products to their collision shops. RDA has 19 members, representing over 200 locations. Members service over 4000 collision centers throughout the United States. We represent a cross-section of all major refinish brands and do over $475 million in sales as a group, comprising around 17% of the refinish business nationwide.
Those interested in joining RDA/IMPACT should contact Robert McKenzie, Jr. directly at 731-217-9081 or via email at robertemckenzie@me.com.
For more information on RDA/IMPACT visit their web site at www.impactcollisionsolutions.com or contact Melisa Jolls at 908-251-5713 or email meljolls@earthlink.net