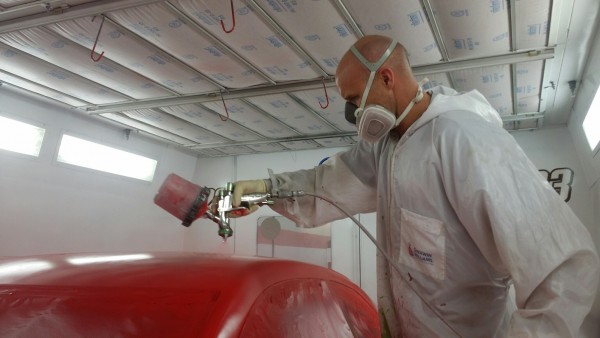 Eric Locke, head painter at BK Racing in Charlotte, NC uses Anest Iwata spray guns to paint NASCAR vehicles before and after races.
BK Racing is a NASCAR Sprint Cup Series Toyota Racing team that was founded in 2012 after acquiring the assets of Red Bull Racing. BK Racing's staff of approximately 60 employees works to field the No. 23, 26 and 83 entries in the NASCAR Sprint Cup Series with drivers JJ Yeley, Jeb Burton and Matt DiBenedetto at the wheel. BK Racing's combined annual revenue of its sponsorship base exceeds $5 billion and this year marks BK Racing's fourth consecutive full-time season in the NASCAR Sprint Cup Series.
Locke is happy to be working for a hot, up and coming team. "We're still a growing team and hoping to improve with every race," he said. "Our best finish overall was 15th at Daytona and now we want to build on that. It's a tough business because anything can happen at any time. Last week, we totaled a car but it wasn't our fault. There was a big accident in front of us and we were just in the wrong place at an unfortunate time."
When accidents do happen, Locke and his four-man paint team are suddenly on the clock as their portion of the race begins, he explained. "Klint Green is my helper and we work really well together. We each take one side of the vehicle and we can knock it out in about an hour, because we've done it so many times before. Our two preppers Dustin Stallings and Jared Morris do the body work and some of the light painting and then Klint and I get in there and do the rest."
Locke enjoys spraying with his Anest Iwata guns, because they give him the control he wants and the accuracy he requires. "The Anest Iwata guns are the best, because they are lightweight and easy to handle," he said. "You want the paint to lay down real nice and I can do that each time with my Anest Iwata guns. Whether I am spraying primer, color or clear coat, I have the perfect Anest Iwata gun to do the job."
It was love at first sight, or rather first spray, Locke said. "After using that first Anest Iwata gun, my impression was wow! Once you start using them you won't want to use anything else. They're easy to adjust and I get that consistent pattern that I'm looking for—whether it's a tight pattern or a wider one, depending on the job."
Now, Locke is using 5-7 different Anest Iwata guns and is getting results the entire race team can be proud of. "Our GM Ryan Dubois is pretty hard to please and each car has to pass his inspection before it's good to go. All of the sponsor decals have to be on there just right and the paint has to be perfect. We want these cars to shine, because they represent the team and our sponsors."
With a long, arduous schedule of racing every year, the shop environment at BK Racing is harried and deadline-driven, according to Locke. "We have roughly 30 different cars here that we are constantly preparing for different tracks. In some cases, we have to turn around a vehicle in 24 hours. For Daytona, we were even busier than usual and it was a short week. We started on a Tuesday and had three cars ready to roll on Thursday. That's an insane schedule, but sometimes we have to do it like that to be ready for a race.
"Working on these cars is like putting a big puzzle together," Locke explained. "First, we mud the car and then we bring it to the template grid, run the templates over it so that we know where everything needs to go and make sure it all fits, and then we primer over the mud, bake the car, sand it down and bring the car back into the paint booth where we put two coats of sealer down. Then we lay down two coats of base on the car and then we come in with two coats of clear. After the car comes out of the paint booth it goes up to the front to have the decals put on."
Anest Iwata USA is the North American Spray Equipment Headquarters for the Anest Iwata Corporation of Yokohama, Japan. They are coating experts. From automotive paint to industrial adhesives, Anest Iwata's patented LV technology and innovative design create the most reliable and consistent finishing in the industry.
The company's high-end finishing solutions include manual and automatic spray guns, robotic systems, pressure pots, fluid delivery systems and mold release applicators. Anest Iwata spray equipment is used around the world for precise coating applications such as automotive refinish, wood, transportation, military, firearms, textiles, electronics and furniture, among others.