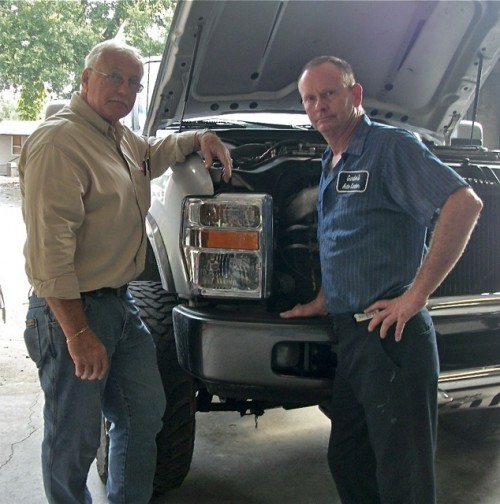 Ray Gunder (left) pictured with bodytech Lance Smith who has worked for Gunder's Auto Center for approximately 35 years.
"It has been incredible since day one. Every bay in our shop is full," said Gunder. "Our body and repair shop is completely circled with work. We have more insurance work on premise than at any time when we had DRP relationships."
Gunder's business is one of 20 collision repair shops listed on a new website, called CollisionFix.com, launched by the Eagleville Marketing Group in June. Roberts, owner of the Florida- and Tennessee-based advertising agency, said the mission of the site is to give a voice to the collision repair industry. Geared toward consumers, www.CollisionFix.com was created to educate the public about issues surrounding the industry, such as the difference between original quality, OEM and low-quality aftermarket parts and the use of junkyard parts. It also addresses consumers' rights to choose a body shop, regardless where an insurance company suggests they go. Roberts said the site is for shops that want to take a stand against insurance companies "steering" their customers to other shops.
"Not all insurance companies are bad, just the ones that interfere in the consumers' right to choose, and promote the use of substandard parts," said Roberts. "Those that join CollisionFix.com are shops that believe in the consumer first and profit second because profit comes when you take care of the consumer. We feel that when shops strive for perfection and are good members of their community, the profit will come, and of course growth is inevitable."
Roberts said that many shops struggle to stay in business and don't advertise at all. CollisionFix.com helps unite shops in a certain area, enabling them to combine their advertising dollars and be able to afford to advertise on air. "If you invest a part of your annual sales into marketing your message and do it in a way that's professional and not hokey looking, you will grow," said Roberts. "The bottom line is marketing with the correct message, on the right networks, at the right frequency. You do that consistently and there is no level you cannot advance to."
His goal is to spread the word about CollisionFix.com so when an accident does occur, consumers can check online for a shop nearby. Roberts said 90 percent of consumers choose a body shop that is fairly close to them. Gunder has been advertising on air for about a year. After starting out on his own, he teamed up with a couple of other shops that had heard about his success.
"We were able to give a lot more exposure for the same amount of money," he said. Now when customers enter Gunder's Auto, he finds they mention the commercial and what they learned about the industry. "They know enough that they don't want to use junk on their car," said Gunder. "They want a quality repair and the ad educates them very well on that. When they get here then we educate them further."
Bobby Price of Price's Collision Centers in Nashville, TN, said he has had a similar response. The business owner started Price's Collision Centers in 2000 in Brentwood, TN. Price currently operates nine shops and number 10 is scheduled to open in the fall of this year. It will be a dedicated aluminum-repair facility located next door to his flagship store in Brentwood. Price employs 155 collision repair professionals and earned just over $20 million in revenue in 2014. The company also operates an apprenticeship program out of their training center in the company's Mt. Juliet location. Price started working with Roberts when he first opened his business.
"We began to advertise Price's as a repair center that focused on value retention and passenger safety as our number one goals," said Price. "We built the brand around this philosophy and have set ourselves apart from the competition in delivering this message via radio, tv and print."

Price's Collision Center in Brentwood, TN is one of Bobby's Price's nine location.
With an advertising budget exceeding $100,000, they are also corporate sponsors for the Tennessee Titans and Nashville Predators teams.
"We work with the community and support charities that we feel benefit us locally," said Price. "Co-branding with such notable partners has brought credibility and an immeasurable awareness to Price's message."
He said that in respect to the advertising they have done, "It's important to build your brand while separating your business from the competition. Your message will differentiate you from the rest."
His advice to other shops is to "be creative in your marketing and the message you deliver."
Roberts said much of Price's success has grown through the years through the use of their message to consumers. "They have the reputation of never taking a short cut to repair your car, or using a low quality aftermarket, and junkyard parts," he said.
Price has also invested in training, earning several high-end manufacture certifications. This has helped them stand apart from others.
"Bobby Price has been a mentor to me and deserves a lot of credit to our agency's success in helping other shops," said Roberts. "His marketing message of anti-steering, using quality parts, and quality repairs has helped us understand the collision industry in a way no other agency can. Prices Collision has been a client of ours for over 14 years and that experience for us is immeasurable."
With a background in the automotive industry, Roberts worked as the general manager of a Ford store in Pennsylvania for nine years before coming to Nashville to work at another advertising agency. He opened his own agency, Eagleville Marketing, two years later, in 1998. Although EaglevilleMarketing.com has many clients in other industries, Roberts said he has gravitated to the collision repair industry as more and more shops have asked for assistance.
"If you're just waiting for things to change you will lose the battle," said Roberts. "By continuing first quality work for your customers plus marketing and educating the public to these facts you will stand a cut above the others."
Visit www.CollisionFix.com for details.