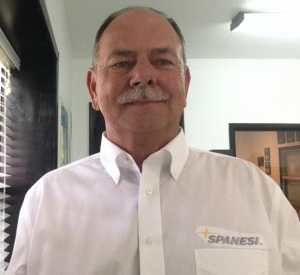 Steve Smith and his staff recently joined the Spanesi Distribution Network.
"I have had a long friendship with Steve of over 19 years, and have seen his dedication to the Customer and Industry when we worked together for almost 15 years. He fits into our values of dedication to customer service and support. I myself have learned from Steve and his knowledge of repairs and the customer experience," stated Timothy Morgan, Managing Director of Spanesi Americas.
Smith joins the Spanesi distribution network that has included his son Tony from Atlanta Georgia since 2013. This expands the Smiths' area to cover the complete Southeastern Region.
"I have been looking at equipment my whole lifetime and keeping up with Industry repair trends, Spanesi's dedication to correct repairs, equipment, training, and the overall customer experience is a good fit for today and the future. I had the opportunity to visit the factory in Italy, and the facility, process, and people are amazing. I am proud to be able to bring the complete Spanesi line to my customers and territory. And am looking forward to being a single source supplier for Measuring Systems, Benches, Welders, and Spraybooths, Spanesi has it all!" stated Smith.
Steve and ACE already have a complete warehouse and training center in Plant City, FL that has been in transition to become the SPANESI Southeastern Region Training Center. In addition branch offices have been established to complete the groups network.
Smith and ACE can be reached at: 1-813-759-2655
For more details about Spanesi Americas products and solutions, contact Timothy Morgan, Managing Director, 123 Ambassador Drive, Naperville, IL, 60540, 1.224.
SPANESI (772.6374) tmorgan@spanesi-americas.com, www.SPANESI.com