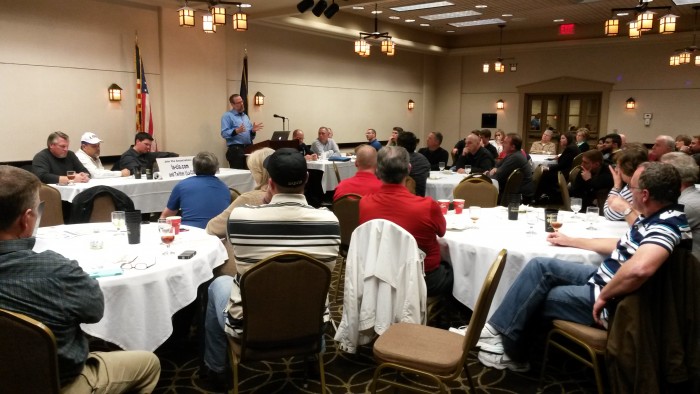 Keynote speaker Bill Byrne
At the meeting, LaCIA Board Member Brandon Parker shared that he and several other shops have joined together to develop several PSA-style commercials. Attending members agreed that informing the public is imperative and that this could be a great way to spread the message and share costs. Hanks suggests that those interested in participating in this endeavor post in the private forum of the association's website to alert local shops of their interest.
LaCIA also discussed a new storage license law that was uncovered. Though they were originally informed that a license is not needed to charge for storage, new light has been shed on the subject, and LaCIA is planning a follow-up meeting to investigate and decipher this law's meaning.
Randy Ishee and Stacie deBlieux from the Louisiana Attorney General's office were also present at the meeting. The lawsuit is still in federal court, but they assured attendees that it will return to their state, though they aren't sure exactly when that will happen. In the meantime, complaints can still be filed at www.ag.state.la.us/InsuranceComplaints.aspx.
The Attorney General's office is searching for a totaled vehicle with evidence of a previous bad repair that they can pick up for evidence in their case. Anyone with such a vehicle available should contact deBlieux directly at deblieux@ag.state.la.us.
Hanks notes, "An interesting tidbit was shared by one of our members also. He mentioned that the insurers are calling his parts suppliers to find out his discounts and what he paid for certain parts. I strongly advise you to contact your vendors and demand that this information not be shared with others."
"The general theme of that evening was how important it is that we come together and work together to take back an industry that is on the verge of being lost of the insurers." Hanks added, "One way we can do this is through education, not just for the shops but for the consumers. We can do this!"
LaCIA held their next meeting on March 24.
More informtion can be found on the LaCIA website: www.la-cia.com.