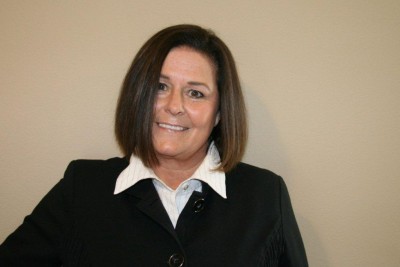 Janet Chaney has been a long-time contributor to Autobody News. She is a former body shop owner and now owns and operates Cave Creek Business Development. Chaney supports many body shop associations and looks after her clients from the Bitterroot Valley in Montana. She may be reached at jchaney.cavecreek@gmail.com
"Our main objective in an event like this is to ensure that everyone who attends gets valuable information they can take back with them," said Burl Richards, ABAT's president. "I asked for a 'show of hands' from everyone that felt this was a worthwhile event and it was instant and unanimous; everyone immediately raised their hands!"
Mike Anderson of Collision Advice opened the day with, "It is the intent of my heart to help you win." Anderson's four-hour presentation hit the hottest industry trends and critical basic management tools. His message spoke loudly of making more gross profit by:
Zero to Hero – train people faster by developing a training matrix and calendar
Make your customer experience an event – using extraordinary service, speed and accuracy
Always ask yourself these four questions:
Is it required?
Is it included in any other labor operation or is it a separate operation?
Is there a pre-determined operation in the database?
If not, what is it worth?
He showed shops where to get substantive data to answer these questions.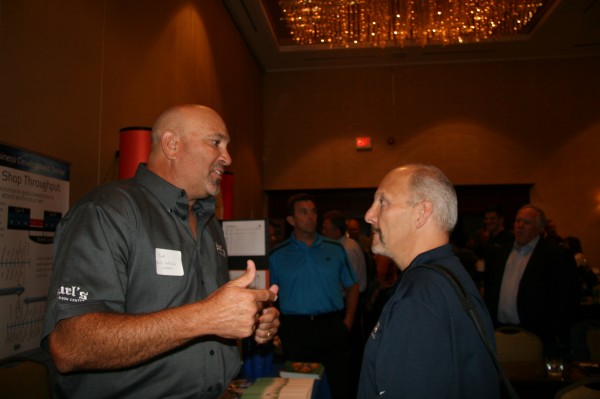 Body Association of Texas President Burl Richards (L) speaks with Mike Anderson at the September 25th event in Fort Worth
"We cannot use the insurance company as an excuse for our ignorance," he emphatically said. In closing, Anderson gave his business card and contact information to everyone in the room and said, "TAN – Take Action Now!"
After a Texas barbecue networking lunch, Robert McDorman of Vehicle Value Experts from Beaumont, Texas spoke about helping the consumer. McDorman is a third-party appraiser who assists Texas consumers in finding the actual cash value for their vehicle after an accident. This may save vehicles from being a total loss when they are economically repairable by confirming the value of the vehicle. His consumer-based business focus is on diminished value claims, total loss value assessments and auto appraisals.
"My message was designed to help shops realize that the value of the vehicle can be adjusted upward to the proper fair market value through the appraisal clause," said McDorman. "When the proper fair market value is used by the insurance company there will be less vehicles totaled out and more vehicles repaired, thus increasing body shop profit."
He said that he wanted to share information with shops about presumptive value versus factual vehicle value, diminished value and how the two will build more net profit to a shop's bottom line and stronger customer satisfaction and loyalty.
Wayne Krause, Mitchell International's manager of editorial content, gave the crowd a great inside look at the database that fuels their estimates. His industry knowledge and estimating expertise brought a deeper understanding to this audience of the inner workings of creating the database that is so important to their business. Krause showed a multitude of resources that Mitchell uses to keep their database current. They are actively working with manufacturers, "We are writing our database as the manufacturers are building the cars," Krause said. The audience also learned that Mitchell is the only information provider that does time studies, inviting Texas shops to be part of the time study process. Krause's presentation opened the eyes of many in the audience as to the technical information and accuracy of times provided in the Mitchell database. "If you don't think a time is correct," Krause states, "Call me and let's talk!" He gave his phone number to the crowd and is looking forward to great conversation coming from Texas.
"This is the last of the great American family industries," opened Frank LaViola of Enterprise Rent-A-Car. "There are over 90,000 employees in this industry today." LaViola spoke to the history of Enterprise Rent-A-Car and its commitment to the collision industry. He introduced the Enterprise ARMS system, which offers statistical data to shops regarding cycle time and length of rental. LaViola showed shop owners how Enterprise's length of rental can be used as an industry KPI. Using the length of rental data offers industry comparison by region, state, or nationally by Enterprise. LaViola's presentation showed true benefit to this KPI: more cars in and out of the shop; more or new DRPs – or NOT; more profit for the shop; higher pay for techs and employees and happier customers!
This was a high-energy, positive and meaningful day for the Texas collision industry. "Texas is a large state and we have an opportunity to help grow not only our association but the knowledge and education that can be shared to shops around the state," said Richards. "This will make each of us better, stronger and more profitable as it relates to our business and safer repairs for our customers' vehicles."
The meeting was held at the Historic Fort Worth Hilton, where President John F. Kennedy spent the last night of his life, November 21, 1963. He spoke the next morning in the Crystal Ballroom before he left for Dallas. This was exactly the same ballroom where the Auto Body Association of Texas held this meeting. The Texas spirit is alive and well with the Auto Body Association of Texas and continues to resonant in the halls and with the message John F. Kennedy left the city with, "There are no faint hearts in Fort Worth."