Kari Foster, Executive Director of ASA-CO, said, "The event went great! Events like the Learning Circles give members a chance to share ideas and best practices which, in my opinion, is one of the greatest benefits of being a member of the ASA. The ASA community in Colorado has responded extremely positively to the Learning Circle format. We have had between 20 and 30 attendees at each event, and participation is growing."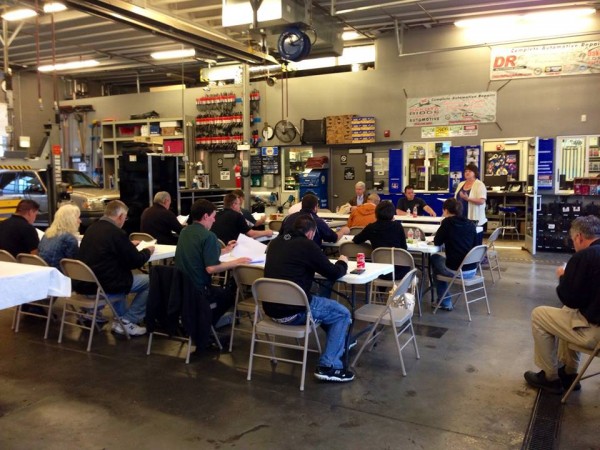 ASA-CO members have responded favorably to the Learning Circle format.
Torres began the meeting by discussing some best known hiring practices. He stated that interviewing is key to hiring a strong, reliable candidate, but he warned attendees to only ask questions related to the position for which the candidate is applying and to avoid asking personal questions. Attendees were also taught to be mindful of how questions are phrased to encourage more valuable answers. Torres suggested preparing questions in advance in order to get the most from each interview.
Regarding paperwork requirements for new hires, Torres provided a list of necessary documents, including the I9, W4, affirmation of legal work status and proper identification for citizenship. He also noted that requirements for record-keeping retention vary by document, depending in part on the authority governing each particular piece of paperwork.
Moving on to the topic of whether technicians can be classified as 1099 subcontractors, Torres explained that the short answer is no because very few applications are legally qualified. The IRS has issued a 20-point checklist for contractors, such as requiring contractors to work for more than one company, offer their services to the general public, and be able to show a profit and a loss. Additionally, shops cannot offer training to a contractor, not can a shop control a contractor's decisions, hours, work load or order.
Focusing on the subject of pay methods, Torres informed attendees that flat rate pay is still legal as long as it conforms to the requirement that the flat rate pay amount must be equal to or greater than the state's minimum wage when analyzed by the number of hours worked. Regarding overtime, technicians must be paid for all hours worked with time exceeding 40 hours per week accruing wages at 1.5 times the employee's normal pay rate.
Broaching the question of overtime rules for commission-paid employees, Torres explained that to qualify for commissioned employees to be exempt from overtime requirements, the following conditions must be met: the employee must be employed by a retail or service establishment, more than half of the employee's total earnings in a representative period must consist of commissions, and the employee's regular rate of pay must exceed 1.5 times that state's minimum wage for each hour in the week that overtime hours were accrued.
Foster concluded, "Participating in a Learning Circle provides members with an opportunity to learn key skills related to shop management and leadership in a setting that promotes relationship building and networking. Each circle is led by facilitators with expertise and proven abilities in their field. The Learning Circle format has really surpassed expectations. It has been one of the most popular programs we have done, if not the most popular program. It shows me that we have a strong community in Colorado with members who have a desire to help each other become better."