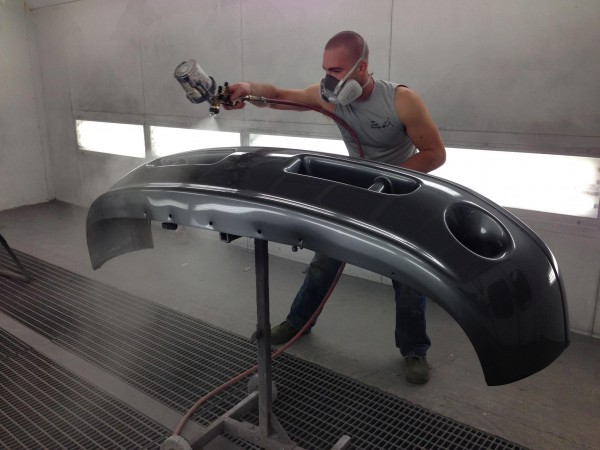 Nathaneal Wagner has been a painter at Autobahn Body Werks in Williamsville, NY, since he returned from WorldSkills in Germany.
Between the regional and international competitions, Wagner competed on a national level against 50 of the country's top automotive refinish students. Wagner had been home-schooled before he heard about the local Harkness collision repair program available through Alden High School, and decided to enroll during his junior year in order to make use of this resource.
"Nate wouldn't get flustered when competing. I think having the confidence that he has helped him go so far," said Robert Verso, who has been a collision repair instructor at Harkness Career Center for 26 years. "I remember telling my colleagues that Nate would take first place at the state level."
And Verso was right.
While competing at the high school level, Wagner placed first in the regional competition at Alfred State Vocational College in Wellsville, NY. He also placed first at the New York state competition, which was held in Syracuse, NY that year.
Verso, who has taught three NYS winners, said he and Wagner boarded a plane to Kansas City, MO in June 2011 to compete at the SkillsUSA national level. Wagner came in second place, only losing by a few points out of 1,000 total points.
"I didn't think I'd qualify for the international competition, since I had placed second; actually, I had completely forgotten about it until I got a call one day saying I was a candidate," he said. "It was very exciting. But the better phone call came when they said they'd selected me out of the other competitors."
He explained that the judges pick the automotive refinish students who placed first, second, third and fourth at nationals to put in a pool, and then from there select who will compete at the international level. The winner is not only chosen based on ranking; other factors include the student's interview responses and what he or she has done since graduating from vocational school.
"My experience with Nate was a very enjoyable one," said Verso. "Immediately I knew that he was going to take this program seriously and he came to our school to learn. Nate would put 100 percent into class and shop activities. He would continue to practice what was taught to him until he got it right. He would also read or go online to learn new ways to get the job done. Honestly, I learned a few things from Nate that year also."
Due to Wagner's hard work and dedication to the collision repair field, he was able to be a part of an "incredible" event.
"It's like the Olympics for the skilled trades," said Wagner. "Thirty-thousand very talented kids from all over the world are in one city for a week. It was unlike anything I had ever experienced."
First place in his sector was awarded to a male student from Norway, while a female student from Sweden took home second place.
WorldSkills marked Wagner's second trip to Europe. He took time off between high school and college to travel to France, Italy and Spain.
While in Germany competing at WorldSkills, Wagner was enrolled in the University at Buffalo, working toward a degree in mechanical engineering. After two years, he decided he'd rather stick with his initial interest: collision repair. He is now a painter at Autobahn Body Werks, where he has worked since returning from Germany. The shop is Mercedes Benz certified, and located in Williamsville, NY, a suburb of Buffalo.
"I didn't want to work in some office designing a part to a machine without seeing the culmination of that design," said Wagner. "At my job now, I get a wrecked Mercedes, invest my time, knowledge, and skills to repair it, and bring it back to perfect condition. To me that is very rewarding."
Wagner plans to someday share the world-class training he received before and during the competitions with other students in the collision repair field. Along with Verso, representatives from 3M Automotive, Spies Hecker, and the German paint gun distributor, SATA, played a role in developing Wagner's skills set. "Rob said I could have his job once he's retired," he added with a grin.
Wagner said he will be going back to school to get an Associates degree in teaching in the near future.
"From my experience studying and working in a skill trade, I'm very aware of the shortage of people in my generation who actually want to do what I do," said Wagner. "Part of that is the lack of education. In the field that I work in, when you go to a body shop to start your job, the employer will first hand you a broom, then a wrench, and then they'll hand you a paint gun. You never really know how to use it, aside from a brief, inadequate tutorial."
Wagner added, "I know what education enabled me to do, and I would enjoy giving that back to other willing people. I really see the opportunity in taking advantage of these programs while they're still available."
He is currently the youngest person working at his shop, and he said he can feel the sense of panic in the industry now that the older workforce is thinning out.
Verso shares Wagner's fears, stating, "As far as collision repair goes, I think we are in trouble. There are not enough young kids serious about this field."
Wagner explained further, "In the United States, we don't put emphasis on vocational programs. We send the masses to college to get white collar jobs and be engineers or lawyers. The trades are forgotten.
Even now, not many kids know about [the skills competitions], and if more were aware of the achievements they could reach at a young age, more would be willing to participate."
For more information on SkillsUSA, visit www.skillsusa.org. To learn more about the upcoming WorldSkills event, visit www.worldskills.org.
The twenty-three-year-old recently purchased an old brick firehouse from the City of Buffalo and is in the process of overhauling it completely as his residence and home body shop.