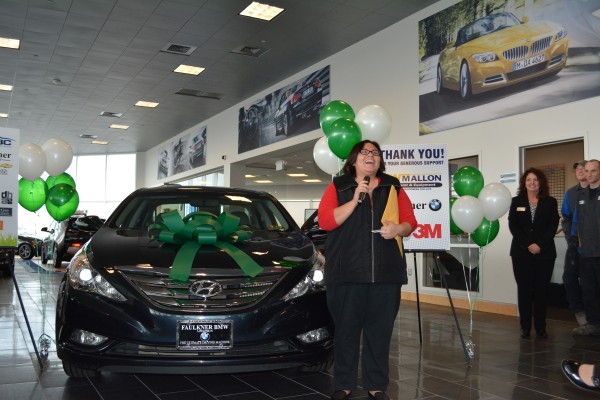 Car recipient, Lucia Melgar, thanks Recycled Rides, RW Mallon Auto Paint & Equipment, Faulkner BMW of Lancaster, and GEICO for her new ride, which will aid her in commuting to her three jobs and caring for her eight year old son.
Kim Kimbriel
Recycled Rides is a national collision industry-wide program in which members of the National Auto Body Council collaborate to repair and donate vehicles to individuals and families in need.
Locally, GEICO donated the vehicle, a 2011 Hyundai Sonata, RW Mallon donated paint, supplies and equipment, and Faulkner BMW team members volunteered personal time to repair and refurbish the vehicle.
Lucia, a single mother, relied on public transportation to get back and forth from three jobs to provide for herself and her eight-year-old son. She was nominated for a Recycled Rides vehicle by Family Promise of Berks County which provides services to help homeless families transition into financial independence. Lucia's main focus is to establish stability for her son and is working towards her goal to go back to school for a Certified Nursing Assistant (CNA) program.
"Lucia is a hard-working, self-motivated individual and we hope this gift of reliable transportation will help her turn the corner towards a brighter future for her family," said Robert Mallon, President of RW Mallon Auto Paint & Equipment. "We are pleased to have an opportunity to work with our colleagues – Faulkner BMW and GEICO – and help ease the transportation burden for Lucia."
"Lack of reliable transportation is one of the biggest obstacles for individuals like Lucia who struggle to rebuild their lives," said April Lausch of Faulkner BMW. "Giving back to our community is important to us, and we are proud to help make a difference in quality of life for Lucia and her son."