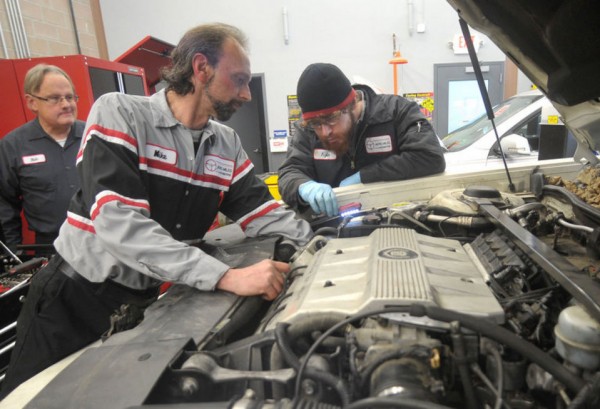 Mike's More Miles Automotive owner Mike DeCrosta, of Bethlehem, recently opened his shop on March 5, 2015, along Stefko Boulevard in Bethlehem, PA.
Stephen Flood | The Express-Times
Best known as the longtime service manager at the now-shuttered Strauss Discount Auto, DeCrosta also worked at Jack Williams Tire and the former Sparks Tune-up on the street.
But he has even more connections to Stefko - he was in the last Northampton Community College class to graduate from the college's automotive program when it was housed at Sherman Williams on the boulevard. His wife, Michelle, has owned Nails by Michelle on the street for 15 years. And his new shop is within view of his first home with Michelle in a Bethlehem Housing Authority apartment on Hilton Street, where he did his first car repairs in a little private garage.
"When I walked onto this corner, I could see the back porch of where my wife and I lived for the first eight years of my marriage," said DeCrosta, 48. "Just coming from public housing, and being able to take this corner and develop it into something is just full circle."
DeCrosta says he has a lot of the people who have worked with him at his many Stefko Boulevard auto shops to thank for it. The former Strauss vice president, Rick Pennie, hatched the real estate deal to make the garage possible. Former Strauss co-workers Scott deLeon and Kyle Kunsman also are partners in the new shop.
Strauss's closure in 2012 wasn't just hard for DeCrosta and his co-workers, it was hard on many customers, as well, he said. Many of them followed DeCrosta first to Jack Williams and now to his own shop.
"We got the doors open, and just word of mouth has gotten around real quick, and we've been busy ever since," he said.
Bethlehem resident Jeff Ward is one of DeCrosta's followers. He said he's received excellent customer service from him and is amazed by customers' dedication to him.
"People followed him from Strauss to Jack Williams and they will flock to his new place," he said.
"Mike ... has a huge following," Ward said. "I was at Strauss once and the guy in front of me was told, 'It's Mike's day off.' The guy wasn't happy. Then he got back in line and I heard him, 'Are you sure he's not coming in?'
"It's almost humorous how much people like him," Ward said.
DeCrosta said he wanted to open his own shop especially to serve his longtime customers, including some who are now multiple generation. He said he'd also like to bring back the annual Christmas tree toss between the Bethlehem and Bethlehem Township police departments that he helped organize for 12 years.
"I've been blessed throughout my career to work with the best people and to have the best customers," DeCrosta said. "To be able to celebrate my 30th year by opening something like this is just amazing."
We would like to thank The Express-Times for allowing Autobody News to reprint their article.