· Chevrolet Design Award for the Best Chevy in Show; Mothers® Choice Award; and the Goodguys Rod & Custom Association Gold Award – The 1966 "Recoil" Chevelle from the Ringbrothers, painted in a custom Sand Storm color from the Glasurit® 90-Line, took home these honors. The "Recoil" was also named the "Car Everyone is Talking About" by Car and Driver magazine in its SEMA show round-up and received recognition from both Hot Rod magazine and the General Motors official news blog.
· Ford Motor Co. Best in Stand Design – Awarded to the 2015 Ford Mustang convertible. Styled by designer Chip Foose, Glasurit® ambassador, featuring light green metallic paint with orange accents from BASF's Glasurit® 90-Line.
· Scion Tuner Challenge Award – The Speedhunters Scion FR-S from Keith Charvonia, painted in a Pure White from BASF's R-M® line took home first place honors.
· Gran Turismo Award – The Garrett X GReddy R35 GT-R was named as the Gran Turismo Best Asian Import award winner and featured Solid Red paint from Glasurit® 90-Line. The car will be featured as a downloadable option in an upcoming installment of the Gran Turismo video game series.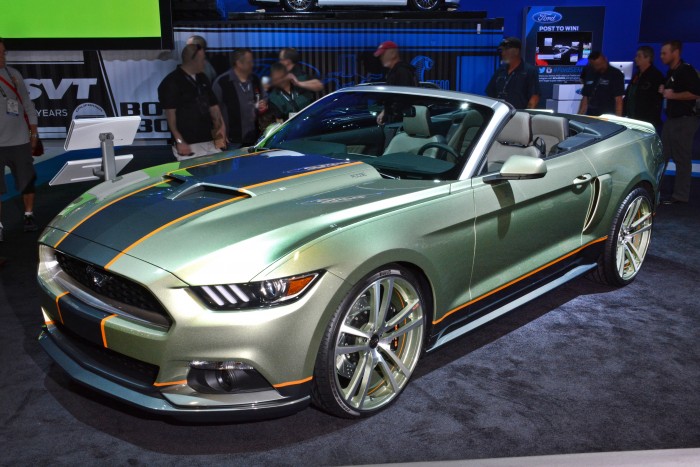 2015 Ford Mustang convertible styled by designer Chip Foose, Glasurit ambassador, features light green metallic paint with orange accents from BASF's Glasurit® 90-Line
· Autobytel's Best Paint Jobs at SEMA – Two vehicles on Autobytel's list feature BASF paint: the Chip Foose 2006 Ford Mustang GT in the Magnaflow booth featuring Tungsten Grey paint from the Glasurit® 90-Line; and the 1972 Buick Riveria "Rivtile" from Juergen Book that was painted "snake-style" to represent an "automotive reptile." The color scheme features a range of reptilian greens, custom painted with gold contrasts from BASF's R-M® Carizzma line.
· SEMA Battle of the Builders: Top 10 Builders Finalists – Two finalists in the Top 10 Builders award were BASF Refinish customers: The Ringbrothers with the "Recoil" Chevelle; and Gordon Aram, who uses the BASF R-M® Line, was nominated for his 1978 Ford Mustang II, which features Kona Blue paint.
"We're very proud of these accolades for our Glasurit® and R-M® paint systems, as well as the recognition of the artistic skills of these dedicated designers. Congratulations to all the winners," said Paul Whittleston, Vice President, Automotive Refinish & Industrial Coatings Solutions North America.
For more information, please visit www.basfrefinish.com.