Auto Collision Technology teacher Dave Rosenberg said students were able to refurbish the six used lockers in two weeks. The students put their auto body repair skills to the test using 180 grit sandpaper, which was masterfully applied to smoothing the storage units' surfaces. Hard-to-reach areas were "scuffed" up with rough pads before a black epoxy primer was applied. The students finished the lockers by applying a clear coat that produced a glossy shine.
Now back in the possession of law enforcement, the lockers will be trimmed with the Thin Blue Line emblem and names of the drill instructors who will be using them to store their equipment.
Ulster County Sheriff Sergeant Allen Rowe was impressed with the students' work. "They did a phenomenal job. I'm so glad they could do this for us," said Rowe.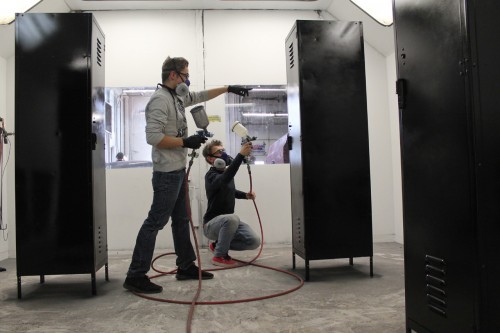 From left to right: Ulster BOCES Auto Collision Technology students Michael Gribbin and Devin Finch, both of Wallkill High School, paint lockers for Drill instructors at the upcoming Ulster County Law Enforcement Group's Police Basic Training course.
Refurbishing the police lockers is one of several community service projects that the Ulster BOCES Auto Collision program students have donated their time and efforts to. The projects give the students real-world applications for their hands-on schoolwork. During the past few years, students' projects have included refurbishing buses for the Veterans of Foreign Wars and Ulster County Community Action agency and police cars for the Kingston Police Department, as well as painting sleds for the USA Olympic Luge Team.
The Auto Collision program immerses students in repairing, restoring, and rebuilding damaged auto bodies. Through their hands-on work, they learn the techniques of complete auto collision repair, including sheet metal work and frame repair; painting and refinishing; exterior and interior trim and glass; and mechanical and electrical adjustments and repairs. Students also practice the art of customizing and learning how to estimate repair costs and manage their own repair shop.
For more information, call (845) 331-6680 or visit www.ulsterboces.org.