Marble died in 2007, but not before seeing his once-humble enterprise evolve into one of Yates County's most respected businesses, Marble's Automotive/Marble's Glass.
"He couldn't believe how big it got. He was always amazed," said his son Paul, who is known as "Paulie" by family and friends. "He always said, 'Paulie, I can't believe what goes on here.' I know he was proud. So am I."
Paul Marble, a World War II veteran, started his career at a body shop in Geneva. From 1945-53, he worked for Ed "Doc" Scherer in the Ford garage on Water Street in Penn Yan. His next job was with Martin Tones Sr. in Penn Yan.
In April, 1959--four years after he married his wife, Ginny--Paul opened Marble's Automotive on Route 14A, just north of Penn Yan on what is known to locals as Benton Hill.
"He started in an old cow barn. The building is still used today," said Paulie Marble, who started hanging around the business as a kid in the 1960s and has been on the payroll since 1972, when he was 16.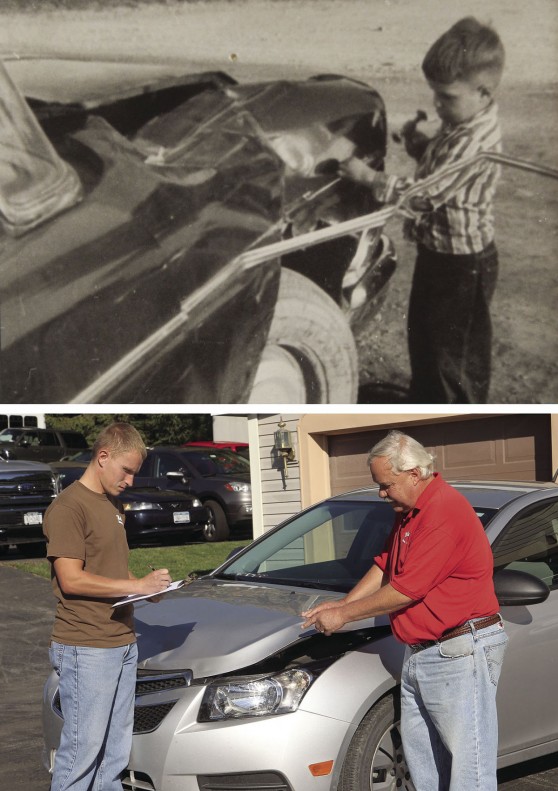 Paulie Marble in 1959, and Paulie now.
Photo credit: Spencer Tulls / Finger Lakes Times
The business progressed over the years, adding a full-service shop in 1978 that now has seven mechanics under the supervision of longtime shop foreman Mike Olney. His mechanics work on domestic and foreign cars and have a flatbed truck and tow service.
Marble's Glass also started in '78, specializing at that time in vehicle glass replacement. About three years later, Bill Roberts came from Geneva Glass and the business took off; there are now five employees in the glass shop who do vehicle work as well as commercial and residential jobs.
"We've done all the Simmons-Rockwell showrooms, the Bill Cram showroom, Farnsworth Chevrolet, LeBrun Toyota, firehouses, storefronts, you name it," Marble said. "We do custom shower doors on homes on Keuka Lake, Seneca Lake and the Southern Tier. We replace windows in million-dollar houses. About 80 percent of our work is houses and commercial."
After a few years of focusing solely on collision work, Paul Marble began fixing up cars--mostly Volkswagen Beetles--and selling them. In the '70s, he and Paulie expanded the sales avenue by buying cars at auction; today, the business stocks about 30 vehicles, mostly late models.
"I remember the days when we had about four cars for sale, and it kind of grew from there," Marble said. "When I was in high school, I was more interested in the buying and selling than Dad. We used to be heavier on the sales side. The 1980s and '90s was a strong time for us, but there is more competition out there now. We now sell between 150 to 200 cars a year, where we used to do 300 to 500."
What hasn't changed is the premise Paul Marble started the business on: collision work. Marble's does direct repair for several different insurance companies and has three auto body techs.
Paulie Marble became company president in 1982. In 2008, his son Cam joined the business while he was in high school. Today, father and son oversee the sales and body shop, while Olney runs the garage and Roberts the glass shop.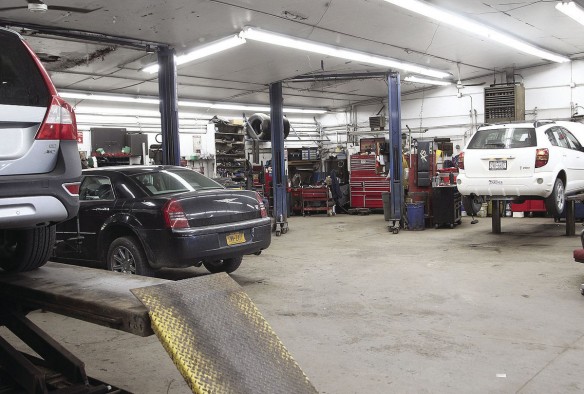 Inside the Marble's Automotive/Marble's Glass facility.
Photo credit: Spencer Tulls / Finger Lakes Times
"It was always part of the plan to get involved in the family business," said Cam, a 2011 Penn Yan Academy graduate whose full name is Cameron Paul Marble. "Every summer during high school, I picked a different department and I was there the whole summer. One summer it was the glass shop. One summer it was the body shop, then mechanical and sales."
"He was around the shop, like I was when I was a kid. He would see the guys every day and they would bust on him," Paulie added. "We love what we are doing. Otherwise, you aren't going to do it right."
Paulie is also proud that many of his employees have been with the business for 20 years or more, including his head bookkeeper, Nancy Kennerson, and her daughter, Tammy, who also works in the business office.
"We stress that you treat people like you would want to be treated. That really creates business and taking care of people," he said.
We would like to thank Finger Lakes Times for reprint permission.