AC Auto Body's designated parking space on East Maple Street—a privilege enjoyed by the shop because it serves as the designated on-call wrecking service in emergencies—is problematic in that it affects sight lines and pinches the street, according to about a dozen neighbors who addressed members of the Police Commission on May 18.
The auto shop also abuses the designated spot by parking more than one tow truck on the east side of the street and sometimes using the space for customer vehicles, according to East Maple Street resident David Shea.
"The street is basically an extension of their lot," Shea told the commissioners at their regular monthly meeting, held at the New Canaan Police Department.
Looking down East Maple Street from Main on May 19, 2016. The AC Auto Body truck is in its designated spot at right. Credit: Michael Dinan
"This has become a complex parking and traffic situation," he added, echoing some of the problems he expressed to the same group more than one year ago.
"While we don't have the expertise to know how to solve this problem, we do know that the AC Auto Body tow trucks really belong at the [Center] School parking lot. They will have easy access and plenty of space up there."
What was once a neighborhood annoyance has become a more substantial problem, since the New Canaan Cleaners moved into a commercial space on East Maple Street near Main, Shea and others said. School buses now have a hard time turning onto East Maple from Main, there's little room for emergency vehicles to access the street and the turn itself off of Main often is completely blind.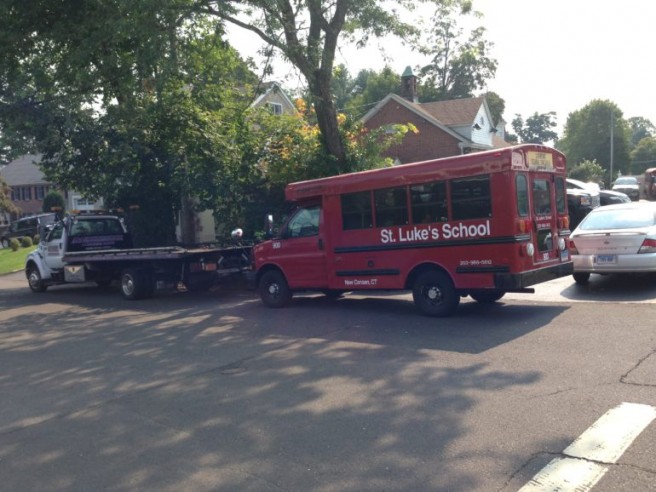 Tow truck and school bus parked on East Maple Street. Credit: David Shea
The commission decided to address the problem of AC Auto Body's tow trucks on East Maple first—possibly asking them to park not only in the Center School lot but possibly on Main Street, where C&H Auto (the Gulf Station) does. Then, Chairman Stuart Sawabini said, the commission would request a traffic study regarding more suggestions from the neighbors, including a change to on-street parking restrictions on East Maple.
The neighbors noted that it's extremely difficult to pull out safely from their street onto Main, in part because the northbound traffic is zipping along, looking at the traffic light ahead at Cherry and often blocking motorists from pulling out of East Maple at all.
It's a hazard for pedestrians that might require a full stop sign on Main Street, the neighbors said.
Police Capt. John DiFederico responded that a traffic study would address the possibility, though stop signs should not be installed in areas where motorists themselves are not anticipating them. It's especially dangerous for pedestrians, who may develop a false sense of security when crossing a street, DiFederico said.
He noted that it may be a better solution to install push-button activated flashing light beacons for pedestrians seeking to walk across Main at East Maple—similar to the ones going in now at God's Acre.
"That is something that we will consider as an option," DiFederico said. "Maybe a stop sign won't be appropriate but we will put that there to show that someone is crossing."
to show that someone is crossing."

Thank you to the New Canaanite for reprint permission.