Nick Mancini has been a busy man since graduating with honors from the Auto Collision Repair Technology in March 2015. One of only sixteen students in the country to be accepted into the prestigious BMW Service Technician Education Program (STEP) for Paint and Body, the NEIT "Best of Tech" recipient spent the last eight months training at BMW's North American headquarters in Woodcliff Lake, New Jersey.
He graduated from the STEP program on April 14, 2016, but not before receiving three different job offers with dealerships in Massachusetts and Rhode Island. He visited the Access Road Campus the day after he graduated, on April 15, to share his experience with current students in the Auto Collision Repair Technology and offered some simple, yet important advice for auto collision repair students on how to prepare for a successful future, "Keep your driving record clean, come to class, and get good grades."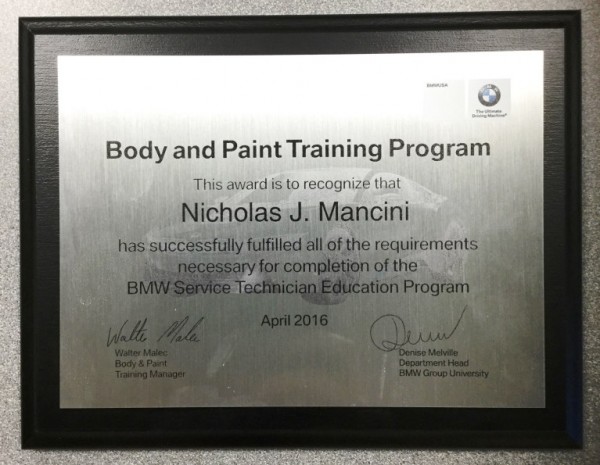 Congratulations to Nick on his achievement!
It also helps to be ambitious, which Mancini exemplifies. The STEP program only accepts graduates of colleges with automotive paint and body programs, or technicians who already work at a BMW dealership. He credited Auto Collision Repair Assistant Professor Ray Mann with telling him about the program when he was only in his 3rd quarter. Mancini submitted his application a year early, was granted an interview, and made enough of an impression that BMW kept him on the top of their list for when he did officially become eligible. In the meantime, he worked for small auto collision repair shop but always knew he wanted to work at a larger facility.
"Working for a good dealership is always a great opportunity because there's a lot of money to be made when you're working for someone who's going to feed you work." Mancini's enthusiasm for the STEP program, and for his future career, was evident when asked why he decided to apply for the program, "I wanted to work for BMW and work on incredible cars every day."
The training that students of the STEP program receive is state-of-the art and in a controlled environment, which Mancini said is not unlike the training students receive at NEIT; "It's not the real world yet, but it prepares you for the real world." BMW invests in the technicians they train, paying them an hourly rate throughout the program. Mancini explained that it would cost a dealership close to half a million dollars to train technicians on what they learn during their eight months in the program.
Alongside two instructors, who were graduates of the STEP program themselves, Mancini and his classmates were able to work on a number of high-end BMW's, with the deconstruction and repair of a $125,000 hybrid vehicle being one of his personal favorites. He loved having the opportunity to work in a corporate facility that allowed him to see, and work on, the newest BMW models before the general public had access to them.
One of the things that stuck with him was BMW's idea that "you can't teach a good attitude, but you can teach skills". He referenced a fellow classmate in the program who he thought embodied the motto, stating that the student came in with minimal hands-on experience, but showed up every day with a smile on his face and eager to learn. Before the program even ended, the student had a job offer lined up. "It just goes to show how far a good attitude can take you," Mancini said.
While participating in the rigorous, five-days-a-week training program that began promptly at 8 am every morning, Mancini admitted there were times when he felt like packing up and going home. But when you have companies "that are literally fighting over you to hire you it helps put into perspective why you're there." And the effort paid off; he accepted a position at Wagner Motors in Worcester, MA as a Factory Trained BMW Technician, which he begins at the end of April. Mancini, though modest about his accomplishments at age 21, made sure to point out that determination is his key to success, "However hungry you are to get a job, that's where you're going to end up."
For more information on BMW STEP, visit www.bmwstep.com
Thank you to New England Institute of Technology for reprint permission.