On Saturday, March 19 at NORTHEAST 2016 in Secaucus, NJ, Aaron Clark of Assured Performance Network moderated "Body Certification and You: An OEM Panel Discussion."
The panel shared information about each OEM's requirements and goals in addition to answering attendees' questions. It was comprised of representatives from five different automotive manufacturers: Mark Mandle from Ford, Brian Wayne of Chrysler, American Honda's Gary Ledoux, Mark Zoba from Nissan, and Audi's Mark Allen.
Each OEM representative began with a brief explanation of the company's certification program. First, Allen explained that since Audi began using different materials in 2007, such as aluminum and high-strength steel, they realized they needed a network of shops that have been trained to properly repair their vehicles and have access to the necessary tools to do so.
Since then, they have developed a network of 167 certified shops.
Allen said, "It's not about wholesaling parts; it's about taking care of our customers and ensuring that their vehicles are repaired the right way. This evolution is because of the materials we use so this is why we recommend specific equipment and tools, and we also provide training for technicians, adding new courses as things change."
Next, Zoba said Nissan discovered that directing vehicle owners to their insurance companies, rather than taking part in repairing the vehicles, impacted owner retention. Nissan recognized a need to take a more active role in the repair process, so they approached 1100 shops to create a national network geared at customer service and retention by educating the shops and ensuring they possess the proper tools and equipment.
According to Zoba, "Since the insurance companies don't care about our brands, we want to make sure the collision repair industry is aligned in our common goal to take care of the customer and their vehicle to ensure it's repaired properly. Although our initiative isn't about parts sales, we do believe that a solid, quality repair begins with solid, quality parts, and we want to educate consumers to make the right decision."
American Honda's Gary Ledoux agrees that technological advancements in vehicles require additional training and specific tools to ensure a proper repair. In March 2015, Honda launched their ProFirst network of OEM-certified shops, and halfway through their two-year build, they have added over 500 shops to their network so far.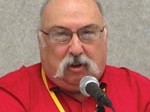 Gary Ledoux of American Honda
"If you think things are intense now, stay with us because it's going to get more intense," Ledoux predicted.
When Chrysler saw a reduction in dealerships- less than 5 percent containing a working body shop-Wayne said the OEM created their certification program to drive business to certified shops through the use of their Mopar companion app. He said they have a great partnership with the nearly 1500 shops on their program, but Chrysler is still seeking to expand their network. They have a real need to see "vehicles returned to the customer in as close to pre-accident condition as possible. When customers have issues with their repairs, 60 percent of them trade their vehicle within a year, and 63% of those trades see a change in brands, so our goal is customer retention."
Ford also identified a clear need for OEM-certified shops. According to Mandl, "The F-150 is the top-selling vehicle in the U.S., so we need a network who is able to perform a high-quality repair of this aluminum-intensive vehicle. Ford strives to support our customers, and that support shouldn't stop when they're in an accident; we want to develop happier customers who will stick with our brand, and in order to do that, we also have to support the shops on our program with the necessary training. We've developed a significant footprint of Ford-certified shops, and our network is continuing to grow."
Observing that the OEMs seem to share a common theme of customer service and retention, Clark noted that insurance companies are always concerned with protecting their interests, but OEMs and body shops share the same concern. He asked the panel to elaborate on the difference between the OEMs' and insurers' outlooks.
Mandle responded first, stressing that the consumer is at the center of Ford's decisions. "It's all about the customer's experience. Shops are essentially rebuilding our vehicles one at a time so we're asking them to make an investment in the proper repair strategy. The insurer, OEM and shop need to try to come together to make the best possible decisions in order to provide good customer service to our mutual customers."
Zoba agreed that "it all comes back to the customer. We can go down the same path or take the path of making sure each vehicle is repaired right. We are helping the collision repair industry find a different perspective, and together, we can make sure the customer is getting a fair shake and their vehicle is repaired as it should be so everyone within the process can continue to do the right thing."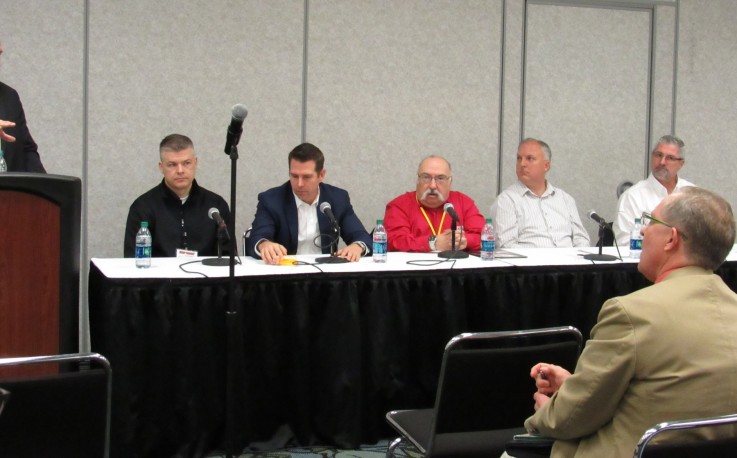 Honda has ten marketing managers across the country whose goal, according to Ledoux, is to recruit shops and help them reach the right level of repairs.
He stated, "We are working with these businesses to bridge the gap between Honda and the shops so our customers get their vehicles repaired right the first time."
Zoba added that Nissan does a lot of marketing with vehicle owners after a sale, promoting the use of their certified shops in the event of an accident. In addition to encouraging their dealerships to create stronger tie-ins, Nissan created a tool to direct customers to certified shops with market allocations designed to ensure the consumer has a positive experience.
In order to make sure their customers understand the importance of a proper repair, Ford has undertaken the challenge of addressing this concern with the consumer from the time of purchase.
Mandle stated, "It's important for them to see this message on an ongoing basis so we've adopted our 'always-on' strategy to encourage dialogue."
Wayne also concurred on the challenges of providing necessary information to consumers, while Ledoux noted that Honda has employed a variety of tactics designed to encourage customers to visit certified shops, including inserts, mailers and social media. Honda also directs customers to their consumer-driven website, collision.honda.com, where they can learn more. Audi has also enjoyed some success with social media campaigns, and Allen states, "We're trying to get the word out and really make a point that it's not about shiny paint anymore - it's a health and public safety issue."
As Clark directed the conversation to the cost of becoming certified and the training required, each OEM explained some of their requirements. Ford and Chrysler each require certified shops to be I-CAR Gold Class and to take a few manufacturer-specific costs. All of the OEMs strive to reduce costs by utilizing common industry designations, and in regards to equipment, many of their required tools overlap with what is required by the other OEMs. Clark foresees more OEM-specific I-CAR classes being added to those prerequisites as time progresses.
When asked about parts requirements and restrictions, Allen noted that Audi restricts certain structural parts because of "the high level of technical competency required to replace those parts." Honda, Ford and Chrysler have no parts restrictions as they are trying to make it easier to obtain parts. Although Nissan currently doesn't have any restrictions on parts, Zoba noted that they are revamping the program, and he is uncertain what the future may hold in this regard.
Nissan also offers pricing incentives through OPS Track Tools, and they offer a rewards program for rebates and discounts.
Zoba said, "We do our best to balance and maintain the overall cost of the repair."
Next, Clark asked about certified shops' ability to use the OEMs' logos to advertise their affiliation. Due to legalities, certified shops cannot use an OEM's logo; however, each manufacturer recognizes the value for shops, so they have all developed alternate logos for certified shops to use as a way of promoting their capabilities and demonstrating that they've received the manufacturer's approval. Nissan and Honda have developed specific logos for their certified shops, while Ford and Chrysler are working on this initiative. While Audi doesn't allow branding on the outside of a shop, they offer plaques for display on the interior which can be used within specific parameters.
The OEMs are seeking additional ways to help their certified shops advertise as well, mostly through promoting consumer awareness. Ford's website was recently updated with shop locations and information about OEM v. aftermarket parts.
Mandl stated, "We want to help consumers understand the difference between original and imitation parts so we are arming them with the information they need to make an informed decision."
Nissan has also developed a website to educate consumers on their rights. Zoba informed attendees that Nissan also plans to launch a new consumer app soon with the intention of providing the customer with the information they need when they need it. "We don't know when they may be in an accident so we're hitting them constantly with awareness marketing in hopes that they'll remember it after an accident occurs.
All of the OEM representatives agreed that they choose shops for their certified programs based on the desire to improve the customer's experience and retention.
However, Allen pointed out, "We are going to market our certified shops, but we won't engage in steering so it doesn't necessarily mean our shops will get the work. We will market the correct shops and try to educate our customers, but ultimately, it's the consumer who will decide which shop repairs their vehicle."
Nissan has developed a shop marketing tool that certified shops can purchase to market to their local customer database.
Zoba said they are "trying to make it as easy as possible for shops to market to vehicle owners in their areas." Although the OEMs plan to assist shops with marketing endeavors, they warned attendees not to rely on the OEMs to get more business and encouraged them to think outside the box when it comes to marketing their own shops.
When questioned about insurers' desire to use cheaper aftermarket parts in repairs, the panel stressed their desire to restore their customers' vehicles to the safest possible condition. Conversation continued with information about how shops can get sponsored to become OEM-certified, the value of OEMs joining the Assured Performance Network, and equipment requirements. All of the OEMs claim that, rather than mandating the use of specific tools and equipment, they are attempting to set parameters for what is required to eliminate redundancies by creating synergies across the brands.
Allen pointed out that the OEMs can't guarantee that their certified shops will perform proper repairs and suggested, "Some of the answers need to come from within."
In closing, Clark reminded the collision repair professionals in attendance: "It is the moral obligation of the shop to repair each vehicle safely or to decide not to engage in a repair if they are not properly trained and equipped."