Each year, AASP/NJ's NORTHEAST Conference and Tradeshow seems to get bigger and better. This year was no different, with an agenda filled with respected industry speakers and a sold-out trade show floor.
NORTHEAST 2016 was held on March 18-20 at the Meadowlands Exposition Center in Secaucus, NJ. The event attracted over 5300 attendees, including exhibitors.
Charles Bryant, Executive Director of AASP/NJ, stated, "It appears to be the best show ever. During and since the show, I have received nothing but positive comments about the show and have heard numerous plans from vendors to go bigger next year. In short, I am extremely pleased with the show outcome and grateful to all who made it possible."
At 1 pm, NORTHEAST 2016 began with an annual favorite - the East Coast Resolutions Forum and Leadership Meeting. Over 50 attendees, including representatives from over a dozen industry associations, explored some of the largest issues impacting the collision repair industry. Topics included photo estimating, aftermarket parts, consumer awareness, and short pays, along with a variety of legislative issues.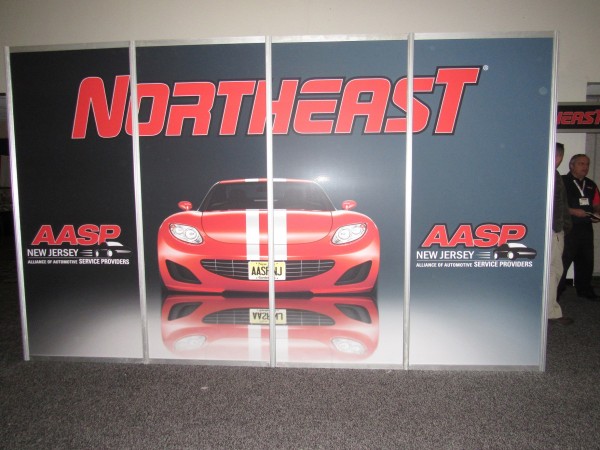 AASP/NJ Booth
From 1-2:45 pm, Keith Manich, Director of Collision Services for the Automotive Training Institute, taught "Building and Sustaining Standard Operating Procedures for Collision Repair." In this session, attendees learned about common errors among shop staff who are not properly informed of the operational requirements needed to be profitable in the collision repair industry. They were then provided with the steps needed to create a structured production environment. Manich gave an encore presentation from 3-4:45 pm that day.
At 5:30 pm, AASP/NJ presented "Advanced Material Repair in 2016 and Beyond," a course led by Dave Gruskos from Reliable Automotive Equipment, Larry Montanez III of P & L Consultants, and Doug Richman from Kaiser Aluminum on behalf of the Aluminum Association. Tom Elder introduced the speakers as "three of the industry's foremost experts in the world."
"Advanced Material Repair in 2016 and Beyond" began with Gruskos, who spoke on safety, as well as gluing and riveting processes. In order to reduce fuel consumption and lower emissions, the weight of a vehicle needs to be reduced, and this can be achieved through the use of low-density materials, targeted use of high-strength materials, and integrated lightweight construction. Using steel was the old way, but the future will include energy-efficient, lightweight designs achieved through the use of a mixture of materials; however, when aluminum and steel are mixed, repairs require multiple glues and rivets, Gruskos said.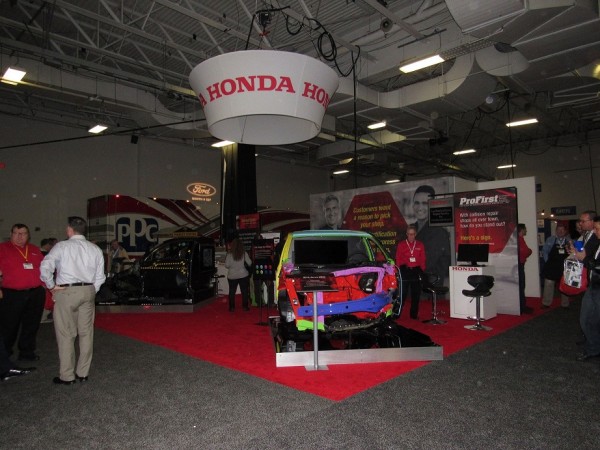 Looking at the new mixtures, Gruskos predicts that welding won't be as widespread in vehicle construction or repairs, leaving bonding, in conjunction with rivets, as the only alternative. The future will see cold joining with glue used everywhere that rivets are used, but with many different rivets, a variety of tools and machines will be required to be able to fit them, and rivets are very specific to the manufacturer. Discussing which glues to use in specific situations, Gruskos said, "You're either doing it the right way, or you're not."
Gruskos listed four reasons for gluing and riveting:
Avoids welding as much as possible
Prevents corrosion after welding
Obtains a very rigid connection
Repair times are reduced by approximately 30 percent
Gruskos spoke about riveted joins, self-piercing rivets, and the shape of the dyes. As he finished up his presentation, he noted that while the same steel welder can be used on vehicles from multiple OEMs, that is not the case for aluminum which requires the use of a different welder for each manufacturer since they use different materials, and it's important to know the differences. Gruskos stressed the importance of training on these variances: "You need to know when to say no and send the car on, or get the training you need to be able to repair it."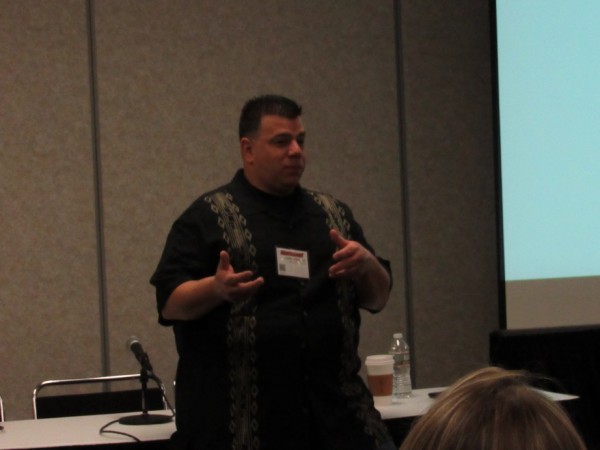 Larry Montanez of P L Consultants
The seminar continued with Doug Richman, Vice President of Engineering and Technology for Kaiser Aluminum as well as Technical Committee Chairman of the Aluminum Association's Aluminum Transportation Group, who began "Driving Innovation with Automotive Aluminum" by stating, "If you can't successfully repair these materials, our materials can't be successful."
According to Richman, there are 450 different grades of aluminum in production worldwide, and with 1300 combinations of materials, it's impossible to properly repair aluminum without following OEM guidelines. Covering the past 50 years, he showed that aluminum growth averages have seen yearly increases and stressed, "Aluminum is not a new material in the automotive industry."
There are many aluminum-intensive vehicles due to the need to make them lighter without making them smaller. Aluminum is driving the creation of a new segment of ultra-luxury SUVs. Richman believes that multi-material vehicles are the new norm of the industry. He said we will see more parts made this way as each vehicle part is now being scrutinized for optimum performance. Richman added that aluminum materials aren't the same, so it isn't easy to identify a specific material in the field. He concluded with a brief explanation of several aluminum products and alloys.
Two additional seminars began at 5:30 pm. Tony Nether presented a one-hour session entitled "Effective Training for Shops" sponsored by the Refinish Distributors Alliance (RDA). It outlined what collision repair training is required, and which optional training best fits their needs, and will also return on their investment. Nethery gave an encore of this presentation on Sunday afternoon. Beginning at the same time Friday night, John Niechwiadowicz of QLC Inc. and Jerry McNee of Ultimate Collision Repair taught a two-hour, fee-based course on "Maximize Your Estimates." Their interactive seminar was the second installment of their annual NORTHEAST estimating seminars. Attendees had another chance to attend on Saturday afternoon.
From 6:30-7:30 pm, General Motors' Jim Mickle described repairing and replacing structural components on GM vehicles in "GM Structural Repair." Next, Axalta Coating Systems sponsored "Positioning Yourself in the Collision Repair Industry," presented by Collision Advice's Mike Anderson who explored how shops can overcome the challenges of today's marketplace. Friday's seminars concluded with "Variable Rate Systems" as Sam and Richard Valenzuela of National Auto Body Research discussed this innovative technology. The evening concluded with the NORTHEAST Exhibitor Appreciation After-Party, giving vendors a chance to network and socialize.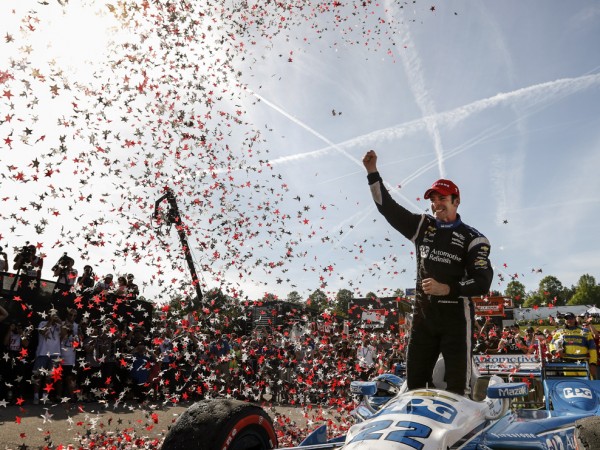 Saturday afternoon's sessions commenced with three sessions opening at the Embassy Suites by Hilton next door to the Meadowlands, I-CAR hosted two courses that began at 8:30 am: 2015 Ford F-150 Structural Repair Training Course (FOR06) and Vehicle Technology and Trends 2016 (NEW16), presented by I-CAR's Peter Fryzel and Mike Bonsanto, respectively.
"Increase Profits, Lower Cycle Time/Supplements with Triage Estimating" also began at 8:30 am. It was facilitated by Metropolitan Car-O-Liner and presented by Larry Montanez of P & L Consultants. Montanez explained that the OEMs' need to create lighter, faster, fuel-efficient vehicles that are safer has led to the use of aluminum in vehicle construction, new airbag locations and seat belts that grab the passenger faster. Since 2001, Honda has been using Advanced Compatibility Engineering (ACE). Montanez took participants through proper repair procedures, focusing on Honda metallurgy and MIG brazing.
While discussing the importance of using scanning tools to increase accuracy and lower cycle time, Montanez reminded everyone that new technology makes vehicles run like computers, so it's unrealistic to expect systems to function properly after a crash. In response to shop arguments that they can't afford a measuring system, Montanez said, "Then you need to open a different type of business - you can't kill people because you don't have the money for proper equipment."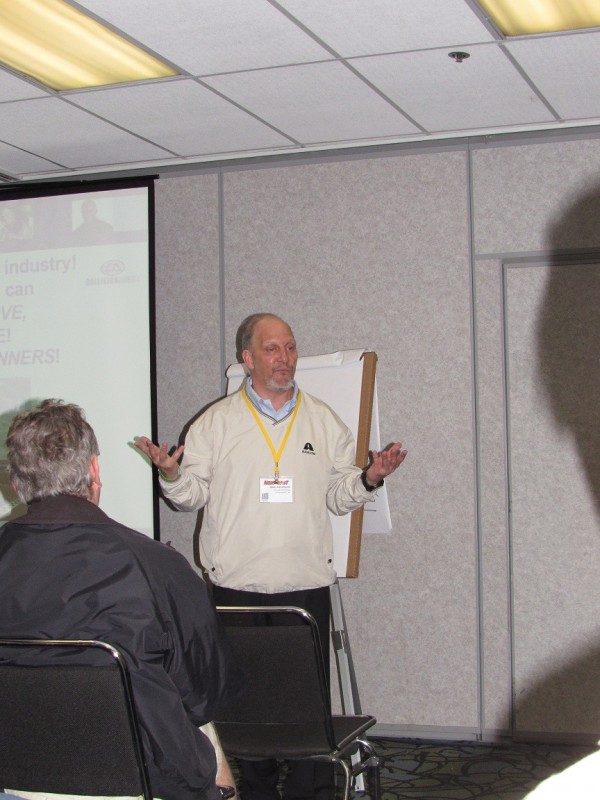 Mike Anderson, Collision Advice
While touching on changes in materials and the need to check OEM procedures in order to correctly repair a damaged vehicle, Montanez described an estimate as an opinion, while a blueprint is more accurate since it requires research. A blueprint should begin by cleaning the vehicle and taking photos. The triage process allows technicians to prioritize when certain items on the vehicle should be repaired. Blueprinting should be completed at the beginning of the process, and then the shop can identify the materials needed to repair the vehicle. Montanez encouraged shop owners to be organized and create checklists to save time. This ensures that the technicians know which step to take next. He stated, "With the different types of metals and grades being used, this can cause vehicles to act differently in collisions and you can't tell what's wrong by the body lines. With cars becoming a lot more accurate, you need to measure the vehicle to uncover all its damage."
At 10 am, Aaron Clark from Assured Performance Network moderated "Body Shop Certification and You: An OEM Panel," with a panel consisting of Gary Ledoux from American Honda, Mark Mandl from Ford, Nissan's Mark Zoba, Mark Allen from Audi, and Chrysler's Brian Wayne. As the group discussed the importance of OEM certifications and their networks of repair facilities, they touched on training requirements, equipment needs, the differences between aluminum and steel, and how a shop can market itself after being certified.
Shortly after the OEM panel began, Steve Feltovich of Sherwin-Williams presented "Competing with the Talking Car - Virtual Steering." Discussing the increasing emergence of connected car technologies, Feltovich examined the three ways these changes will impact the collision repair industry: how they're manufactured, how they function and how they're repaired. He also provided suggestions on using these techniques to remain competitive in the industry.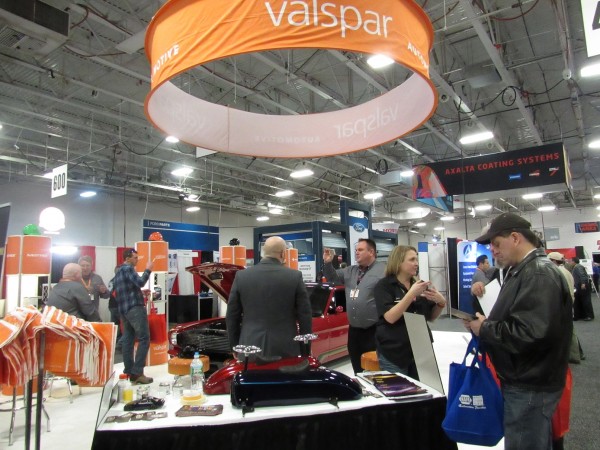 Simultaneously, "Photo Estimating Comes to the Northeast" was moderated by Kristen Felder of Engage Target Media and included commentary by C. J. Przybyl, President of Snapsheet. This session explored the developments related to insurers accepting photo-only damage appraisals. Przybyl stressed that these repairs are very independent-driven and requires adherence to OEM procedures, claiming "photo-based estimating is no difference than in-person inspections. It's just as good. We're here to get things going quicker and smoother and to keep the customer happy."
An insurance representative complained about this claim, stating that a photo-based appraisal could be as good as her knowledge of a physical inspection, given the significant investment she has put into training. She pointed out that many consumers don't know what to photograph because they're unaware of which items may be damaged. Przybyl explained that his company uses appraisers with years of experience who try to do the same assessment from photos, but they rely on the body shop to tear down the vehicle and provide the information necessary to restore it to its pre-accident condition. He also confirmed that there are cases where a photo-based appraisal indicates the need for an on-site inspection, and appraisers will be sent to do this.
Felder contributed to the conversation by reminding attendees that the 9.5 day field requirement is challenging and the number one reason for photo-based estimates is customer service and demand. Building on Przybyl's statement that 95% of shop estimates require supplements, Felder stated that the supplements she sees from shops are as large as those from photo estimates, differing only by an average of $300.
At 11:45 am Ford's Gerry Bonnani covered the improved repair elements of the new 2015 F-150, including enhanced service information, available training and recommended repair tools and equipment; he repeated this session on Sunday morning. At 1 pm, Larry Montanez presented "OEM Collision Repair Procedures vs. Industry Standards: A 2016 Update," as he explored what has and hasn't changed over the past four years. At 2:30 pm, Mike Anderson presented findings from his shop surveys on procedures for which they are reimbursed in "Who Pays for What? Survey Results."
Also at 2:30 pm, the Refinish Distributors Alliance (RDA) sponsored Tony Nethery's "Estimating Following OEM Guidelines" where he described the differences between the "normal" repair process and OEM methods to produce a "correct" repair. In addition to encore performances of several presentations from earlier in the weekend, two courses ran from 4-5PM. Doug Richman and Jim Dickson from the Aluminum Transportation Group discussed the "Aluminum Industry and I-CAR Join Forces to Address Collision Repair Knowledge," providing insights on aluminum use in modern vehicle designs and how aluminum use impacts repair procedures.
In the only session unrelated to vehicles and the repair process, Jody Gatchell, owner of A & J Collision Repair, presented "The Customer Encounter" on behalf of Management Success which explored "the customer and the experience they have. Last year, my shop had its best year ever, and I credit that to the customer experience. I hope you'll look at the customer experience differently than before."
While explaining that the customer experience is crucial for the present and future of your shop, Gatchell noted that how customers perceive others' experiences can make or break your business. The goal is to have happy, loyal customers who value your service, and your product is a satisfied customer who will return and refer others. Cars don't have problems; they don't care if they stay wrecked forever - the customers are the ones with the problems! Put yourself in the customer's shoes and deliver what they're expecting plus more."
Stressing the importance of a memorable customer encounter, Gatchell tasked owners with establishing a system to ensure all customers' needs and wants are addressed and handled properly every single time. Shop personnel should be friendly, helpful, observant, organized and communicate well, and the team must understand what's expected. Service advisers need to listen carefully to the customer and acquire the necessary information to know how to exceed their needs.
Turning to productivity, Gatchell advised attendees to complete what's on the work order, handle customer-required items, complete the job in a timely manner, communicate and clean the vehicle. To stay on top of productivity, you need to know the status of every vehicle and give the customer plenty of notice when it comes to pick up. During delivery, present the vehicle to the customer, show them the work that was completed, point out any customer-required item, review all documents with the customer and ask for a testimonial.
Gatchell also emphasized the importance of customer/employee interaction, and he said that 92% of consumers regularly read online reviews, and 51% will select a business with positive reviews. Asking for the review right after the transaction is important since response rates decline the longer you wait. Rather than worry about negative reviews, Gatchell suggested turning them into free good publicity by responding to them, apologizing for the customer's bad experience and being willing to address. Concluding, Gatchell said, "It's your responsibility to take care of the customer's needs and wants, not the customer's. Your customers are the best marketing tool you have so take care of them and address all their concerns. Take your time, ask questions and listen. Be organized, and have fun!"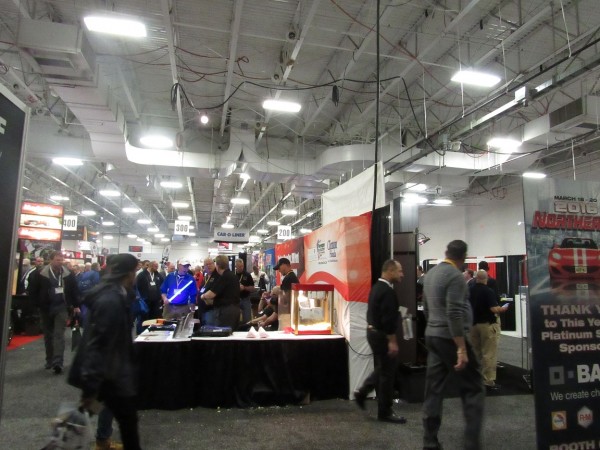 The NORTHEAST 2016 Trade Show floor was open on Friday from 5 pm until 10 pm, on Saturday from 10 am through 5 pm, and Sunday from 10 am -2 pm. On Saturday, BASF's booth featured KC Mathieu of KC's Paint Shop who was featured on Discovery Channel's "Fast N' Loud with Gas Monkey Garage." On Sunday, AASP/NJ featured Family Day with fun activities for children.
The trade show floor was sold out with over 120 exhibitors, including 3M, American Honda, BASF, Central Paint, CMA Refinishing Solutions, Enterprise, Induction Innovations, Killer Tools and Equipment, Nucar Wholesale Parts, Orio, Pro Spot, ProLine Tool & Supply, Reliable Automotive Equipment, Team PRP, USI of North America, Valspar and many, many more.
Next year, AASP/NJ will host NORTHEAST 2017 on March 17-19.