During the week of March 21, Peterbilt Motors Company began offering its advanced training program to students at Universal Technical Institute's (NYSE: UTI) Exton, Penn., campus. The program is already in place at UTI campuses in Dallas/Fort Worth, Texas; and Lisle, Ill.
In 2014, Peterbilt collaborated with UTI to create the Peterbilt Technician Institute (PTI), a comprehensive program to give students who have completed UTI's core Diesel Technology education program advanced, specific training in Peterbilt trucks and technology.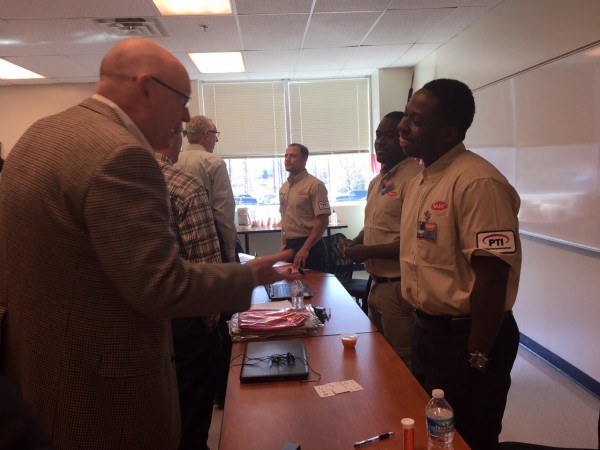 Craig Kendall, Recruiting Manager at The Pete Store, LLC, speaks with Peterbilt Technician Institute student Jeffrey Wilson-Chandler about the demand for skilled diesel technicians.
During the 12-week program, students get exclusive classroom and hands-on instruction in diagnosing, maintaining and repairing the full line of Peterbilt trucks and PACCAR engines, and in customer service, dealership shop operations, and laws and regulations. Peterbilt dealerships sponsor qualified PTI students and place them in service technician positions when they complete the program. [1]
"The Peterbilt Technician Institute has been extremely successful for Peterbilt, its dealer network and the many graduates now with successful careers as professional service technicians. We are pleased to build on this success with the addition of the Exton, Penn., location," said Darrin Siver, Peterbilt General Manager and PACCAR Vice President. "PTI provides our dealers with a strong resource for employing highly skilled, comprehensively trained and fully certified technicians to help ensure the highest levels of customer satisfaction."
By the year 2024, the U.S. Department of Labor projects there will be more than 1.2 million jobs in the automotive, diesel, collision repair, motorcycle and marine industries. To reach that total, the transportation industry will have to fill more than 37,000 technician job openings on average every year.[2]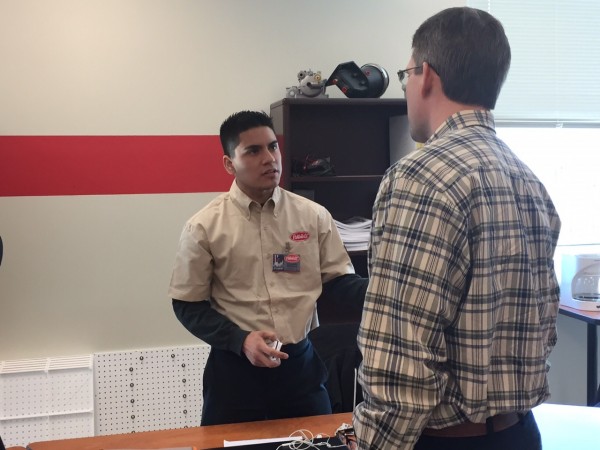 Jeffrey Walters, Branch Manager for Hunter Jersey Peterbilt South, introduces himself to Peterbilt Technician Institute student Oswaldo Almanza and speaks about the demand for skilled diesel technicians
"The addition of the PTI program at Exton reflects the shortage of diesel technicians industrywide and will help train the next generation of qualified and certified Peterbilt technicians," said Chuck Barresi, Senior Vice President of Customer Solutions at Universal Technical Institute.
The PTI program is part of UTI's manufacturer-paid manufacturer-specific advanced training program.[3] Each PTI class is taught by a dedicated UTI instructor with support from Peterbilt, which has more than 300 dealerships throughout North America. Applications for future class enrollment are currently being accepted for all three PTI locations.