Long before cars even existed, a family shop in Massachusetts was building and fixing carriages, back when the only horsepower available came from horses themselves. Founded in 1894 by Thomas A. and Martin Fitzpatrick, Fitzpatrick Brothers Collision Repair in Dorchester, MA is the oldest body shop east of the Mississippi.
The business has always been family owned and operated and grew as the popularity in motorized vehicles exploded. In 1919, Thomas's son Harrison joined the family business, followed by Thomas, his other son, in 1929. Harry and Frank, Harrison's sons, joined the business in 1954 and 1956 respectively and finally, Harry's son Neale began working full-time for the company in the late 1980s.
It seems like every shop with a history has one family member who chronicles it all, by saving photos and collecting stories over the years. In this case, it's Frank Fitzpatrick, 75, who is the shop's historian and proud to share it.
"Repairing horse-drawn wagons was a hard life long before things like severity and cycle times," Frank said. "They worked long hours and instead of body techs they had blacksmiths, wheelwrights and carpenters back then. With the rapid changes in technology over the past 100 years, however, we transitioned from a wagon repair shop to a technically-advanced collision repair center. In 1926, we were the first auto body repair shop to use spray guns. Until that time, all cars and wagons were painted with a brush."
The company's focus has changed, but the mission has always been the same, Frank explained. "Over the years, we have repaired fire engines, civil defense vehicles, police cars, and many different commercial fleets, including cranes and construction vehicles. In 1969, we revamped our business to concentrate on automobiles and small commercial vehicles. But, by doing quality repairs and concentrating on customer service, we've been able to survive in a tough industry."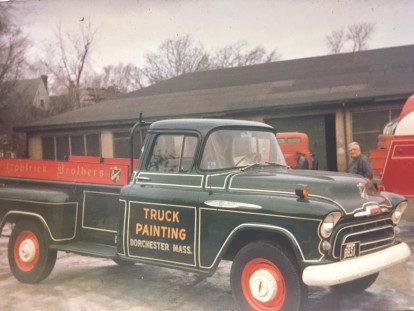 In the 1950s, the shop grew at a steady rate, by pursuing business from local fleets and changing with the times. Behind the truck is Harry Fitzpatrick.
Stability has been important to the company's success, according to Frank. "We have not moved since 1894 and we're proud to have stayed in the same neighborhood all these years and serving this same community. We are now fixing cars for people whose parents and grandparents have been bringing their cars here for decades. It's a good feeling when you see a new customer with a last name we're familiar with and it happens all the time."
As a former president of the original Massachusetts Auto Body Operator's Association in the '70s, Frank has been in a unique position to see the collision industry change in huge ways.
"Over the past twenty years, both technology and equipment have changed rapidly," Frank said. "I am happy to say that it's a much safer and healthier industry to work in now. We have kept up with these changes by adding new spray booths, welders, frame machines, and computers to ensure proper repairs to our customers' vehicles. Through a Depression, two World Wars, and many other life-changing events, we have stuck to our philosophy of repairing cars properly, and sending our customers' home happy."
Rather than resting on their laurels and great reputation established over 122 years, the Fitzpatricks are always out there, trying to get better and growing. One of the niches they've developed over the decades is performing fleet work for large companies.
"It is a huge part of our business, because we can make more money than through our DRPS," he said. "With the fleets, we don't have to wrestle with them on prices or quality, so they're much easier to work with." The shop works with large companies that have headquarters near their location, including Gillette, local utility companies and health-related companies, just to name a few. Currently, the shop's overall work breaks down this way—65% commercial fleet work and 35% insurance work—and delighted over it.
The Fitzpatrick family is 100% dedicated to fixing cars, but they're not reluctant to help those in need. "About 10 years ago, a couple people came to the shop and told us about their school, called the Epiphany School," Frank? said. "They had a location in another part of the city, but they needed a new facility, so they inquired about the property we owned across the street. We had some discussions, but it didn't look like it would work, because for one, they had no money."
After much consideration and a few conversations between Frank and his brother, Harry decided what the heck—let's just give them the land for their new school. "At first, my brother and I looked at each other and agreed 'we're nuts!' But, after a while we said why not? What better tribute to our grandfather than donating these three quarters of an acre to these amazing people? So, we donated it to them, a parcel worth about $360,000 and we haven't regretted it for a second."
Founded in 1997, the Epiphany School is an independent, tuition-free middle school for children of economically-disadvantaged families from Boston neighborhoods. Serving approximately 90 students in grades 5-8, young adults in their graduate support program, and people with economically disadvantaged backgrounds from Boston, the Epiphany School is a nationally-acclaimed school.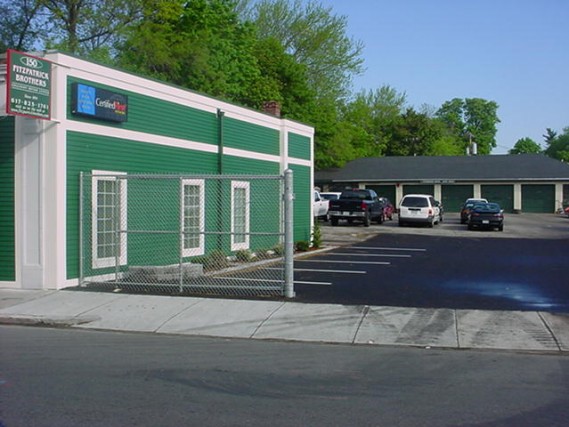 Fitzpatrick Brothers Collision Repair in Dorchester, MA is the oldest body shop east of the Mississippi, founded in 1894.
The Fitzpatricks get to see the value of their donation literally every day, because this thriving school is only roughly 100 yards away from the shop. "The kids come over here all the time to do their cheers and sing for us," Frank said. "Many of them say I want to work in your shop one day. It's so satisfying seeing these kids improving their lives and getting set up for better lives."
How does Frank Fitzpatrick think about an industry that has employed much of his family for more than a century? "It's been a good run and I'm happy to see that it's been handed off to another generation of Fitzpatricks," he said. "We're going to work as long as we can, but knowing that Neale is here and doing a great job makes it a little easier to think about."