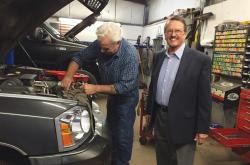 American Auto Body and Repair co-owner John Palange, left, still loves to work on cars and stay out of the limelight, while partner Dennis Rosa, who also serves as Leominster's state representative, continues to run the company's front office and work out the financial numbers.
The door to the 30-foot-by-60-foot chicken coop, with its walls constructed from the remains of old World War I barracks from Fort Devens and where the work truly began, can still be spied and the little structure explored.
It is dwarfed and nearly hidden, but still holds its place among the expansive buildings now attached to and surrounding it. It once stood on its own, serving as the beginning of what would become known as American Auto Body and Repair Shop at 20 Moore St. in Leominster.
There is a bit of mystery to the little building, as well as the quiet and unassuming partner in the business John Palange, who still spends much of his time, as they say, wrenching in one of the repair buildings. Visitors can see the 70-year-old still working on vehicles, but he shies away from the camera and clearly prefers anonymity to the more public persona of co-owner and well-known local legislator, 69-year-old Dennis Rosa, who spends more of his time in the offices.
The old chicken coop had been rented out to a mechanic from Canada, who simply one day headed back north without much of a word to anyone really. Rosa, who was laid off from his position as a production controller at Nylon Products in Clinton due to an economic recession during the oil embargoes of the 1970s, wanted expand his side hobby of tinkering and painting cars into an auto body business and discovered the suddenly vacant property.
He and Palange, an experienced master mechanic and front end specialist for Kmart at the time, decided to give it a go in May 1975. The two had met previously when Palange had given Rosa paint work to do on some of the vehicles he had repaired.
Rosa put forward his savings of $2,616.99, his business sense and the limited repair knowledge he had, and Palange offered his automotive expertise and an IOU for his half, which he did eventually pay off. They set up shop in the chicken coop on the 1-acre property, and never looked back.
Failure was not an option for Rosa after he returned from Vietnam, despite facing the gauntlet of people spitting at him, yelling obscenities and throwing objects at him, and being called a "baby killer." Palange had been an army paratrooper, and Rosa, who had served in the Air Force, knew the statistics regarding men who came back after the war.
Sitting at the table one evening, Rosa and Palange decided during this era of political strife and turmoil in the country, they would call it American Auto Body and Repair. They also made a commitment to someday erect a tall flagpole and top it with the American flag in honor of Vietnam veterans.
They concentrated on lower end body work at first, with Rosa's limited knowledge of repair work and Palange only working nights after he was finished at Kmart for the afternoon.
Rosa and his wife went to the library at every opportunity and studied automotive instruction manuals to learn how to change a quarter panel, which makes up most of the body of a vehicle. When he felt he had finally figured it out, and although it took him about twice as long as an expert, it came out "perfect."
He said that was the moment he knew that the business would be successful.